Awards Watch: National League Manager of the Year
As we continue checking on the various races for individual hardware, let's have a look at the skippers of the National League.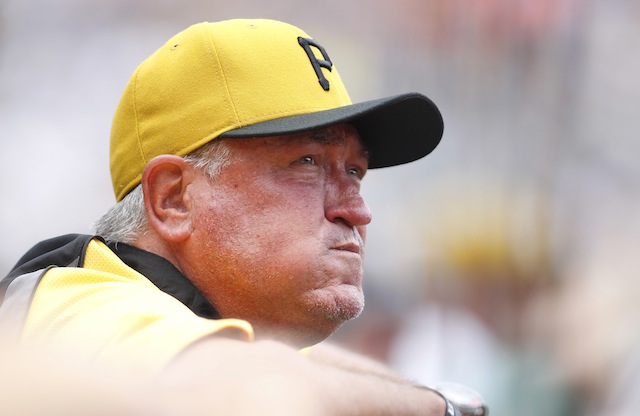 More Awards Watch: AL MVP | NL MVP | AL Cy Young | AL Cy Young | NL ROY | AL ROY | NL Manager | AL Manager
Our walking tour of the various awards races continues, and this time out we're handicapping the National League Manager of the Year fray.
Typically, Manager of the Year laurels go to the skipper whose team did the best job of defying expectations for the better. That, then, will inform our choices.
As a reminder, these are predictions of who will win based on the season to date and not statements of who deserves to win ...
Clint Hurdle, Pirates: At this writing, the Buccos have the best record in all of baseball, and that's despite playing in what's shaped up to be a pretty tough division. That's also despite ranking 19th in payroll. Maybe they'll slack off down the stretch, but a 2012-level collapse isn't going to happen. Per CoolStandings.com, Hurdle's Pirates have a 99.2-percent chance of making the postseason.
Fredi Gonzalez, Braves: Coming into the 2013 season, the Nationals were almost a unanimous pick to win the NL East. Well, Gonzalez's script-flipping Braves at present have a hulking 15 1/2-game lead over those Nats. They're also just a half-game behind Hurdle and the Pirates for best record in baseball. The NL East has been exceptionally weak overall, but Gonzalez and the Braves have also taken care of business against the NL's best.
Mike Matheny, Cardinals: While a playoff berth is all but assured, the Cardinals are lagging the Pirates in the Central, and they're a middling one game over .500 since June 1. As well, the Cards are just 21-28 versus teams with winning records. A stretch-drive surge, however, could put Matheny back on the radar.
Don Mattingly, Dodgers: Remember when Mattingly was going to be fired five minutes ago? Well, the Dodgers went 19-6 in July and, in partially overlapping news, have gone 17-3 since the break (!). The team has a high payroll and had high expectations coming into the season, but Mattingly's salvage job could earn him some traction. Provided they remain hot, of course.
L.A. manager Dave Roberts indicated that Puig's benching was related to more than one inci...

Manager Torey Lovullo said so on Monday
Let's see how SportsLine forecasts the race for MLB's 10 playoff spots

Monday kicks off the final week of MLB action. Let's take a look at everything that went d...

No other rookie in baseball history has hit more home runs than Judge has this year