Awards Watch: National League Rookie of the Year
Let's continue checking in how the races for the individual hardware are shaping up. This time, we're looking at Yasiel Puig's peer group.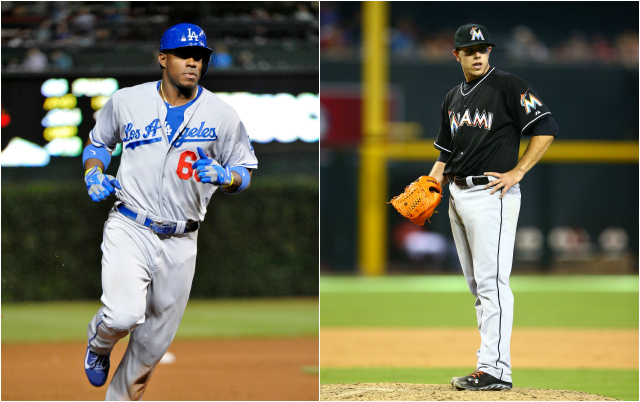 More Awards Watch: AL MVP | NL MVP | AL Cy Young | AL Cy Young | NL ROY | AL ROY | NL Manager | AL Manager
As we soldier on with our Awards Watch series, it's time to check in on the the race for National League Rookie of the Year.
By way of reminder, here's the official MLB definition of a rookie ...
A player shall be considered a rookie unless, during a previous season or seasons, he has (a) exceeded 130 at-bats or 50 innings pitched in the Major Leagues; or (b) accumulated more than 45 days on the active roster of a Major League club or clubs during the period of 25-player limit (excluding time in the military service and time on the disabled list).
Before we run down the leading candidates, please keep in mind that these are predictions based on the season to date and not statements of who deserves to win. In other words, the driver here is how we think the BBWAA will vote for NL Rookie of the Year when the time comes. Of course, there's plenty of season left for things to change ...
[Players listed alphabetically within categories]
Jose Fernandez , Miami Marlins : Not only does the 21-year-old Fernandez boast a 2.54 ERA, but he's also earned that sparkling mark. His excellent 27.3 K% and 8.5 BB% tell you that much. In terms of poise and polish, he pitches well beyond his years. For those voters who still pay attention to pitcher wins and losses, Fernandez's 8-5 record is plenty good enough considering his team is playing .384 ball.
Yasiel Puig , Los Angeles Dodgers : He has just 238 plate appearances to his credit this season, but he's absolutely made the most of them: .372/.429/.591 with 11 home runs and many a highlight play in the outfield. Some BBWAA voters will be sure to notice that the Dodgers are 37-16 when Puig is in the starting lineup and 26-34 when he isn't. To be sure, that's a flawed way to evaluate a player's worth, but it's part of the Puig story.
Shelby Miller , St. Louis Cardinals : Miller's pitched to a sub-3.00 ERA this season, and he also boasts a K/BB ratio of 3.77. As well, Miller ranks third in the NL in strikeout rate, and he'll have a good shot at getting to 15 wins (provided his recent injury doesn't compromise his effectiveness going forward).
Hyun-Jin Ryu , Dodgers: While Clayton Kershaw is the undisputed Dodger ace (and the best pitcher on the planet right now), Ryu has been a stabilizer. While injuries have beset the Dodgers rotation, Ryu has taken his turns (save for missing a few games after being struck on the foot by a batted ball) and kept runs off the board. In 21 outings, he's logged 15 quality starts, and he averages better than six innings per start. Ryu also boasts a 3.15 ERA and just two unearned runs allowed. As well, he's batting .231/.250/.333 at the plate, which is darn good production by the low standards of hurlers.
Evan Gattis , Atlanta Braves : Gattis's power is for real (15 homers in 232 at-bats and an ISO of .245), but these days he's lugging around a sub-.300 OBP. Also, spending almost a month on the DL hurts his overall value and, hence, his standing with voters. He does have a compelling back-story, though.

Didi Gregorius , Arizona Diamondbacks : Gregorius can still pick it at short, of course, but his offensive game has fallen apart since his hot start to the season. Here, for example, are his OPS's by month: 1.226, .799, .588, .674, .180. Notice a pattern?

Jedd Gyorko , San Diego Padres : Gyorko mans an up-the-middle position, and his 101 OPS+ is certainly solid enough, but the reality is that his offensive numbers have been in steady decline since he returned from a groin injury.
Julio Teheran , Braves: Teheran has done a tremendous job of salvaging (and then some) what was looking like a disappointing rookie campaign. After his first three starts of the season, Teheran's ERA stood at 7.31. Since then, however, the 22-year-old Teheran has pitched to a 2.38 ERA and 4.74 K/BB ratio. Right now, he's the best starting pitcher for baseball's hottest team.
Damon Miller Jr. tweeted himself into a corner last week, and he came through with the nug...

Plus the Red Sox can lock down a postseason spot and all you need to know from the world of...

Why the Diamondbacks could be the team to turn this October on its head in MLB
Estrada's new contract is said to be for one year

Jonah Keri talks Toronto Star columnist Rich Griffin

Our annual look back at the preseason predictions and rankings shows lots of good and bad