Awards Watch: Plenty of Comeback Player of the Year candidates
There are a more Comeback Player of the Year candidates in both leagues than usual this year. Here's a break down of the contenders.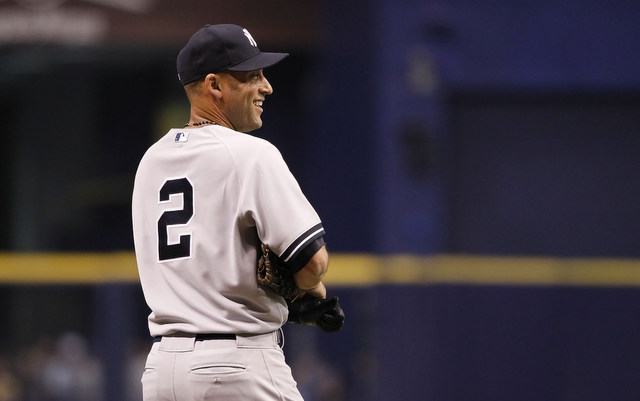 Awards Watch: AL MVP | NL MVP | AL Cy Young | NL Cy Young | AL Rookie | NL Rookie
Every other week from now through the end of the regular season, we're going to take a look at the races for each of the major awards in each league. One award we will not cover regularly is the Comeback Player of the Year award. Instead, let's break down some candidates right now.
The Comeback Player of the Year award has been around since 2005 and it goes to a player who has "re-emerged on the baseball field during a given season," which is pretty vague. Comeback from injury? Poor performance? Retirement? Anything, I guess. The first two Comeback Player of the Year awards were voted on by fans, but since 2007 it has been selected by a panel of reporters.
As a reminder, we're not listing the players we would vote for, but rather the players the voting body is likely to consider given their tendencies. It's very difficult to get a firm grasp on the Comeback Player of the Year race. As we saw with Mariano Rivera last year, sentimentality can play a huge role. (Rivera was excellent, but Scott Kazmir's comeback was the far greater and more interesting story.) Here are this year's Comeback Player of the Year candidates.
[Players are listed alphabetically in each league.]
Melky Cabrera, Blue Jays: Cabrera, as you know, was suspended for performance-enhancing drugs during the 2012 season. He returned with the Blue Jays last season but was limited to only 88 games and an 87 OPS+ due to a benign tumor near his spinal cord (!) that had to be surgically removed. Cabrera is hitting .316/.369/.479 (134 OPS+) with 32 doubles, 15 home runs and 67 RBI in 124 games for Toronto this year. Jason Giambi won the first Comeback Player of the Year award in 2005, so players with PED histories are not at an automatic disadvantage.
Derek Jeter, Yankees: A series of leg injuries, including a twice-fractured left ankle, limited the Yankees captain to 17 games last season. Jeter has stayed on the field this year and is hitting .271/.321/.326 (84 OPS+) in 109 games, making this by far the worst full season of his Hall of Fame career. But the narrative is strong with this one. Jeter will get a lot of votes just because he's Derek Jeter and he's retiring after the season.
Albert Pujols, Angels: Like Jeter, Pujols missed much of last season with leg injuries, though he did manage to get into 99 games and post a career-low 116 OPS+. Pujols has stayed healthy this year and he is hitting .272/.329/.479 (129 OPS+) with 32 doubles, 23 home runs and 75 RBI in 121 games. He hasn't been the Pujols of old, but he has been very good overall.
Mark Teixeira, Yankees: Teixeira was limited to 15 games last year by wrist surgery. He missed some time with hamstring, groin and hand issues this year, but is otherwise hitting .235/.333/.446 (118 OPS+) with 20 home runs and 53 RBI in 90 games. Again, not the Teixeira of old, but a productive power hitter. At this point he is not even the best Comeback Player of the Year candidate on his own team, however.
Chris Young, Mariners: Continued arm problems limited Young to nine minor league starts with the Nationals last year, during which he had a 6.81 ERA. He did not pitch in MLB. This season he is 12-6 with a 3.07 ERA and a 1.11 WHIP in 24 starts (and one relief appearnaces) and 146 2/3 innings for Seattle. Young does it by living up in the zone with a mid-80s fastball -- something that usually does not work in the big leagues -- and incredible deception. It's remarkable to watch.
Starlin Castro, Cubs: It's hard to believe Castro is still only 24, no? This is already his fifth (fourth full) season in the big leagues. He was atrocious in 2013, putting up a career-worst 72 OPS+ with a career-high 129 strikeouts in 161 games. This year, Castro is back up to his 2010-12 level of production, hitting .285/.334/.431 (110 OPS+) with 31 doubles, 13 home runs and 64 RBI in 124 games. It's all about performance with Castro. He's not coming back from any kind of injury, just a down year.
Johnny Cueto, Reds: Multiple lat strains limited Cueto to only 11 starts a year ago, but this year he leads the league with 187 2/3 innings pitched. Cueto has gone 15-6 -- he leads all of baseball in wins -- with a 2.06 ERA and a 0.91 WHIP, numbers that are somehow better than his excellent 2011-12 seasons (2.58 ERA and 1.14 WHIP). Forget Comeback Player of the Year. Cueto is a legitimate Cy Young contender.
Tim Hudson, Giants: Hudson won the Comeback Player of the Year award in 2010 after missing most of 2008-09 following Tommy John surgery. He would not be the first two-time Comeback Player of the Year winner though. Francisco Liriano won it in both 2010 and 2013. Anyway, Hudson has returned from that gruesome ankle injury to go 8-9 with a 3.03 ERA and a 1.18 WHIP during his first year with San Francisco. His poor win-loss record has more to do with run support (76th out of 94 qualified starters at 3.67 runs per game) and shoddy bullpen work than his work on the mound.
Matt Kemp, Dodgers: Shoulder, hamstring and ankle injuries forced Kemp to miss 89 games last summer. When he was on the field, he put up only a 104 OPS+. This year the healthy Kemp has hit .276/.341/.461 (126 OPS+) with 25 doubles, 15 home runs and 55 RBI in 115 games. He's gotten better as the season has progressed as well, hitting seven of those 15 homers since the All-Star break.
Casey McGehee, Marlins: McGehee spent last season as Masahiro Tanaka's teammate with the Rakuten Golden Eagles in Japan, though overall he had not been an effective big leaguer since his 104 RBI campaign with the 2010 Brewers. He returned to the States this year and is hitting .300/.367/.379 (108 OPS+) with 26 doubles, three home runs and 60 RBI. Driving in 60 runs with only three homers is pretty remarkable -- hitting .333/.424/.407 with runners in scoring position will do that -- especially since McGehee hits behind Giancarlo Stanton, who clears the bases with homers on the regular.
Jones, who was recently elected to the Baseball Hall of Fame, isn't your typical gun-control...

Martinez had agreed to a deal with Boston last week

Venters threw a scoreless inning for the Rays on Sunday
The contract includes a second year vesting option

Keep tabs on the top 50 free agents on the market right here

New York has been looking for rotation depth all offseason