Away from Mets' doldrums, Wright flourishing for U.S. on WBC stage
David Wright's always been a player, but buried on the so-so Mets, it's lost. Wright's play in the WBC reminds us of his star power.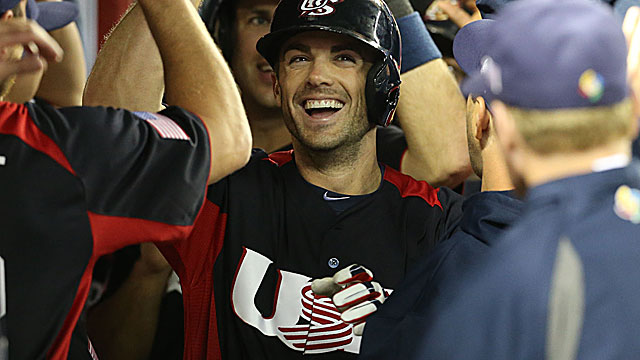 MIAMI -- David Wright, or Captain America as he was accurately dubbed during the TV broadcast of USA's 7-1 victory over Puerto Rico, has long been known as just about the biggest enthusiast on Team USA. But it's more than that. The instant MLB Network-inspired monicker works, thanks to Wright's plain-as-day patriotism and production.
Wright talked about how he benefits by Joe Torre's decision to sandwich him between two left-handed hitters -- the great Joe Mauer and Eric Hosmer, or "Hoss" as Wright warmly called him -- but everyone on Team USA is benefiting by osmosis from Wright, whose natural leadership abilities are obscured by being the best player forever on a perennial also-ran.
More on WBC
Related links
For years, Mets owner Jeff Wilpon has glowingly and occasionally referred to Wright as "our Jeter," and if the rest of the Mets roster could one day approximate the team across town, maybe folks would understand the reference even more. Folks who might not follow the Mets but are catching the World Baseball Classic are getting a taste of Wright's wonderful ability and matching persona.
Wright has tied a WBC record set by Ken Griffey Jr. and Korea's Seung Yeop Lee with 10 RBI already, thanks partly to batting behind Mauer, who is on base just about every at-bat (Mauer walked three times to load the bases for Wright against Puerto Rico alone), but thanks also to Wright's ability to rise to the occasion. This, of course, is the one big occasion for the lifetime Met since 2006, way back when Puerto Rico star Carlos Beltran was a teammate. (Yes, it's been seven seasons since the Mets made the playoffs.)
"I'm so proud of him," said Team USA third base coach Willie Randolph, who managed Wright for the Mets. "David is maturing into a leader. He always had it in him, but we had so many veterans when he came up he was hesitant. He didn't want to step on anyone's toes."
Wright's a guy who always has done and said the right things, even if his audience was a lot smaller than Jeter's. Instinctively, he knew to let John Franco, Al Leiter, Billy Wagner, Carlos Delgado (a Puerto Rico coach) and others lead the Mets in his early years nearly a decade ago.
Wright, more than any of those before him, has retained his youthful optimism about the Mets, which makes him their perfect main man. Even as the clock struck 30a few months ago for Wright, and the losing years add up, he stores hope without a hint of skepticism. This winter he willingly signed on for seven more seasons in Queens, which some might cynically say suggests he's a glutton for punishment.
The $138 million, eight-year contract he signed was the Mets' best investment in years (no wisecracks please). Some might claim Wright shows hints of gullibility, but the overarching trait really is unabashed loyalty, which he demonstrated in spades by staying with his embattled agents, the Levinson brothers of Brooklyn after re-interviewing them about their alleged ties to drug dealer Kirk Radomski and recent spate of players of theirs who have failed tests or been linked to the questionable closed-down clinic Biogenesis by the Miami New Times.
When the Mets are ready to win, whether that be this year or sometime in the following seven years, they have their leader.
"To see him later on taking on responsibility with a young team is terrific," Randolph said. "They're going to have ups and downs, but they have the right person to lead them. You can tell he was raised the right way. He gets it."
For what it's worth, while Wright demonstrates Jeter-like qualities, he tends to be way more interesting than the Yankees great even if he does occasionally fall into Jeter-speak when confronted with personal praise. A query about the Captain America nickname and the 10-RBI output brought this response: "Obviously it's nice to get hits, it's nice to drive in runs, but the important thing is hearing those USA chants," Wright said. "The individual stuff is nice, but ultimately it's about winning that first WBC championship for the United States."
Wright, tucked into the ultimate No. 5 spot in USA's stacked batting order behind Mauer, is doing whatever he can to enhance those chances. He delivered a single and a three-run double in two of the three bases-full chances against Puerto Rico, adding to his burgeoning bases-loaded legacy. His grand slam against Italy back in round one overcame a deficit and brought USA out of its early WBC doldrums.
Wright's double to deep right-center, that barely managed to elude former Mets teammate Angel Pagan, amazed Puerto Rico manager Edwin Rodriguez, the former Marlins manager, who claimed that nine times out of 10 that pitch retires hitters. "That was a hell of a pitch," Rodriguez said of the offering from Puerto Rico lefty reliever Xavier Cedeno.
Wright characteristically credits his heroics to teammates, and some of that is fair, especially considering Mauer's exploits.
"I'm not lying when I say hitting in this lineup is ridiculous," Wright said. "I mean, you've got some of the best hitters in the game, and it creates a lot of matchup problems, especially late in the game," Wright said. "I got a chance to go in there and face a lefty, and that's thanks to Mr. Torre for putting me in between those two lefties."
Wright, having grown up in a New York owned by Jeter, can occasionally borrow a Jeter-ism, such as referring to Torre as "Mr. Torre," though it still sounds natural for Wright, who is ultra-polite and straight-laced. But he's learned from the best; Wright doesn't make it seem insincere. When he speaks about playing for Torre -- "It's just one of those things where it's awesome to be able to say for the rest of my career that I played for Joe Torre." -- you know he feels it and means it.
Jeter's own trick is to say almost nothing, and reveal nothing. Wright doesn't go to quite that extreme. Like Jeter, he is unfailingly polite and punctual, even when it comes to the media. So when he didn't appear for his regular postgame dugout interview a half hour after USA beat Canada to survive round one, it was no less than a stunning development. The reason, Wright revealed (in a detour from the Jeter reveal-nothing blueprint) was that he was called upon at that very moment to take his random drug test. Which only shows the drug testers have no sense of the storyline.
Wright has been the clear USA standout, even with Mauer nearly never making an out, Jimmy Rollins almost matching Mauer and Miamian Gio Gonzalez pitching five scoreless innings in a hometown dream sequence. When Wright isn't praising teammates, he is attributing it to his love of country. And when he says that, you believe him.
"I mean, obviously the adrenaline gets pumping for this tournament," he said. "You wear that uniform, and as I mentioned before, you want to go out there and represent the country."
You could almost feel the patriotism when he says that. It's to the point where if he ever got a tattoo (he wouldn't), you just know it would be of the American flag.    
Wright was arrested at his home Friday

The former Tigers teammates were voted into Cooperstown by the 16-person Modern Era Commit...

The Yankees still have room for a good-sized signing even after Saturday's trade with Miam...
St. Louis gets some much needed help for their bullpen

Keep tabs on the top 50 free agents right here

Morrow thrived with the Dodgers last season