Awful for two months with the Indians, Lowe could still help the Yankees
Derek Lowe was terrible for the last two months with the Indians. But when he got released, he landed with one of the best teams in baseball. The Yankees signed him as a long reliever, but if he really has fixed his delivery, he could end up being an answer as a starter or a late-inning reliever.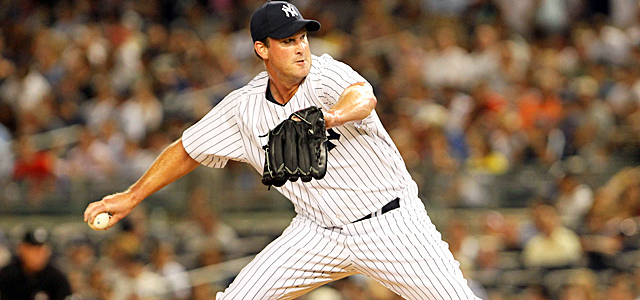 Lowe gives the Yankees late-inning relief they need as they head for a spot in the playoffs.
(U.S. Presswire)
NEW YORK -- There are three hitters in all of baseball who have a .351 batting average and a .913 OPS since May 26.

And that's what Derek Lowe was allowing over that same span with the Indians.

For two months, every hitter he faced was some combination of Andrew McCutchen, Mike Trout and Buster Posey.

Every hitter.

This is the guy the Yankees just added. This is the guy who could help the Yankees.
This is the guy who pitched four shutout innings in his Yankee debut Monday night against the Rangers, for his first save in 11 years.
Seriously.


It seems nuts, the idea that adding Derek Lowe -- this year's Derek Lowe -- could be significant for a team that now has the best record in the American League (half a game ahead of the Rangers).

But the simple fact of baseball in 2012 is that the supply of quality pitching doesn't come close to matching the demand. The simple fact is that even the best teams -- the Yankees and the Rangers -- have significant pitching concerns.

It's simple. Even for the Yankees, Derek Lowe could end up being an answer.

Lowe said Monday afternoon that in addition to the Yankees, he had interest from the Giants, Phillies, Orioles and Red Sox. He said that after the Indians released him, he had gone back to Florida and worked out the kinks in a delivery that was so messed up that the ball "was coming out like mashed potatoes," as he put it.
Lowe called himself "a tinkerer," and that's a good description. He's a sinkerball pitcher who relies on a repeatable delivery. It doesn't take much for the delivery to get out of whack, and at the same time it's not at all unheard of for him to find it again.
The Yankees signed Lowe as a long reliever.

"But I don't rule anything out," manager Joe Girardi said.

It's not so crazy to think that if Lowe gets going like he did in April and May (he was 6-2 with a 2.15 ERA), he could move into a more prominent role. That could be near the end of the game, or at the start.

The Yankees, as good as they are, have started to show some weaknesses in their late-inning relief. And with CC Sabathia on the disabled list, there are renewed questions in the rotation, too.

Lowe is 39, and it's possible that he's done. But you could have said the same thing after he went 0-5 with an 8.75 ERA last September with the Braves, and he fixed his mechanics enough to have two strong months to begin this year with the Indians.

It's worth the chance, because of how hard it is to find pitching. As one scout with a contending team said Monday, "if there's a pitcher available right now, you don't want him."

The Yankees did want Lowe, in part for the same reason that he wanted them. He's proven he can handle a pennant race, and he's proven he can pitch in a big market.

"I've always loved this time of year, playing in big markets, being accountable, having every game mean something," Lowe said.

There's a real chance he won't help. There's also a real chance he will.

Even for the Yankees, that's a chance worth taking.
After acquiring Ian Kinsler and Zack Cozart in recent days, the Angels are trending upward

Cozart's coming off a big season as the Reds' shortstop

The veteran slugger spent the last eight seasons with Cleveland
The Padres may be poised for an active winter

Yes, Bryce Harper is going to make a lot of money next winter

Outfield prospect Clint Frazier might be part of the talks