Baby steps for Oakland's Cespedes -- between mammoth homers
He's big and strong and ready to rock. But Yoenis Cespedes is still at the spoon-feeding stage. For that matter, so are his Oakland A's. ...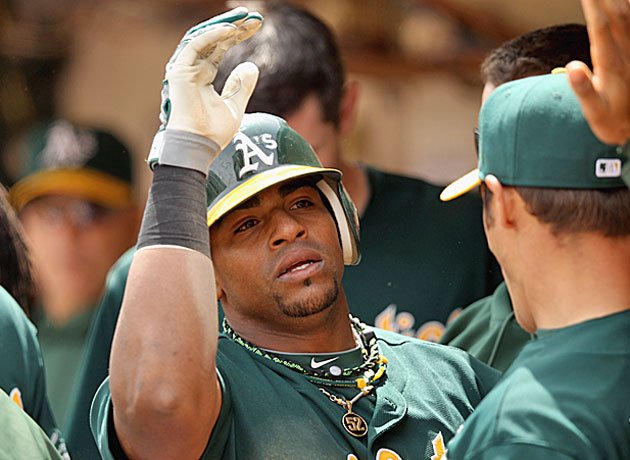 Cespedes had whiffed 16 of 37 times entering Wednesday's games. (Getty Images)
More on Oakland Athletics
ANAHEIM, Calif. -- He's big and strong and ready to rock.
But Yoenis Cespedes is still at the spoon-feeding stage.
For that matter, so are his Oakland A's.
"I'm learning him as much as he's learning the league," Athletics hitting coach Chili Davis says. "He's trying to make adjustments. He's a kid with a lot of talent, and there's been a lot said about him.
"Some people are waiting to see what happens, whether to praise or to criticize. He's handling that whole thing well."
Dropped into Oakland's camp this March some two weeks after spring training had started, Cespedes, the much-ballyhooed Cuban free agent who received a four-year, $36 million deal, was hitting .243 with three homers and nine RBI through his first 11 games.
But he's had moments. He collected two hits Tuesday, including a hard, two-run single in the eighth inning to help power Oakland past the Angels 5-3. He clubbed three home runs in his first four big league games, becoming only the third player since 1918 to do that, following Arizona's Trent Oeltjen in 2009 and the Mets' Mike Jacobs in 2005.
His second homer of the season came in Oakland's United States opener against Seattle on April 6, a monstrous shot that clanked off of the left-center field façade at the Oakland Coliseum and left everyone who saw it in awe.
But that's the thing about this man-child, 26, whom many scouts think eventually will become a prolific home run hitter in the majors (key word: eventually).
Right now, until he gets settled and develops some consistency, the monstrous clouts may work to his detriment.
"Yeah," Davis says. "Tape-measure home runs are fun. But I'd like to see him be moving toward consistently putting the barrel [of the bat] on the ball and minimize his chasing."
Because this, too, is Cespedes: He's whiffed 16 times in 37 at-bats.
"He needs to minimize his chasing," Davis says, referring to pitches thrown outside the strike zone. "He's not getting a lot of pitches to hit right now.
"He's the biggest power threat in our lineup. Teams know that. He's got to understand that. He needs to take his walks, and use the whole field -- singles, doubles.
"I don't know how much pressure he feels when he's batting. His at-bats have gotten a lot better since day one."
Most things have gotten better with Cespedes as he continues hurtling through a crash course of on-the-job training. And on many days, HURTLING is the operative word. Manager Bob Melvin has talked to him about slowing down in everything he does. Even shagging fly balls during batting practice. He started out with Oakland doing that full speed.
"He is such a hard worker," Melvin says. "He's never played 162 games in a season before."
Because of that, Melvin is looking to strike the right balance with him.
"I don't want to fix something before it's broken," he says. "But I don't want him to get run down. Everything is max effort with him. He's like the bull in a china shop."
The A's appreciate the challenge Cespedes is going through attempting to learn an entirely new culture while starting a new job, maybe more than most other clubs would. Remember that opening series with Seattle in Japan?
"I went to dinner one night there thinking, 'This is what he has to deal with every day'," Melvin says. "Getting in the cab, ordering dinner, that language. He's having to deal with a lot."
Nevertheless, Cespedes is plowing ahead on multiple fronts -- including, Melvin says, taking English lessons.
As he does, one of his predecessors comes to Melvin's mind as the manager watches Cespedes acclimate to Oakland: Former All-Star Raul Mondesi. The muscular build, thick chest and powerful swing all remind Melvin of Mondesi, a man who hit 271 career homers during his 13-year career.
But that's what Cespedes could become. For now. ...
"I'm patient with him, and the organization is patient with him," Davis says. "In time, he'll get it.
"And once he gets it, he's going to do some damage in this league."
Likes:
Chili Davis back in uniform as Oakland's hitting coach. Terrific guy. I told him the other day I've got the Isley Brothers T-Neck years as part of my CD collection because he used to play it in the Angels' clubhouse back in the 1990s. "I
ran
the music in that clubhouse," he corrected, and rightfully so. He sure did. ... The Nationals' pitching. Stephen Strasburg is back, with vengeance. ... Hall of Famer Tony Gwynn back coaching San Diego State's baseball team after undergoing surgery over the winter to take more cancer out of his mouth. Had a great visit with Gwynn on Wednesday and he looks and sounds fantastic. ...
MLB
Extra Innings television package. ...
The Three Stooges: The Movie
. Far exceeded expectations. Very funny, but only if you like the Stooges to begin with. The trio who played the Stooges was absolutely outstanding, all three of them. ... Bruce Springsteen's
Wrecking Ball
tour headed for Los Angeles next week.
Dislikes:
Always hate to see injuries, especially to players like Justin Upton and Chris Young playing for teams that are off to such a good start.
Rock 'n' Roll Lyric of the Day:
"You got a smile so bright
"You know you could've been a candle
"I'm holding you so tight
"You know you could've been a handle
"The way you swept me off my feet
"You know you could've been a broom
"The way you smell so sweet
"You know you could've been some perfume"
-- Smokey Robinson,
The Way You Do The Things You Do
Does the Jackson signing mean the Giants are out on Lorenzo Cain?

Acuna edged out Shohei Ohtani and Vladimir Guerrero Jr.

There's no reason to run over the cases for and against Bonds, so let's have fun instead
The coveted right-hander would certainly be a fit in Milwaukee

We rate the best mustaches from random baseball cards because, why not?

Colon wants to break a Dennis Martinez record