Baker on banged up Phillips: 'he wasn't limping, he was pimping'
Reds manager Dusty Baker colorfully declared Brandon Phillips good to go for Tuesday's wild-card game.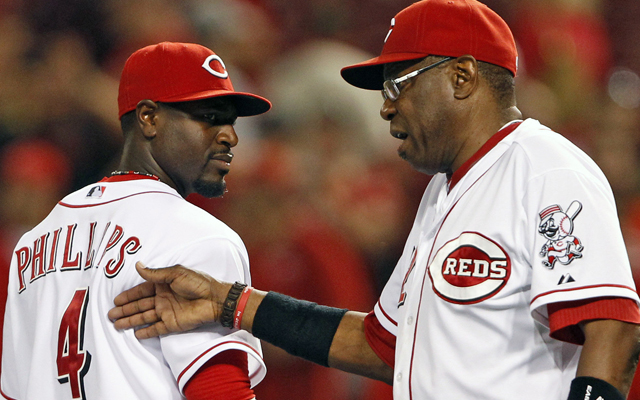 More NL wild-card: Reds at Pirates: Who has the edge?
Reds second baseman Brandon Phillips fouled a pitch off his left leg on Saturday, and the result was a nasty welt that showed up almost immediately. Here's a look, in case you missed it:
did the foul ball that hit Brandon Phillips go INTO his shin? pic.twitter.com/THSzSFYlXm

— Lana Berry (@Lana) September 28, 2013
Eww.
Phillips was removed from the game -- not before ending the at-bat with a single -- and rested on Sunday in hopes of being ready for Tuesday night's NL wild-card game. X-rays did come back negative.
According to MLB.com's Mark Sheldon, the swelling has subsided and Phillips was able to work out with the team on Monday. Manager Dusty Baker declared his 18 HR, 103 RBI second baseman good to go for the wild-card game, and he did it in one of the most colorful ways possible:
"I expect Brandon to be in there," Baker said. "I saw him yesterday. I told him, 'he wasn't limping, he was pimping' …not literally."
Baseball ain't easy, man.
The record of 38 previously belonged to Hall of Famer Frank Robinson

The report also says that Jeter had outgoing president David Samson do the firing

This wasn't a traditional hidden ball trick, but the Blue Jays pulled it off
The Tigers essentially fired Brad Ausmus on Friday, but things are going to be ugly for a...

The club made the announcement on Friday

Plus the Tigers will make a change in the dugout and all of Friday's action