Balfour says four teams interested in him; at least one made an offer
Teams have not waited to show interest in Grant Balfour after his agreement with the Orioles fell through. He already has an offer on the table.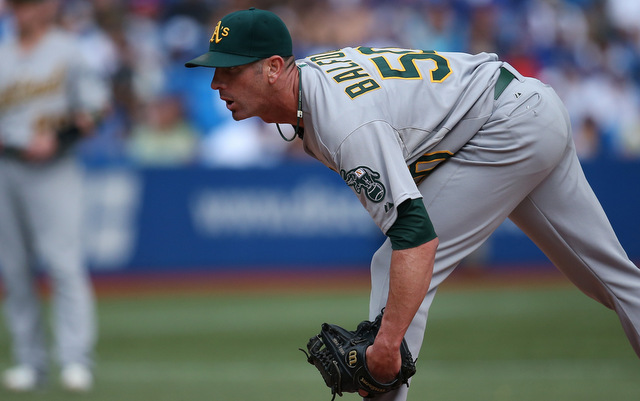 MORE: FA tracker: position players | FA tracker: pitchers
It has been just a few days since the Orioles backed out of their two-year contract agreement with Grant Balfour due to concerns about his shoulder, but the free agent closer is already drawing interest from other clubs. He spoke to Jim Duquette of MLB Network Radio on Sunday:
Balfour "4 teams are interested in my services and I have at least 1 offer on the table." @MLBNetworkRadio

— Jim Duquette (@Jim_Duquette) December 22, 2013
The four teams are unknown, but I'm guessing the Rays, Mariners and Yankees are among them. All three clubs could use a late-inning reliever and would seem to love the idea of swooping in to sign Balfour at a discounted rate. Again, that's just my guess.
Balfour, 35, and his agent released a statement insisting he and his right shoulder are healthy following the fiasco with Baltimore. Needless to say, he wasn't happy. His free agent stock took a big hit when the O's walked away and it's hard to see him getting the same kind of guaranteed money. Balfour might have to take an incentive-laden contract to prove his health.
That said, four teams are in the mix and there's an offer on the table. Maybe his stock didn't take as big a hit as it would seem.
Get 15 percent off any order of more than $75 at CBS Sports Shop

The Twins need help in the rotation, and they may look to the trade market to find arms

Here are the bullet-points of what went down Tuesday regarding MLB and the Braves' punishm...
The owners need to ratify on the new system in place, but the takeaway here is Ohtani is coming...

A preliminary report National Transportation Safety Board has shined some light on details...

John Coppolella was placed on the permanently ineligible list by MLB on Tuesday