Banged up but red hot, Padres move into contention in NL West
Two weeks into the season, the Padres appeared cooked. But one of baseball's hottest teams has climbed back into the thick of a wide-open NL West with flashy defense, steady fundamentals and a knack for making the right play at the right time.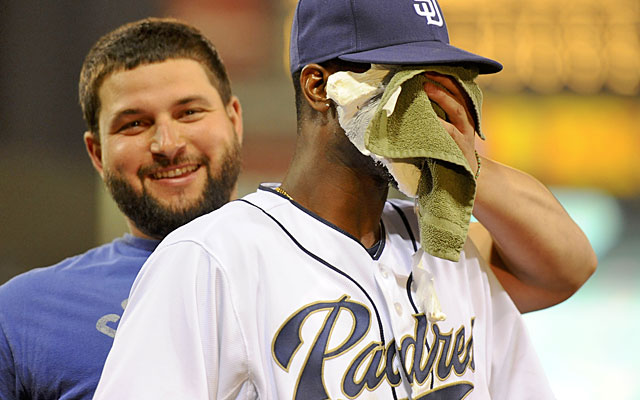 SAN DIEGO -- Chances are, you have looked at the NL West standings sometime in the past few days. And, alarmed, you have thought to yourself, "Whoa. When did my eyesight turn to crap?!"
Do not be alarmed.
The Padres, following a 5-15 start, really are just 2½ games back.
Who are these guys?
What are they doing there?
This is who they are: Spring training, All-Star third baseman Chase Headley is talking with shortstop Everth Cabrera.
"Hey, man," Headley tells him. "I'm going to be on you every day. Don't take it as being hard on you. I'm doing this because I think you can be a better player than you are."
Cabrera does not snap at him. Does not swear at him.
"I need you to do that," the shortstop replies. "I want you to do that."
Cabrera landed on the disabled list the other day with a hamstring strain, and right now that's the biggest threat to all the great things happening in San Diego. Time was, nobody would have believed that, either.
Cabrera was grabbed by the Padres in the 2008 Rule 5 draft, pilfered from Colorado. But after showing highlight-reel flashes in 2009, he spent 2010 and 2011 looking like a wasted pick.
Now? He's tied with Boston's Jacoby Ellsbury for the major-league lead with 31 steals (after leading the NL with 44 last year) and has spent the season igniting the Padres' offense.
He is not alone.
The Padres, who were already eight games out just 20 days into the season, are 32-21 since April 24, the third-best record in the majors during that time behind the Cardinals (36-18) and Pirates (33-21). They own the NL's best record in June (12-7). They have won eight of their past 10.
The trick now will be to see whether they can make it last and not because of a lack of talent. No, it's just that they're banged up. They opened their latest homestand by beating the Dodgers 6-3 on Thursday night minus five regulars: Cabrera, first baseman Yonder Alonso (wrist), rookie second baseman Jedd Gyorko (right groin strain) and outfielders Cameron Maybin (knee) and Carlos Quentin (shoulder). All but Quentin are on the DL.
Yet, look at these Padres go. Last week, they swept consecutive series from division leaders Atlanta (NL East) and Arizona (NL West). Thursday, left fielder Chris Denorfia, center fielder Alexi Amarista and second baseman Logan Forsythe made fantastic defensive plays. And did you see Will Venable's sensational catch in San Francisco this week?
Veteran Jason Marquis has won eight consecutive decisions, and Padres starters over their past nine games have gone 7-2 with a 2.56 ERA.
"Our starting pitching has been steady, and our team defense has been steady," said Bud Black, as sharp as any manager working today. "We haven't lost games. When we've lost, we've been beat. The other team has done something to beat us.
"We haven't given a game away. When you do that, you're going to win your share of games."
Even while hot as a summer's day, they remain the game's Most Invisible Team. The Padres are boxed in by the Pacific Ocean, Mexico and the desert, with Los Angeles to the north. An ongoing cable television dispute is keeping 22 percent of San Diegans from getting the team's games on television. And the Pacific Time Zone keeps them out of sight from many Easterners.
Too bad, because the infield defense -- when Alonso, Gyorko, Cabrera and Headley are together -- is as slick as any in the game. These guys are good. Time was, Cabrera made the flamboyant, highlight-reel plays and then would fall asleep on his share of routine plays. No more.
That's part of the genesis of that spring conversation between Headley -- who led the NL in RBI last year, in case you've forgotten -- and Cabrera.
The overall spectacular defense is no small part of why the pitching staff is working so well.
And, offensively, Cabrera is tied for seventh in the NL with 84 hits and leads the league with a .414 batting average against left-handed pitchers. Denorfia is eighth in the NL with a .388 batting average with runners in scoring position. And Gyorko leads NL rookies in runs (36), hits (66) and total bases (107), ranks second in batting (.284) and homers (eight) and third in RBI (25).
Most surprising, though, has been the Padres' pop: Their 26 homers this month are tied with the Red Sox for most in the majors.
"What I see is guys picking each other up," said Venable, whose 10 homers lead the club. "Opportunities come to get a guy over. And if we don't get the guy over, the next guy will pick him up and get the guy over."
"My favorite part, as strange as it is going to sound, is sort of every other aspect other than the game," said big Kyle Blanks (6-foot-6, 264 pounds), 26, who has slugged eight homers. "It doesn't surprise me that we're playing so well. But the fact that we all get along so well in the dugout ... it's one of those intangibles that is tough to cultivate."
How a team can start 2-10 and 5-15 and reverse course so dramatically remains one of those lovely, inexplicable mysteries of the game.
"That's a good question," Venable said. "That's a good question. If there is an answer, and I can only speak for myself, the beginning of the season felt -- and this isn't an excuse -- but we had a long spring training, then exhibition games on the road [San Antonio] and then opened in New York in the cold.
"We needed to get home and get settled. Take a breath. For whatever reason, we weren't able to battle through it."
Now, there are no breathers for anybody playing the Padres.
Though they will be tested in the next couple of weeks with this rash of injuries -- and Cabrera's name linked to the Biogenesis investigation is another concern -- there also are others who really haven't kicked it into gear yet.
Catcher Yasmani Grandal, suspended for the first 50 games of the season for failing a performance-enhancing drug test (and also linked to Biogenesis), is hitting .179 with just one homer and eight RBI. Headley, who missed the season's first month with a thumb injury, is at .221 with six homers and 22 RBI. Venable has the 10 homers, but he's hitting just .228.
As Black said, "We've got to absorb the injury to Cabby." And, "I still think there's an upside to a number of our players."
It's an intriguing mix in a division that, more and more, looks wide open.
Now, Headley and Cabrera will look at each other and joke, "Hey, man. Let's really focus today."
What's clear is that these Padres are. Every one of them. Every day.
The Yankees punched their ticket to the playoffs with a win over the Blue Jays on Saturday

Sabathia's stance seems to be an increasingly popular one among athletes

Plus the A's have hope and all the rest of the day's action
Matt Chapman and Matt Olson give the A's hope

Despite an awful month, the Dodgers are again NL West champions

The record of 38 previously belonged to Hall of Famer Frank Robinson