Barry Bonds takes BP at Giants camp, Internet fails to get video
Guest instructor Barry Bonds took batting practice at Giants camp on Sunday, but unfortunately no one was able to take video.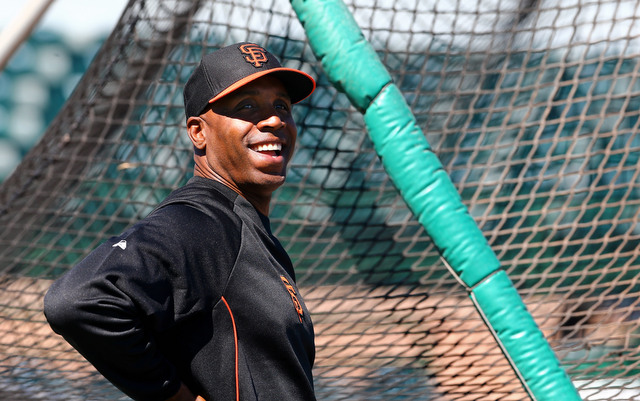 MORE: Spring Training | Scoreboard | Team previews
Well this is a crying shame.
All-time home run king Barry Bonds has been at spring training with the Giants as a special instructor for the past week -- the first time he has rejoined the club in an official on-field capacity since his days as a player -- and on Sunday he finally got in the cage and took some hacks. The result? What do you think.
From Carl Steward of the Mercury News:
With the Giants' longtime left-handed batting practice specialist "Cutter John" Yandle on the mound, Bonds had an extended hitting session out of view of observers on the back field at Scottsdale Stadium.

According to Yandle, Bonds hit rope after rope and on his last few swings unloaded some massive blasts into the adjoining neighborhood.

"He looked better than he did before," Yandle said. "He's still got the swing down."
As for Bonds, he said the hitting session went "easy, no worries ... Maybe in about 5-6 more years I'll start to slow down. But today ain't the day." Bonds did say he can't run anymore, but neither can most AL DHs. I bet he could still hit something like .200/.330/.350 or so, even at age 49 and after the seven-year layoff.
Sadly, because this hitting session was on a back field and away from onlookers, there is no video. The Internet has failed, and it has failed spectacularly.
Your one-stop shop for all things MLB Winter Meetings-related

Bryan Mitchell also heads to San Diego in the reported deal

The super agent is aiming high for free-agent starting pitcher Jake Arrieta's payday
Marcell Ozuna figures to be the next Marlins star on the move

Several relievers have signed in the last two days

Several teams are interested in the switch-hitting first baseman