Barry Bonds to return to Giants as special instructor
The Giants are welcoming back controversial franchise icon Barry Bonds in a teaching capacity.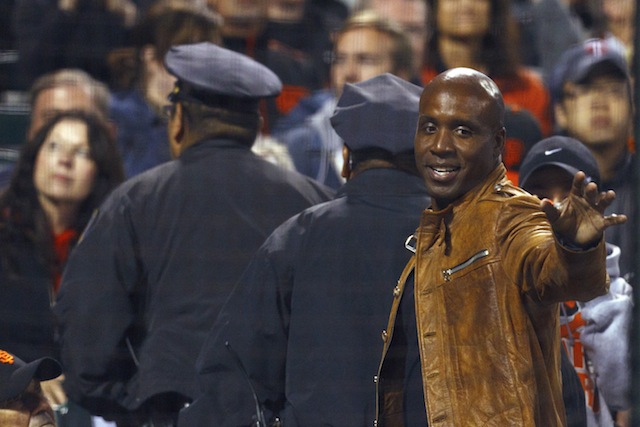 MORE: Spring Training | FA tracker: position players | FA tracker: pitchers
The unofficial MLB exile of Barry Bonds seems poised to end this spring training. Alex Pavlovic of the San Jose Mercury News reports that Bonds will join the Giants in camp and serve as a special instructor. Bonds will be working with Giants' hitters. The Giants confirmed the news later on Saturday.
Bonds, now 49, holds the records for single-season and career home runs. He spent 15 of his 22 big-league seasons in a Giants uniform and won five of his seven NL MVPs with them. An obvious Hall of Famer based on the numbers, Bonds has thus far been denied induction by a wide margin because of his alleged associations with the BALCO scandal in particular and the use of performance-enhancing substances in general, as well as his related conviction for obstruction of justice. 
As Pavlovic notes, Bonds has long been spoiling for a return to the organization, and now that appears set to happen. 
"He's part of what we'll do here," Giants manager Bruce Bochy said of Bonds. "He's going to be part of the group of instructors, like (Will) Clark, (J.T.) Snow or (Jeff) Kent. He's going to be like the other guys and help where he can. I don't have any concerns."
This decision is bound to cause some controversy, but, from the Giants' perspective, Bonds certainly has a wealth of knowledge to share when it comes to producing at the plate. 
Sheffield has the numbers to make it to Cooperstown, but he has received very little suppo...

Granderson heads north of the border for his age-37 season

What did the Pirates get in return for their franchise player?
Rivero could remain in Pittsburgh for some time to come

The White Sox, Angels, Athletics, Orioles and Marlins are the holdouts after Blue Jays fol...

The Pirates have several attractive trade chips if they decide to go into a full rebuild