Baseball Hall of Fame: Johnson, Martinez, Smoltz, Biggio elected
The results are in, and the 2015 Baseball Hall of Fame class will include Randy Johnson, Pedro Martinez, John Smoltz and Craig Biggio.
Randy Johnson, Pedro Martinez, John Smoltz and Craig Biggio were voted into the baseball Hall of Fame by the Baseball Writers Association of America on Tuesday, and the foursome will be officially inducted July 26 in Cooperstown, N.Y.

This is only the fourth time in history at least four players were elected into the Hall via the BBWAA vote, and it's the first time it happened since 1955.
Johnson received 97.3 percent of the vote, with Martinez not far behind at 91.1. The record-high percentage is 98.84, which Tom Seaver received in 1992. Smoltz got 82.9 percent while Biggio grabbed 82.7 percent in his third try.
Smoltz, Johnson and Martinez are all first-ballot Hall of Famers. This is the second straight year that three players have made it into the Hall of Fame on their first ballot. Last season, Frank Thomas, Tom Glavine and Greg Maddux were inducted on their first try.
Johnson, 51, pitched in parts of 22 big-league seasons. He went 303-166 with a 3.29 ERA (135 ERA+), 1.17 WHIP and 4,875 strikeouts in 4,135 1/3 innings. He won five Cy Young Awards and finished second in the voting three other times. He led the league in strikeouts nine times, ERA four times, WHIP three times, wins once and winning percentage four times. He was the co-MVP of the 2001 World Series, when his Diamondbacks beat the dynasty Yankees in an epic seven-game series.
Martinez, 43, was 219-100 in parts of 18 seasons. He had a 2.93 ERA (best-ever 154 ERA+ among starters), 1.05 WHIP and 3,154 strikeouts in 2,827 1/3 innings. He won three Cy Youngs and finished second two other times. He topped his league in ERA five times, WHIP six times, strikeouts three times, wins once and winning percentage three times, among other rate stats (like hit rate five times). He won a World Series ring with the 2004 Red Sox.
Smoltz, 47, is the only player with more than 200 wins and 150 saves. He was a two-time All-Star as a closer and went six times as a starter, winning the 1996 Cy Young. In parts of 21 seasons, he was 213-155 with a 3.33 ERA (125 ERA+), 1.18 WHIP and 3,084 strikeouts in 3,473 innings. He had 154 saves in 169 chances, a 91 percent clip. In the postseason, Smoltz went 15-4 with a 2.67 ERA and four saves in 209 innings.
Biggio, 49, seemed headed here eventually, getting 68.2 percent of the vote in 2013 and 74.8 percent last year. The seven-time All-Star ranks 21st in career hits at 3,060 and fifth in doubles with a whopping 668. He's also 15th in runs (1844), 33rd in total bases, 66th in stolen bases (414). Thanks to being 66th in walks, 21st in hits and second all-time in hit-by-pitches, it's not surprising to see Biggio ranking 18th in times on base. Even as a table-setter, Biggio's 292 homers and 1,175 RBI are impressive. His career slash line is .281/.363/.433.
Total vote breakdown, thanks to bbwaa.com (above 75 percent needed for election, with below 5 percent meaning the player falls off the ballot)
Johnson, 97.3 percent
Martinez, 91.1
Smoltz, 82.9
Biggio, 82.7
-----
Mike Piazza, 69.9
Jeff Bagwell, 55.7
Tim Raines, 55
Curt Schilling, 39.2
Roger Clemens, 37.5
Barry Bonds, 36.8
Lee Smith, 30.2
Edgar Martinez, 27
Alan Trammell, 25.1
Mike Mussina, 24.6
Jeff Kent, 14
Fred McGriff, 12.9
Larry Walker, 11.8
Gary Sheffield, 11.7
Mark McGwire, 10
Don Mattingly, 9.1
Sammy Sosa, 6.6
Nomar Garciaparra, 5.5
-----
Carlos Delgado, 3.8
Troy Percival, 0.7
Aaron Boone, 0.4
Tom Gordon, 0.4
Darin Erstad, 0.2
Rich Aurillia, 0
Tony Clark, 0
Jermaine Dye, 0
Cliff Floyd, 0
Brian Giles, 0
Eddie Guardado, 0
Jason Schmidt, 0
Mattingly also falls off the ballot, as this was his 15th and final chance.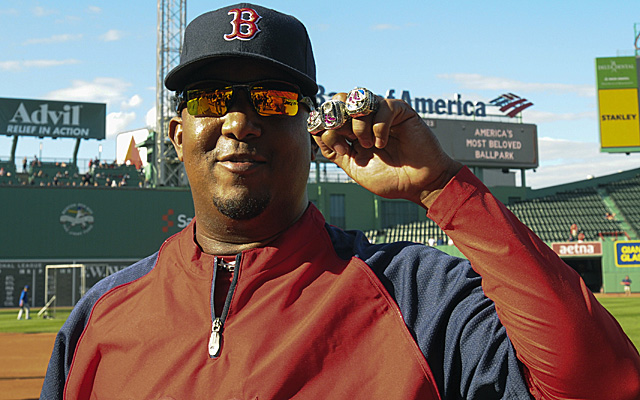 >> Want more HOF? Bonds, Clemens still face long odds
CBS Sports HQ Daily Newsletter
Get the best highlights and stories - yeah, just the good stuff handpicked by our team to start your day.
Please check the opt-in box to acknowledge that you would like to subscribe.
Thanks for signing up!
Keep an eye on your inbox for the latest sports news.
Sorry!
There was an error processing your subscription.
Health problems continue to be subplot in Cespedes' otherwise excellent career

Strasburg on Friday didn't look sharp in his first start back from the DL

Keep up with all the latest trade rumors around Major League Baseball
Keep it right here for all of Friday's MLB action

Machado will suit up with the Dodgers on Friday night

Carpenter has been quite the leadoff hitter for the Cardinals this year and in his career