Baseball hope back in full force under Terry Francona in Cleveland
The Indians still have one major problem in the AL Central -- that city around the Lake Erie bend called Detroit, home of the Tigers. But in Terry Francona's first season at the helm, major strides are evident for the Indians.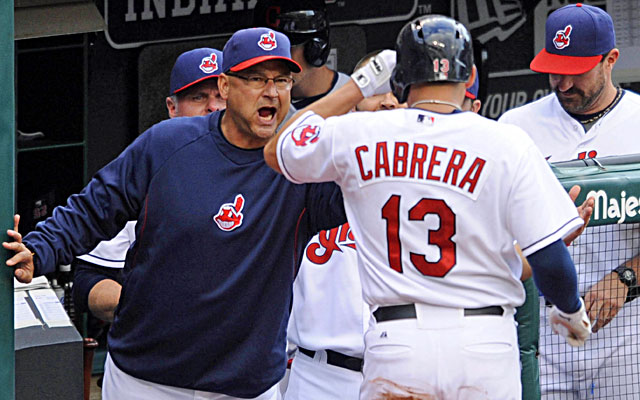 ANAHEIM, Calif. – There was a moment the other night when manager Terry Francona looked down his dugout bench and thought this crazy thought that some managers wouldn't have the guts to put into words.
Next thing he knew, he was voicing it to starting pitcher Scott Kazmir.
"Hey Kaz," Francona said, thinking ahead several batters. "I may need you to pinch-run."
So Kazmir popped up and practically sprinted back to the clubhouse to lace up his spikes.
Now, to say the drastically improved Indians are in contention only because of little moments like this would be absolutely nuts, of course.
But to unequivocally discount moments like Kazmir in cleats as the Indians keep pushing toward the stretch run is even more nuts.
"We have a team that makes it fun," says Francona, who, in his debut season by Lake Erie, has the Indians only 4 ½ games out of an AL wild-card spot. "I've been on teams where a guy would roll his eyes at that. But Kaz ran up and got his spikes.
"That makes it so much fun for me. Those are the things that mean a lot to me."
Six months in, the Francona-Indians union might be even better than expected.
Baseball hope is back in Cleveland, and in full force.
"This is probably the most fun I've had on a team in the majors in awhile," says third-year third baseman Lonnie Chisenhall, 24. "In 2011, we fell out of contention early. In 2012, we fell out in August.
"This year, we've kept it loose. He's a big part of what we're doing here. He's got a smile on his face all the time. The way he carries himself, it translates.
"You kind of want to mirror that."
The best teams become a reflection of their leaders. And starting early in spring training, the Indians began carrying themselves as if there were mirrors everywhere.
Yes, the Indians splurged over the winter to add Michael Bourn, Nick Swisher and Jason Giambi. They traded for Drew Stubbs and gambled on Kazmir.
But it is Francona who became the bonding agent. It is the manager who is pulling all the right levers.
And it is in his office where the tone is set.
One after another, these Indians mention the words "fun" and "joy" as they describe the chief weapons brought by the man who led the Red Sox to two World Series titles.
Meantime, the man who briefly was the odds-on favorite to succeed Manny Acta last fall before Francona suddenly expressed interest feels as if he's completing a doctorate course before his first managing offer arrives, whenever that is. And it will arrive, Sandy Alomar Jr. is that good.
"You can see it by the way the games go, and by the way the players will run through a wall for him," says Alomar, who is serving as Francona's bench coach. "It's a great learning experience for me.
"He has the same communication with everybody. He treats everybody the same. He makes them all feel needed. He gets players prepared, he gets them rested.
"Sometimes, I just sit in the background and soak in whatever I can and put it in my bag. It's an unbelievable experience."
When someone asks about Michael Brantley breaking Rocky Colavito's club record for an outfielder by playing in his 213th consecutive errorless game Monday night, Francona brightens up even more.
"Gives me a chance to brag about him, which is fun," Francona says. "He doesn't want to do it himself."
When someone asks about Ryan Raburn, an unexpected spark plug this year, not playing Tuesday because of a slight calf strain, the response is sure to make Raburn's day, whenever he hears it.
"He is such an important part of what we're doing," Francona says. "I think sometimes you can look at the small picture and miss the bigger one. Having him healthy for the stretch is so important."
Nearly two years after the bitter breakup with the Red Sox, Francona could not be happier. He loves Cleveland, and Cleveland loves him back.
"He's been all we need," Bourn says.
The Indians are not even close to where they hope to get. The first-place Tigers are a daily reminder of that.
But, yet.
At 67-58 on Tuesday, these Indians had produced a 13-game turnaround over their 2012 predecessors (54-71). And mark it down now, whatever the finished 2013 product is, it will be nowhere near the cratering the '12 unit did in finishing 64-98.
The Indians are again headed in the right direction, and the indicators are all over the place.
As Francona notes of Brantley, that's not a hollow 213-game errorless streak. Some guys build defensive streaks by simply not making the plays. Brantley is no stranger to chasing balls hard into the corner, or to the basic fundamentals of staying behind the ball and setting up for a proper throw.
"Sometimes when you do little things, it adds up to big things," Francona says.
That's a significant part of why these Indians now have a better chance to do some of their biggest things since 2007. Guys doing the little things, pitchers going to find their cleats in case they're needed to pinch-run. …
"This is the stuff we talked about on the first day of spring training," Francona says. "Now we're in the middle of August, and it's fun when you see it work.
"It's a nice feeling."
So, too, is being in a place where the working relationships aren't dysfunctional.
"There are no guarantees what your final record is going to be, but there are ways to have a healthy environment where you can enjoy trying to get good," Francona says. "We have that here. We've had our hiccups, everyone does. But we have a good group here. For me, it's a healthy environment to work.
"My bosses are great to me. I think they bring out a good part of me. At least, I hope. This game, man, you can get into the middle of August and it's a grind. You can get stubborn and short-tempered and I've done that before. I don't like that part of me."
So far in Cleveland, that part of him doesn't exist. So score another one for fresh starts.
"Our motto this spring was, 'Let's make this special,'" says starter Justin Masterson, whose 13-9 record and 3.59 ERA over 26 starts has been a very nice plus. "And we're trying to make sure we keep it special."
Kazmir, by the way, did not wind up pinch-running.
But there's no telling what tomorrow may bring.