Baseball moving toward streamlining bloated September rosters
The days of endless pitching changes and interminable mid-inning waits that mark September baseball and change the competitive nature of the pennant races soon are expected to go the way of flannel uniforms and Ladies' Day. ...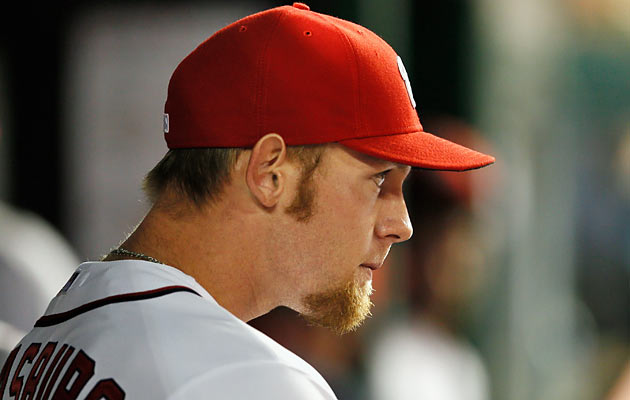 What kind of roster adjustments will teams be allowed to make when shutting down young arms like Strasburg? (Getty)
The days of endless pitching changes and interminable mid-inning waits that mark September baseball and change the competitive nature of the pennant races soon are expected to go the way of flannel uniforms and Ladies' Day.

Expanded late-season rosters have been a growing topic of discussion among members of Commissioner Bud Selig's special committee for on-field issues. And there is increasing momentum to change the rules by next season, multiple industry sources have told CBSSports.com.

Teams would still be free to expand rosters during the final month of the season but would be subject to roster limitations on a nightly basis. Within this, clubs would have to designate which players are eligible before each game.
More on MLB
Related links

The most common scenario under discussion is to expand September rosters to 30, with each club's 25-man roster on Aug. 31 being locked in throughout September.

In other words, each team would use that 25-man roster as a base throughout September, and then have the ability to add five minor-leaguers (out of however many are recalled) to its active roster for each game during the season's final month.

The point of using the Aug. 31 rosters as a base? Simple: Each club would be required to keep its five-man rotation eligible every day in September, rather than de-activating the four starters not pitching on a particular night in order to add four more relievers.

"I think it's smart," says Atlanta manager Fredi Gonzalez, who is not a member of Selig's committee but is among many managers in favor of harnessing the swelling late-season rosters.

Dodgers manager Don Mattingly still shakes his head recalling a late-season series against Pittsburgh a couple of years ago in which the Pirates listed 17 pitchers on their roster.

"How do you prepare your guys for 17 pitchers?" Mattingly, who then was Los Angeles' hitting coach, asked.

In San Diego, they still talk about the time in 2007 when the Rockies, during their last-month sprint to the NL pennant, employed 18 pitchers -- an used 10 in a game against the Padres on Sept. 7 (Adrian Gonzalez faced five different pitchers in five at-bats).

Even Pirates manager Clint Hurdle, who was piloting the Rockies then, said the other day that he'd like to see up to 40 players be eligible on each team's September roster ... but only 25 be designated as "active" for each September game.

Critics of September baseball have been vociferous on the topic, making valid points when asking how baseball can allow the rules to change in regard to roster size during its most important games of the season.

The flip side, of course, is that the minor-league seasons traditionally end on Labor Day Weekend, and expanded rosters give out-of-contention clubs a running start on next year, an opportunity to evaluate prospects who could fit into their future plans.

However, with more teams having more at stake in these days of expanded playoffs, the number of instances in which teams with clashing goals face each other in September has increased. And rightfully, so has the scrutiny.

"One of the things, game to game, is the competitive balance," says Angels manager Mike Scioscia, who is a member of Selig's special committee. "One team expands its roster to 37 and is playing against a team that maybe expanded its roster to 31.

"There are various reasons why some clubs don't expand their rosters as big as others. Some are financial, some relate to talent in the farm system, some relate to depth charts.

"It's in discussion. It makes sense a number of ways to designate the rosters to, say, 30 on a given night."

As a committee member, Scioscia declined to discuss specific details of the plan, or its potential implementation.

"I think it does make sense, for a number of reasons," Scioscia says, speaking generally. "We'll see."

As Scioscia says, when you "thoroughly peel the paint" off of an issue, other, unexpected issues usually arise.

Certainly, one task the committee faces in tweaking the rules for September call-ups is anticipating loopholes. That's why, for example, it is looking at locking in the 25-man Aug. 31 rosters throughout September, so clubs don't try to stack bullpens on a given night while de-activating starting pitchers.

One thing the committee must address is injuries -- or, "injuries." What happens when a club wants to adjust its 25-man Aug. 31 roster on Sept. 15 because of an injury -- real or imagined -- to a starting pitcher? Must that pitcher sit the rest of the month? Must he miss at least one start before he is deemed eligible to be re-activated?

What about a club looking to shut down young pitching, as the Nationals did last year with Jordan Zimmerman on Aug. 28, and likely will to this year with Stephen Strasburg on Sept. 12? What kind of roster adjustment would that club be allowed to make when the new rules go into effect?

The players' association, obviously, will have a say in this because among the union's many tasks is protecting jobs. But if clubs continue to recall similar numbers of players as in the past, and rotate which ones are active on a given night, it should not be that big of a deal.

Issues remain. Loopholes. The specific size of active rosters if the new rule is implemented next September -- some managers favor 28 players, others favor more. Thirty appears to be the working number for members of Selig's special committee.

But the momentum is there, and many expect late-season baseball to begin making much more sense come next September.

****

In different rules issue, Selig's committee is discussing eliminating the fake-to-third-throw-to-first pickoff move periodically employed by pitchers. According to the game's rules, baserunners are not supposed to be "deceived" -- thus, the balk call.

But pitchers have gotten away with the fake-to-third move for years, and it's even written into the rulebook. Rule 8.05(c) states, "It is possible, with runners on first and third, for the pitcher to step toward third and not throw, merely to bluff the runner back to third; then seeing the runner on first start for second, turn and step toward and throw to first base. This is legal."

Many managers and umpires are in favor of eliminating the move, which rarely works anyway. But any rules change always relates to other issues, and one here is this: If the fake-to-third move is outlawed, should the fake-to-second move also be prohibited? There are times when a pitcher wheels around and then doesn't throw to second base -- sometimes because he's feigning a throw, other times because nobody has covered second.

The fake-to-third move is expected to be outlawed in 2013. The non-throw to second base? Stay tuned.
CBS Sports HQ Daily Newsletter
Get the best highlights and stories - yeah, just the good stuff handpicked by our team to start your day.
Please check the opt-in box to acknowledge that you would like to subscribe.
Thanks for signing up!
Keep an eye on your inbox for the latest sports news.
Sorry!
There was an error processing your subscription.
Health problems continue to be subplot in Cespedes' otherwise excellent career

Strasburg on Friday didn't look sharp in his first start back from the DL

Keep up with all the latest trade rumors around Major League Baseball
Keep it right here for all of Friday's MLB action

Machado will suit up with the Dodgers on Friday night

Carpenter has been quite the leadoff hitter for the Cardinals this year and in his career