Battle royale going on atop NL East over Bourn, B.J. Upton
The Phillies, Braves and Nationals have courted both center-field stars.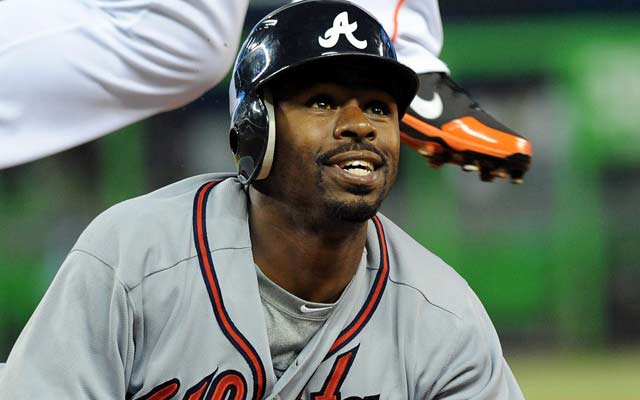 Michael Bourn is getting tons of interest from the NL East.
(US Presswire)
There is quite a skirmish going on in the National League East for the services of the top two center fielders on the free-agent market, B.J. Upton and Michael Bourn.
All three teams involved -- the Phillies, Braves and Nationals -- have checked in on both players, and while some other teams also have shown interest, it appears likely now that at least one and perhaps both players will wind up in the division.
Upton is known to have had recent visits with at least the Phillies and Braves, while Bourn -- a two-time All-Star, two-time Gold Glove winner and prototypical leadoff hitter -- is also a strong consideration for both teams.
Although Bourn is rated higher than Upton by WAR (he trails only Ryan Braun and Jose Bautista in WAR among outfielders over the last three years), Philly and Atlanta don't mind the idea of the extra power Upton brings, either. The Phillies, though,recall Bourn's terrific personality from when he came up with them before moving to the Astros and then the Braves.
The Nationals also could be a logical landing spot for Bourn. They have shown interest in both Bourn and Upton in the past. As leadoff hitters, both players fit the Nats (Jayson Werth was their atypical yet effective leadoff hitter at the end of the 2012 season) but Bourn may fit slightly better. Washington isn't quite as set on adding an outfielder as Philly and Atlanta, two teams that need center fielders.
The Braves surely tried to sell Upton on their young, talented nucleus featuring Jason Heyward, Freddie Freeman, Craig Kimbrel and others, and Atlanta is a desirable market with a longstanding record of winning.
Meanwhile, the Phillies have won more games than any National League team over the past half-decade and would presumably have an advantage in a bidding war with the Braves. Atlanta has kept its payroll at around $90 million for the past six years, but the retirement of Chipper Jones gives the Braves a bit of financial flexibility this year. The Phillies will try to keep their payroll below the luxury-tax threshhold, as they barely did last year thanks to their summer selloff, but they would consider going over it.
The Rangers could also be involved with Upton, while the Reds, Red Sox, Giants and others have checked in on Bourn.
This free-agent market is stocked with center fielders, as Angel Pagan and Shane Victorino are two more viable center-field options. The Giants are trying to re-sign Pagan, but could turn to one of the others should they be unable to do so. Victorino also will have several options, possibly including the Reds, Indians and others.
But the top two guys are Upton and Bourn. Upton had 28 home runs and 31 stolen bases and he batted .246 this past season. Bourn had 96 runs, 42 stolen bases and hit .274 when he made the All-Star team for a second time.
Opening Day will be Thursday, March 29 -- the earliest opening day in MLB history

The World Series champion and big-time wrestling fan was on hand Sunday night

The Brewers have very few payroll commitments moving forward
The new, lighter hats will replace embroidered logos with beveled rubber badges

Chipper Jones and Jim Thome join holdovers Trevor Hoffman and Vladimir Guerrero

Another team rumored to be interested in Stanton has confirmed their interest