Beer and fried chicken? If Yankees didn't have any, they should've
The Yankees didn't just lose. They seemed to fall apart. They didn't just fail to get to the World Series, but they failed loudly and spectacularly. They looked like the Red Sox of last September or the Rangers of two weeks back. It wasn't pretty.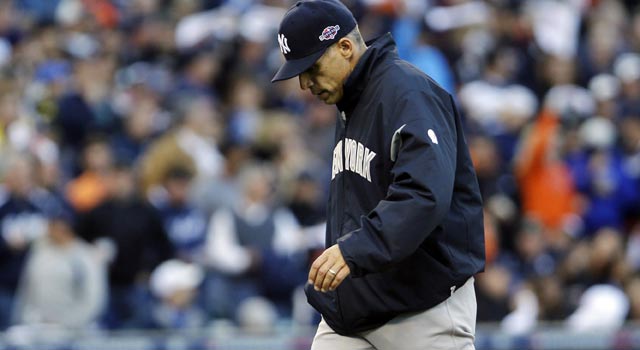 Joe Girardi's Yankees could not do anything right in the ALCS.
(Getty Images)
DETROIT -- No one just loses anymore.

Seasons don't just end in disappointment. They end in disarray.

Missions don't just go unaccomplished. They blow up so spectacularly that you don't end up one or two steps shy of the goal, you end up farther away than when you began.

They end with the fans booing and the stars exposed. They end with four feeble at-bats from Josh Hamilton, or with $29 million Alex Rodriguez benched because he couldn't even manage that.

They end with beer and fried chicken, and if the Yankees didn't have any of either in their clubhouse Thursday night at Comerica Park, perhaps they should have.

General manager Brian Cashman kept repeating that his Yankees ended up just four wins away from a World Series. But at the end of one of the most one-sided American League Championship Series ever, it felt like the Yankees were 40 wins away -- or 400 wins away.

It felt like they were the Red Sox of a year ago, like they were the Rangers of two weeks ago.

Those teams were the "best team in baseball," too, just like the Yankees were. Those teams went through losses that weren't just losses, followed by days where everyone was on edge as they tried to figure out why it went wrong and who was responsible.

Now it's the Yankees. Think about where they stood after Thursday's 8-1 sweep-ending loss. Think about where they stand, as we look ahead to opening day 2013.

We don't know who the third baseman will be, unless Alex Rodriguez sticks to "I'll be back" guns and really doesn't want to be traded. Even then, we don't know if A-Rod (who makes $28 million next year) will be a full-time player or a part-time player, given his sudden inability to even put the ball in play against right-handed pitchers.

We don't know for sure who the shortstop will be, because when Derek Jeter needed surgery on his fractured left ankle, it threw his availability for opening day into doubt. The Yankees won't worry about Jeter -- unless with his surgically repaired ankle, he has trouble moving well enough to play shortstop.

Then there's the closer (Mariano Rivera), who missed the final five months of this season with a serious knee injury, and will turn 43 in November. And the other closer (Rafael Soriano), who can (and likely will) opt out of his contract.

There's the right fielder (Nick Swisher), who with another postseason no-show (and some digs at the fans) absolutely guaranteed that he'll be able to leave as a free agent. And the center fielder (Curtis Granderson), who looked so bad in the playoffs that his 43 regular-season home runs (second only to Miguel Cabrera in the American League) have been long forgotten.

There's the second baseman (Robinson Cano) who looked unrecognizable in the playoffs. Oh, and the ace of the rotation (CC Sabathia), who brought back all the questions about his left elbow by looking less than ordinary in the final game of the year.

Sabathia insisted one final time that he's healthy. As with everything else around the Yankees right now, you can choose to believe him or not.

"I felt good," he said. "I felt good enough to pitch. I took the ball, and I didn't pitch well. I was terrible. . . . I sucked."

He was hardly alone, and he was less at fault than most. By the time Sabathia threw his first pitch of this series, the Yankees were already in deep trouble, Jeter was already hurt, A-Rod had already been embarrassed and the Yankee lineup as a whole had already proven to be no match for the Tigers' hard-throwing pitchers.

By the time Sabathia pitched Thursday, Yankees manager Joe Girardi had already shown his team it was time to panic, with lineup move after lineup move and pitching change after pitching change. With move after move, he told his players he didn't think they were good enough, while in the other dugout Tigers manager Jim Leyland calmly sent out the same players game after game.

In truth, the Tigers were always a bad matchup for the Yankees, just as they were in 2006 and 2011 (when the Tigers knocked them out in the Division Series). Tiger general manager Dave Dombrowski is particularly fond of hard-throwers, and the Yankees are particularly vulnerable to them.

Cashman, the Yankees general manager, won't budge from his theory that you can build an offense around home runs and plate discipline. But when the Tiger pitchers were able to throw strikes and to mostly keep the Yankees in the ballpark, the Yankees were left with no way to produce runs.

Cashman called the ALCS "disappointing and hard to stomach," and described what happened to his hitters as "a perfect storm. But he insisted that it was a failure to "bring our 'A' game," rather than any failure of philosophy.

"We're not going to be running Carl Lewis out there," he said.

But who will they be running out there?

The biggest questions, certainly, will be whether they attempt to trade A-Rod, whether they find any takers, and whether he'll accept. He had only nine at-bats in the entire series -- and just one meaningless single -- but he became the story of these playoffs from the Yankees' standpoint.

His stunning fall mirrored the team's, and his vows to return stronger next year mirrored their vows to be back.

And just like his team as a whole, A-Rod is getting old. He's 37, and he's beginning to look every day of it. They're the oldest team in the game, and they looked it, too.

He talked about looking in the mirror, but he also spoke confidently of how next year will be different.

"If I do my job, neither Girardi nor Cashman can bench me," he said. "If I'm in the middle of the lineup doing damage, it makes everyone's job easier."

It wasn't all A-Rod, just like the Boston collapse wasn't all Josh Beckett and Jon Lester, and the Rangers' collapse wasn't all Josh Hamilton.

The collapses weren't the same, obviously. The Yankees did make the playoffs, and they did make it through to the ALCS.

If they had lost here in a normal series, if they had lost here without falling completely apart, it would be just another season that didn't end with a parade.

But they couldn't do that. None of the big teams seem able to do that anymore. Even the Nationals, who finished the season with the best record in the game, couldn't go away until they'd authored one of the worst final-inning collapses we'd ever seen.

The Nationals had the best record in the National League. The Yankees had the best record in the American League. The Rangers had AL's best record with two weeks to go in the season.

It didn't end well, not for any of them.

It didn't just go the other way. It went spectacularly the other way.

Can't anyone just lose?
Does the Jackson signing mean the Giants are out on Lorenzo Cain?

Acuna edged out Shohei Ohtani and Vladimir Guerrero Jr.

There's no reason to run over the cases for and against Bonds, so let's have fun instead
The coveted right-hander would certainly be a fit in Milwaukee

We rate the best mustaches from random baseball cards because, why not?

Colon wants to break a Dennis Martinez record