Being nice to children to blame for Adrian Gonzalez's back issue
Red Sox first baseman Adrian Gonzalez missed Friday's game in Tampa Bay and not expected to play Saturday or Sunday after hurting his back bending over to say hi to a child.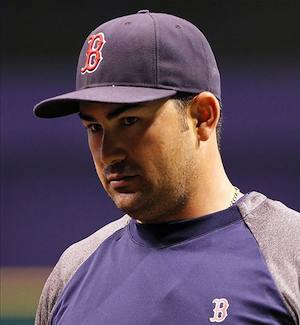 Adrian Gonzalez wasn't in Saturday's lineup with the Rays because of a back injury. (US Presswire)
Maybe Adrian Gonzalez learned a valuable, but costly, lesson on Friday -- never be nice to small children.

The Red Sox first baseman missed Friday night's game, is not in the lineup for Saturday's game and doubtful for Sunday's series finale in Tampa Bay with a back injury. According to Gonzalez, he was in a mall next to the team's hotel when he "ran into a family with kids. I bent over to say, 'Hi,' to one of the kids and when I came out of that, it locked up on me," Gonzalez told Sean McAdam of CSNNE.com. "I tried to get treatment, to go out there and move around, but it wasn't feeling any better."

Gonzalez took batting practice on Friday and wasn't feeling better, so the team hoped a day of doing nothing on Saturday would help. He did say he may hit a little off of a tee just so he can be ready to pinch-hit if needed.

Gonzalez had started every game this season but one before coming out of the final game before the All-Star break with an illness. Gonzalez said he'd never experienced back pain in his career, but isn't concerned.

"I'm not [concerned] at all," Gonzalez told CSNNE.com. "I talked to a bunch of the guys and every single guy that this has happened to said this is one, two, three days. It spasms and then they go away, your muscles relax and you're back to normal."

Next time, though, he'll know to kick any kid in his way to the wayside.

For more baseball news, rumors and analysis, follow @EyeOnBaseball on Twitter, subscribe to the RSS feed and "like" us on Facebook.
The former Tigers teammates were voted into Cooperstown by the 16-person Modern Era Commit...

The Yankees still have room for a good-sized signing even after Saturday's trade with Miam...

St. Louis gets some much needed help for their bullpen
Keep tabs on the top 50 free agents right here

Morrow thrived with the Dodgers last season

Boston needs a power bat, among other things