Best managerial move? Twins battery closing it out for AL
Twins closer Glen Perkins got the save Tuesday night in the All-Star Game while pitching to Twins catcher Kurt Suzuki in a great moment for the hometown fans.
All-Star Game: Recap | Box Score | Live blog
MINNEAPOLIS -- The 2014 MLB All-Star Game did not disappoint in the least. There were plenty of extra-base hits, good defensive plays, great pitching, tons of sentiment revolving around Derek Jeter and it was a good, close game. But one of my favorite moments was a managerial move by AL skipper John Farrell.
Heading into the top of the ninth with a two-run lead, Farrell elected to bring on Twins closer Glen Perkins and Twins catcher Kurt Suzuki. It was excellent from a couple different points of view.
First of all, I understand the All-Star Game "counts," but it's ultimately still an exhibition game and there's a reason it rotates throughout the league one at a time. It's because this is an event for the fans of each respective team. When the game is in Minnesota, it's for the Twins fans first and foremost. The ones who didn't leave early and stuck around (the overwhelming majority of the crowd, mind you) were rewarded by getting to see their guys close down an AL win.
Secondly, these fans especially deserved it. Collectively, they were outstanding throughout the All-Star festivities. I won't get into naming names, but I've been to at least one place for an All-Star Game where the fans were more concerned with booing every single opposing player than respecting the greatness in front of them, regardless of the uniform. To each his own is always my mantra, but for me, I don't understand why you'd want to go to an All-Star Game for any reason other than to respect the talent on the field -- again, regardless of the uniform. The Twins fans did just that, cheering on everyone. They chanted for Derek Jeter. They erupted for Mike Trout's triple and Miguel Cabrera's home run in the first inning.
They were just there to see great baseball. Well, that and their Twins. It was announced over the PA system while the telecast was at a commercial that Perkins and Suzuki had entered the game and said announcement invigorated the home crowd with the most enthusiastic cheer of the night.
"I thought it was fitting to have Glen Perkins and Kurt Suzuki close things out for the home fans," said Farrell. "It kind of fell into our laps a little bit, but we got to have two hometown guys get in there and close it out."
Yes, it did fall into his lap, but it still happened. It was a bit of a storybook ending for the hometown fans. And, true to storybook fashion, Perkins worked a spotless ninth with his catcher, Suzuki, much to the delight of those fans.
It was the perfect ending to one of the better All-Star Games in recent memory. Kudos to Farrell for his hand in it, as it was bar none the best managerial move of the night.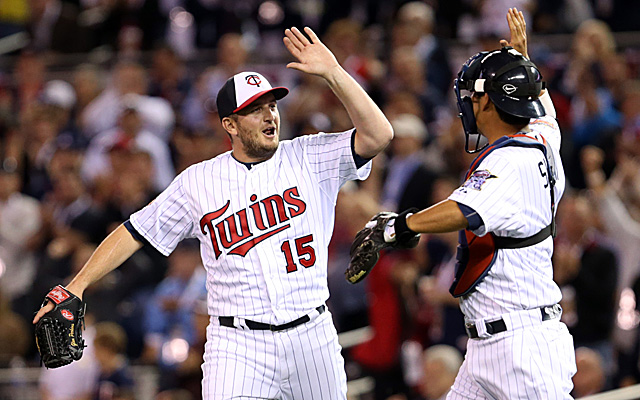 L.A. manager Dave Roberts indicated that Puig's benching was related to more than one inci...

Manager Torey Lovullo said so on Monday
Let's see how SportsLine forecasts the race for MLB's 10 playoff spots

Monday kicks off the final week of MLB action. Let's take a look at everything that went d...

No other rookie in baseball history has hit more home runs than Judge has this year