Best MLB winter signings? White Sox rookie stud Abreu, Orioles' Cruz
Best MLB winter signings? White Sox phenom Jose Abreu and the Orioles' Nelson Cruz. Not so much? Check out three NY outfielders who got a combined $112.5M.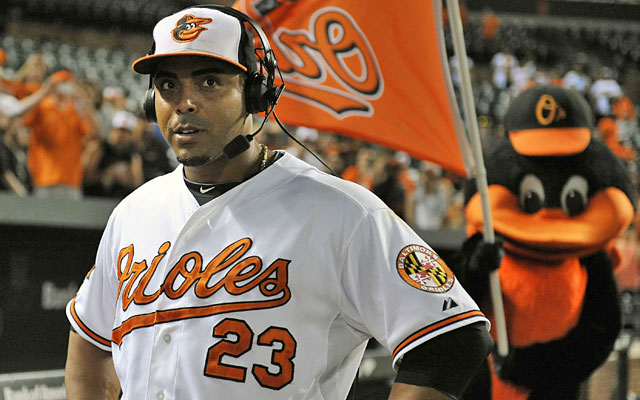 More MLB: Power Rankings | Expert Picks | Latest news & notes | Fantasy news
Free agency can be quite a crapshoot, as we've learned over the years. Anyone care to remember Luis Castillo?
Or Milton Bradley, or Mike Hampton for that matter?
Of course, the free-agent market can also be an effective way to build a team, or at least to fill a major need. In any market, there are good deals. Halfway through this season, these 30 contracts represent the best signings so far, followed by five that haven't worked as well (with an assist to Cot's Baseball Contracts on all the figures).
Two big international signings were among the three best signings of the winter, and Nelson Cruz for $8 million is every bit the bargain folks figured.
1. Jose Abreu , 1B, Chicago White Sox (six years, $68M): For a bargain rate, the White Sox got a powerful (and also very polite) cornerstone star. The Red Sox, Astros and Rockies were all in at a similar number, but Chicago's great Cuban connection couldn't have hurt. He's tied for the major-league lead with 25 homers and leads with a .625 slugging percentage.
2. Nelson Cruz , OF/DH, Baltimore Orioles (one year, $8M): This one looked like a good bet the day it was signed, as Cruz fell victim to the dreaded draft compensation rule (and maybe the Biogenesis tag, too). However, Cruz is playing like he has something to prove, and is on pace to set career bests in home runs and RBI in a year where the Orioles have lost Matt Wieters , Chris Davis is underperforming and Manny Machado hasn't produced much, either.
3. Masahiro Tanaka , SP, New York Yankees (eight years, $175M): The mature 25-year-old Japanese star has been as advertised and more. Hate to think where the Yankees would be without him. He's a Rookie of the Year, Cy Young and perhaps even MVP candidate at this point.
4. Scott Kazmir , SP, Oakland Athletics (two years, $22M): Many believed this to be an overpay, but GM Billy Beane probably shouldn't be questioned at this point. Kazmir made a nice comeback from semi-retirement with the Indians last season, and has taken another huge step forward. There was a bit of worry when he was removed after 5 1/3 innings Monday, but the A's say he is fine. Better than fine, he is All-Star-worthy.
5. Tim Hudson , SP, San Francisco Giants (two years, $23M): Hudson looked like a bit of a gamble as a late-30s pitcher returning from a gruesome ankle injury, but except for two recent rough outings, he has been brilliant back in the Bay Area. As a bonus, he's a big plus in any clubhouse.
6. Robinson Cano , 2B, Seattle Mariners (10 years, $240M): The biggest free-agent signing is among the best. Cano brought credibility to a Mariners team that had been an afterthought. In a much tougher ballpark with less protection and a big new contract, Cano is doing what he does -- hit as well as anyone around.
7. Phil Hughes , SP, Minnesota Twins (three years, $24M): The Twins gambled going three years after Hughes' awful walk season, but it looks like the right call. Hughes may have just needed a change of scenery, and he certainly picked a place about as different from New York as one can find. Could be a candidate to make the All-Star Game at his new home in Minnesota.
8. Justin Morneau , 1B, Colorado Rockies (two years, $15M): It's a nice, overlooked story the way Morneau has come back after concussions derailed his career for a few years. Even better, with 58 RBI (second in the NL), he should get to go back to Minnesota as an All-Star.
9. Joaquin Benoit , RP, San Diego Padres (two years, $15.5M): Only OK as a closer, he has been brilliant back in his comfort zone as a setup man in San Diego (3-0, 1.30 ERA). He's a prime trade chip as the Padres look to reload.
10. Francisco Rodriguez , RP, Milwaukee Brewers (one year, $3.25M): He has been a great pickup for Milwaukee for a second time. After working as a setup man the past couple of years, K-Rod is back doing what he does best -- closing games (27 saves so far). He has re-invented himself with a revamped repertoire, and has been mostly dominant (49 strikeouts, nine walks).
11. Michael Morse , OF, Giants (one year, $6M): After a rough injury-plagued year in Seattle and Baltimore, Morse has become a huge part of the Giants' attack.
12. Jason Hammel , SP, Chicago Cubs (one year, $6M): The Cubs signed and used Scott Feldman as a trade piece in a similar manner last season, and the plan is working just as well with Hammel, who is 7-5 with a 2.98 ERA. For Feldman they acquired Jake Arrieta , who is living up to his early billing and may be a top-of-the-rotation starter.
13. Casey McGehee , INF, Miami Marlins (one year, $1.1M): He has become a stalwart in the Marlins' lineup upon his return from Japan, surprising everyone, except maybe Miami. Hardly anyone has hit better in the clutch, as his .309 batting average becomes .392 with runners in scoring position, accounting for 48 RBI despite only one home run.
14. Bartolo Colon , SP, New York Mets (two years, $20M): He has been effective in a vast majority of his starts as he continues to thrive, with an 8-6 record and 3.88 ERA. He has even gathered a couple hits, his first since 2005 (including a double). The second year looked like a stretch, but he could still be used as a nice trade piece.
15. Marlon Byrd , OF, Philadelphia Phillies (two years, $16M): He's putting together a second straight excellent season. Would make an excellent trade chip in an extremely weak market for bats, but the the Phillies don't seem eager to sell.
16. Pat Neshek , RP, St. Louis Cardinals (one year, $1M): Out of nowhere, this previously solid reliever has turned into a dynamo with a 0.55 WHIP, 0.83 ERA and 32 strikeouts against only four walks.
17. Kurt Suzuki , C, Twins (one year, $2.75M): Suzuki is drawing raves working with the Twins' staff and becoming a leader on a team that needed one. He has also hit, with a .297 average to date. Excellent under-the-radar signing.
18. Rajai Davis , OF, Detroit Tigers (two years, $10M): Most things this front office does turn to gold, and this is no different. His walk-off grand slam Monday in 5-4 win over the A's is the latest contribution.
19. Chris Young , SP, Mariners (one year, $1.25M): The late-spring signing is a stunning 7-4. Better yet, he has allowed 71 hits in 91 innings. Might be doing it with mirrors. (The other Chris Young gets a mention later.)
20. Garrett Jones , 1B, Marlins (two years, $7.75M): Miami had a nice winter with low-cost buys, and Jones has solidified the first-base situation.
21. Joba Chamberlain , RP, Tigers (one year, $2.5M): Tigers GM Dave Dombrowski likes hard throwers, and while Chamberlain doesn't light up the radar gun quite like he used to, he fits nicely into this bullpen. A lot happened in New York, and he may just be relieved to be out of the spotlight.
22. Yangervis Solarte , INF, Yankees (minor-league deal): Came out of nowhere to beat out Eduardo Nunez and win a roster spot and become an early sensation. He has hit bad luck in a recent slump but helped stabilize an area of weakness for New York.
23. Edinson Volquez , SP, Pittsburgh Pirates (one year, $5M): Two excellent starts have evened his record at 6-6 with a 4.07 ERA. Overall, he may not be a world beater but he is needed.
24. Ryan Vogelsong , SP, Giants (one year, $5M): Very solid starter for a decent price. Similar numbers to Volquez.
25. Dioner Navarro , C, Toronto Blue Jays (two years, $8M): He has solidified Toronto's catching issue with solid defense and at the plate.
26. Jason Frasor , RP, Texas Rangers (one year, $1.75M): He has pitched very effectively for the star-crossed Rangers and looks like a prime trade chip.
27. Aaron Harang , SP, Atlanta Braves (one year, $1M): The late-spring pickup stunned folks with early season success, and while he has fallen off a bit lately, he has still been a major boon to a rotation stung badly by injury in spring training.
28. J.P. Howell , RP, Los Angeles Dodgers (two years, $11.25M): He continues to be effective after his return to the Dodgers bullpen and limiting the opposition with a palty 1.59 ERA.
29. Mark Reynolds , 1B/3B, Brewers (one year, $2M): He has added power to a deep Milwaukee lineup.
30T. Oliver Perez , RP, Arizona Diamondbacks (two years, $4.25M): The late-spring signing has a strikeout an inning and looks like he could become part of Arizona's expected sale.
30T. Justin Turner , INF, Dodgers (one year, $1M): After his unceremonious cut by the Mets, he has found a home as a utility man on perhaps baseball's best team. He was hitting .302 when he was shelved recently (hamstring).
30T. Delmon Young , OF/DH, Orioles (one year, $1M): For a low price in a limited role, he's providing decent offense (.327 batting average). Also a postseason threat if the O's get there. May be better in short doses.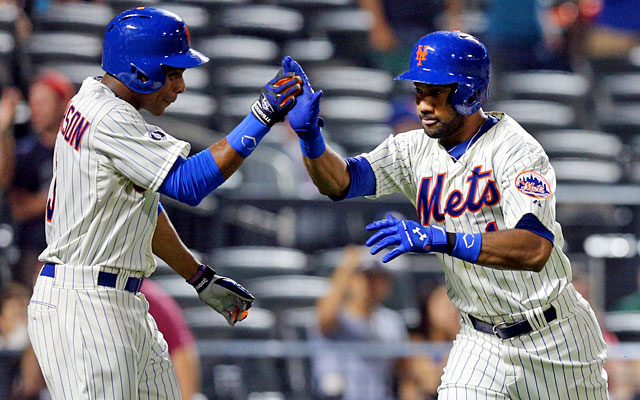 The Disappointing Five
1. Chris Young , OF, Mets (one year, $7.25M): The Mets gambled last year's .200 batting average was an aberration, but .203 isn't what they had in mind. He recently saved his job with three homers in two games against his former employer, the A's.
2. Carlos Beltran , OF/DH, Yankees (three years, $45M): One of the game's best hitters and a Hall of Fame candidate doesn't look like himself since the Yankees won the bidding war with the Diamondbacks and Royals.
3. A.J. Pierzynski , C, Boston Red Sox (one year, $8.25M): His lackluster offensive performance has triggered speculation top catching prospect Christian Vazquez , a defensive whiz, may get a callup.
4. Curtis Granderson , OF, Mets (four years, $60M): The Mets' outfield has been vastly improved, but the Granderson deal doesn't look so grand with Cruz signing for a mere fraction of it months later. The logic seemed sound at the time since Granderson had experience in New York. Instead, he's the third NY OF in this group.
5. Jhonny Peralta , SS, Cardinals (four years, $53M): The almost always prudent Cardinals probably knew they were paying a lot for Peralta, but they also surely expected more than a .241 batting average his first year in the deal, a 62-point falloff from 2013.
Sunday's MLB roundup features the D-Backs clinching a postseason spot and the Mariners going...

The 2017 season has been, by far, the worst season of Cabrera's career

The Mariners were eliminated from postseason contention with Sunday's loss
Maxwell became the first MLB player to kneel during the national anthem Saturday

The Blue Jays are not expected to bring Bautista back next season

The Dodgers have already clinched the NL West title, so the D-Backs will be a wild card te...