Beyond the saves total: Lee Smith's Hall of Fame case
Right-hander Lee Smith once held the record for most career saves. Is that enough to get him into the Hall of Fame?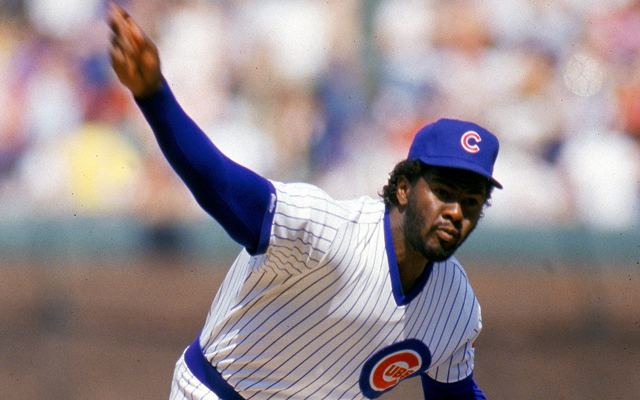 Hall of Fame: Cox, La Russa, Torre get in | Miller snubbed | Steinbrenner's complicated case | One-and-done candidates | Luis Gonzalez's case | Moises Alou's case
The BBWAA Hall of Fame announcement is less than a month away, and since the hot stove figures to cool down during the holidays, we're going to take advantage of the downtime by breaking down each of the Hall of Fame candidates individually.
The idea is simple: we'll attempt to paint an argument as each player being a Hall of Famer and then create an argument as to why the player is not a Hall of Famer. Some will be easier than others -- the case against Greg Maddux might be a sentence or two long, for example -- but most are not that obvious. When we're done, you can decide for yourself if the player is Cooperstown worthy.
Today we're going to cover right-hander Lee Smith.
THE BARE ESSENTIALS
Smith played in parts of 18 big-league seasons from 1980-97, most with the Cubs. He also played for the Red Sox, Cardinals, Yankees, Orioles, Angels, Reds and Expos. Smith saved 478 games with a 3.03 ERA (132 ERA+) and 1.26 WHIP in nearly 1,300 career innings. He was never part of a World Series team.
This will be Smith's 12th year on the Hall of Fame ballot. He received between 36 and 51 percent of the vote in his first 11 years of eligibility.
THE CASE FOR INDUCTION
Smith retired in 1997 as baseball's all-time saves king. He led his league in saves four times (1983, '91, '92, '94) and all of baseball twice ('91, '94). Smith also led the league in games finished three times ('83, '85, '91) and threw 90-plus innings in relief five times (1982-86).
During his peak from 1982-92, Smith saved 354 games with a 2.81 ERA (139 ERA+) and 1.23 WHIP in 978 1/3 innings for three teams. Only Jeff Reardon (341) was within 100 saves of Smith's total during that 11-season span.
Smith's 1991 season was one of the best relief seasons in baseball history. He went 47 for 52 in save chances -- setting a new NL single-season saves record -- with a 2.34 ERA (158 ERA+) and a 5.15 K/BB in 73 innings for St. Louis. At 4.8 WAR, it's the 26th-best relief season in history.
Smith was a seven-time All-Star and he received Cy Young votes in four different seasons. He finished second in the voting to Tom Glavine in 1991 and fourth in the voting in 1992. Smith also received MVP votes in four different seasons, topping out at eighth place in 1991.
THE CASE AGAINST INDUCTION
Despite his gaudy and impressive save total, Smith was never truly dominant the way Mariano Rivera or Trevor Hoffman (or even Billy Wagner or Joe Nathan) were. He walked a healthy amount of hitters (career 3.4 BB/9) and never once posted a sub-1.00 WHIP. The closest he came was 1.07 in 1983.
Among relievers, Smith ranks third all-time in saves (478), fifth in WAR (29.5), 10th in appearances (1,022), 15th in innings (1,289 1/3), 34th in ERA+ (132), 35th in K/BB (2.57) and 68th in WHIP (1.26). That suggests a career of longevity but not true dominance. There's nothing wrong with that, obviously, but Smith's case lacks substance beyond his saves total.
---
There are currently five relievers in the Hall of Fame: Hoyt Wilhelm, Goose Gossage, Bruce Sutter, Rollie Fingers and Dennis Eckersley. Eckersley had a substantial career as a starting pitcher as well. Three of them (Gossage, Sutter, Eckerlsey) have been inducted in the past 10 years and the BBWAA appears to have loosened up a bit when it comes to bullpeners given their role in the game these days.
Smith has four more years on the ballot and, regardless of whether you prefer the case for his induction or the case against his induction, he has a big uphill climb before reaching Cooperstown given his steady voting results in past years.
Friday: The cases for and against Fred McGriff.
Gallardo spent the first eight years of his career in Milwaukee

MLB revenues are at a record high right now, but teams aren't spending it on players

Chicago added Tyler Chatwood earlier this offseason but might not be done adding to the ro...
The Dodgers and Braves pulled off a whopper on Saturday

Sabathia will reportedly spend a 10th season in the Bronx

Fowler suffered a knee injury at Chicago's Guaranteed Rate Field