Bidding 'wide open' for Cuban INF Guerrero as teams fight Dodgers
Cuban infielder Alexander Guerrero is drawing interest after his first potential deal with the Dodgers fell through.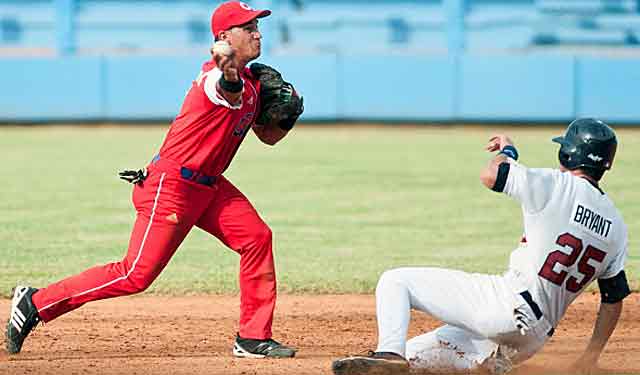 Cuban infielder Alexander Guerrero again is a free agent after apparently coming close to signing a deal with the Dodgers, and it is believed that the Red Sox, Reds, Rangers and Giants are among other teams that may have some interest.
The Braves were considered another potential suitor for Guerrero, but it's hard to know for sure as this case already has taken one very strong turn.
Guerrero, 26, was reportedly "close" to a Dodgers deal, said to be worth $32 million over five years, only a week ago.
No one is talking about that deal now, but there are people close to the team who suggested there definitely had been optimism at some point that Guerrero would become a Dodger. Now Guerrero has switched agents and is being represented by Scott Boras, and all parties involved agree that Guerrero remains a free agent, able to sign with any of the 30 clubs.
The Dodgers still are viewed as a logical favorite, though it stands to reason Guerrero may seek more than they were discussing in the first go-round. The Dodgers had immense success in the international market a year ago, signing left-hander Hyun-Jin Ryu from Korea and Cuban outfielder Yasiel Puig, who received $42 million for seven years on a deal that was shocking at the time, but will turn into an enormous bargain.
Guerrero's fee agency could have some effect on free-agent-to-be Robinson Cano since the big-market, bigger-spending Dodgers have been speculated by some to be a possible suitor for the Yankees' star second baseman, though there's been no confirmation or even evidence yet that the Dodgers definitely definitely make a play for Cano. Some are suggesting lately that maybe the Dodgers won't go for Cano because they hope to sign star pitcher Clayton Kershaw to a likely in the $200 million  range, but it's possible that an inability to sign Guerrero (or perhaps Kershaw) could change things.
Dodgers GM Ned Colletti declined to comment on the Guerrero situation, citing policy not to discuss player negotiations.
Boras would only say it's a "wide-open process."
It's no surprise the interest has re-emerged for Guerrero, a middle infielder with power who has played shortstop but may move to second base. Guerrero also has been praised by scouts for having excellent hands.
Most cite the hitting prowess, though. "He's an offensive oriented second baseman," one N.L. scout said. "Not a big guy, but he has pretty good power."
It remains a mystery exactly what happened to the first deal, but a clue may have appeared in a tweet from @JesseSanchezMLB who has been closely covering this case. In it Sanchez wrote, "Verbal agreements from past agency are not bonding. Wants overall better deal."
A person with connections to the baseball players union said Guerrero did not have a certified agent representing him before hiring Boras. In a blog on MLB.com, Sanchez named Rudy Santin and Manny Paula of MVP Sports Management as Guerrero's previous representatives.
Even more relievers signed on the final day of the Winter Meetings

Keep tabs on the top 50 free agents right here

The league is not happy Ohtani's medical information leaked
Kansas City and Baltimore were quite busy at the Rule 5 Draft

Piscotty's mother was diagnosed with ALS earlier this year

From the rebuilding Marlins to the aggressive Angels, here's how the most active teams made...