Big, bad Team USA comes up small again at WBC
USA is hampered by the timing of their hitters and the time of the calendar as journeyman rightander Nelson Figueroa dominates and eliminates the favored Americans.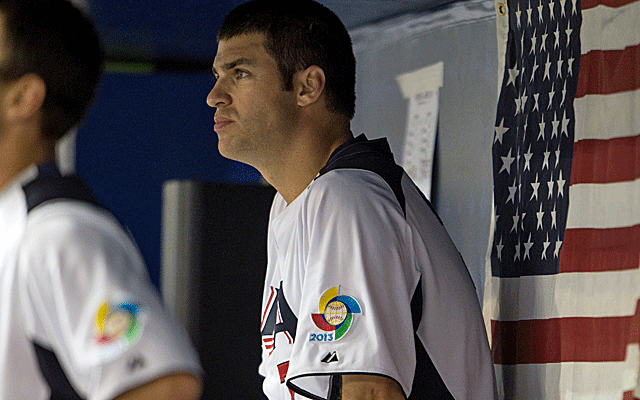 MIAMI -- Team USA slugger Giancarlo Stanton , perhaps the most powerful hitter in Major League baseball, had his lumber splintered on a weak fourth-inning popout against soft-tossing career journeyman Nelson Figueroa, a moment that was a metaphor for a game and a tournament. The big, bad USA team rallied late but in the end fell to a seemingly outmanned Puerto Rico team, 4-3, to fall out of a World Baseball Classic that was a struggle from the start.
There will be debates about whether USA's problem is the commitment, the support, the timing or something entirely different after a second defeat in two nights sent them back to Jupiter, Viera, Goodyear (and believe me, Brandon Phillips isn't happy about that, as he let us know) and wherever else they train. It looks like they could use some more training, too.
The United States takes with them a 3-3 WBC record this year, and 10-10 ledger overall, and while USA manager Joe Torre's postgame point that there's a strong  "crapshoot'" element to events where one or two games make the difference makes some sense, we are now at 20 games played. Twenty games of .500 play, often against teams that look overmatched on paper.
Figueroa, for instance, is on a minor-league deal in Arizona Diamondbacks camp, and he dominated USA with a fastball that never hit 90 mph, pinpoint control plus plenty of moxie, allowing only two hits and one walk through six scoreless innings. Four more pitchers currently working on minor-league deals followed, as Team USA cut an early 4-0 deficit, drawing closer.
But the very veteran J.C. Romero finished things off, sending Puerto Rico to San Francisco where it will join other WBC semifinalists Japan, the Netherlands and the Dominican Republic. Romero is jobless, at least for now (though someone may call, based on his WBC performance to date).
That Team USA couldn't put more dents into six pitchers, none of whom is currently working on a major-league deal, the day after the D.R.'s own journeyman Samuel Deduno helped hold them down has to be something of a surprise. "Certainly we expected to score more runs than we did," USA star Ryan Braun said. "We didn't swing the bats well. We had opportunities. And ultimately, we didn't get it done."
There were compliments all around for the 38-year-old Figueroa, a crafty rightander and the pride of Brooklyn and Brandeis University who has a career 20-35 big-league record, but ultimately, it has to be considered a shocker that a USA team -- even one without Captain America David Wright , who was felled by a sore left intercostal, and other stars who couldn't make it like Mike Trout , Buster Posey and Andrew McCutchen -- scored four total runs in the two final decisive, damning nights.
Puerto Rico has a strong lineup, with stars like Carlos Beltran,  Yadier Molina and Angel Pagan . But even their people questioned whether they had enough pitching to compete with Team USA.
If Figueroa never makes it back to the big leagues, he has a career highlight. "If this were to be my last game that would be something," Figueroa said, who added, though, that he would keep trying to win a World Series ring.
None other than Greg Maddux, USA's pitching coach, was marveling at the unusual accuracy of Figueroa's pitches in the USA dugout. But the USA hitters had to feel they were taking comfortable collars. "He kept us off balance, I can say that," Phillips said. "He was hitting his spots. You can tip your cap to him. That's the best I've seen him pitch."
For all the wonder about whether the timing and rules might favor the USA opponents, the Americans caught a break when Figueroa hit the 80-pitch limit and had to leave the game after six innings, leaving it to mostly pitchers with better stuff but far less know-how.
A second Stanton popout, this one with the bases loaded and one out in the eighth against Los Angeles Angels minor leaguer Fernando Cabrera, kept USA down 4-2 after a Braun double down the third-base line and yet another Joe Mauer walk put them in position to steal the evening. Then, after a bases-loaded walk of Ben Zobrist by Cabrera brought USA within a run, an Eric Hosmer groundout against the aged Romero kept the Puerto Ricans in front.
After Romero made quick work of the Americans in the ninth, striking out Adam Jones and Shane Victorino before getting Jimmy Rollins on a popout, the soul searching and second guessing started.
The one real strategic second guess concerned Torre's decision to let Vinnie Pestano , who looked like he may have run out of gas after sprinting in from the left-field pen, face four batters, none of whom he retired. He allowed two walks and two hits, including a bullet two-run double off the left-field wall by Andy Gonzalez, who was the fourth batter he would face.
"He had good stuff, he was just trying to overthrow,'' Torre said of Pestano. "Greg went out and talked him  … [and] he got a little smoother. But the thing that hurt us was the 0-2 basehit [the Gonzalez rocket] with the slider. But I told you, I have confidence in every single one of these guys, and we just unfortunately had a bad inning."
As for the soul searching, well, it might take longer then a 15-minute postgame news conference.
Torre liked his guys, but he didn't love all the questions. One obvious one about the timing of the tournament triggered a pointed retort from Torre, who characteristically remained calm and professional as he gave mostly measured and consistently precise responses, even to the questions he didn't love.
"I mean, we had the bases loaded and one out," Torre said. "You get a base hit, and all of a sudden we're ready to play this thing. That makes no sense to me."
Torre's response was typical of a competitor, and the questioner had warned that maybe we needed to "take a step back" before tackling these issues. But the reality is, even if USA had pulled out a close one, they've all been close calls for the Americans, even in games where the advantage seemed immense. Four of Puerto Rico's other pitchers – Geovanni Soto, Jose De la Torre, Xavier Cedeno and Cabrera – like Figueroa are currently working on minor-league deals.
And the reality is, the calendar will continue to be the biggest question. The Americans don't have year-round players, and in many cases they looked like they were just getting going.
Someone brought up the idea that Team USA may have been overconfident, based on a stray newspaper quote or two from a team member suggesting more future games with the Dominican Republic, which won a thriller over USA the night before. But it's hard to imagine the US overlooking anyone after losing to Mexico and the D.R. already. Torre seemed to snicker at the thought, and it's hard to blame him. "I don't think so," he said with a hint of dismissiveness.
"I agree," Braun interjected. "By no means did we take them for granted or take the matchup lightly."
The idea that the other teams were more passionate came up, too, and it's no doubt they celebrated more vigorously. But as Torre said, nobody should judge anyone's desire based on their outward appearance.
"There's passion on both sides," he said. "I think people exhibit passion a little bit differently."
There's no doubt Team USA wanted to win. They brought a great group of guys, guys who wanted to be here and represent the United States. They just didn't get it done.
"They did their job, we didn't. What more can I really say?" Phillips said before saying plenty more. "I wish them the best of luck. I've just got to go back to Goodyear, which I don't want to go back to, so it sucks, man … I wanted to go to San Francisco so bad."
The expectation, based on talent, is for Team USA to be able to prevail in a vast majority of WBC games, and for it to more often blow away competitors throwing minor leaguers at them. The expectation seem reasonable.
But Team USA just didn't hit. In six games, it had only one home run, the grand slam by Captain America that pulled one out against Team Italy. With the exception of Wright and Mauer, who were brilliant, and leadoff man Rollins, who performed as you'd expect, for the most part Team USA hitters badly underperformed relative to their resumes and talent levels.
Maybe it's just a case of something so mundane as the hitters still being behind.
Stanton, playing in his home park, finished his WBC with no homers, no runs and no RBI. He looks like a stallion who's just getting started. Spring contains two more weeks, and it's a darned good thing for some of these guys.
Ferrell somehow avoided going to the ground

Plus, we saw a possible AL Wild Card Game preview in the Bronx and lots more from around M...

The Pirates disappointed in 2017. Will 2018 be any different?
Let's see how SportsLine forecasts the race for MLB's 10 playoff spots

This has only previously happened twice in history in non-strike seasons

Plus the AL West champ has been crowned and more