Big hits in ALCS Game 6 set up by questionable bullpen moves
Both the Red Sox and Tigers made iffy bullpen decisions in Game 6 of the ALCS, and both times the moves led directly to runs.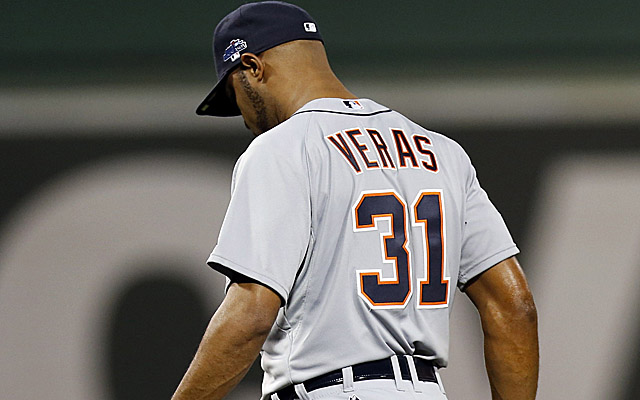 More ALCS: Game 6 quick hits | Game 6 grades | Eye on Photos
BOSTON -- Nothing in baseball is easier to second guess than a call to the bullpen. Whether the manager should have left in his starter or brought in a different reliever or whatever, bullpen moves are ripe for second-guessing. Most of the time it's unwarranted, but sometimes there is a legitimate gripe to be made.
The two big rallies in Game 6 of the ALCS were setup by questionable bullpen moves. Again, maybe the second-guessing is unwarranted, but in this case I think both decisions are worth reviewing.
SIXTH INNING
The Detroit Tigers were down 1-0 at the start of the sixth inning, the same inning starter Clay Buchholz melted down in during Game 2. Boston Red Sox manager John Farrell was on his toes in Game 6, pulling his starter at the first sign of trouble. That sign of trouble came in the form of a walk and a single to leadoff the inning.
Pulling Buchholz in that spot was the right move in my opinion. Farrell opted to go with left-hander Franklin Morales to face the lefty swinging Prince Fielder , a defensible move even though the shaky Morales had only thrown 26 pitches over the last three weeks. Sure enough, Morales walked Fielder on four pitches to load the bases.
Rather than go to the warmed up Brandon Workman , Farrell stuck with Morales to face Victor Martinez , the Tigers most productive hitter in the postseason. Martinez was slightly less effective against lefties (99 OPS+) than righties (120 OPS+) during the regular season, but by letting him bat right-handed, Farrell was giving him a shot to pull a ball off the Green Monster for extra bases.
Sure enough, Martinez clubbed a 2-1 pitch off the wall for a two-run single. It was one of those "he hit it so hard he held himself to single" balls. The decision to allow Morales to face Martinez in such a key moment was a head-scratcher and the Red Sox got burned.
SEVENTH INNING
Detroit's bullpen exposed itself as an Achilles heel on more than one occasion in the ALCS. Max Scherzer allowed the first two men of the seventh inning to reach base -- the second on a questionable ball four call to Xander Bogaerts . After 110 high-stress pitches, Scherzer was done for the night. Manager Jim Leyland went to relief ace Drew Smyly .
Smyly, who was brought in to face the left-hander Jacoby Ellsbury , did his job. He got a ground ball to defensive whiz Jose Iglesias , a ball that seemed tailor made for an inning-ending double play. Instead, Iglesias booted it and everyone was safe. The bases were loaded with one out and the Tigers clinging to a 2-1 lead.
Leyland opted to remove Smyly from the game in favor of Jose Veras to get the right-on-right matchup against Shane Victorino and Dustin Pedroia . Victorino scrapped switch-hitting about six weeks ago and has been batting right-handed exclusively, yet he was more productive against righties (158 OPS+) than lefties (133 OPS+) in 2013. On top of that, Veras is far more home run prone (0.86 HR/9) than Smyly (0.47 HR/9) while being less strikeout proficient (8.6 K/9 vs. 9.6 K/9).
Smyly is the Tigers' best reliever and he has been for most of the season. Leyland opted to use him for one batter to get the platoon matchup against Victorino, a matchup that ultimately did not work out. Veras hung an 0-2 slide that Victorino hit into the seats for the dramatic game-winning grand slam, and that was that. Both managers made bullpen gaffes in Game 6, but Detroit's was far more costly.
Ausmus most recently managed the Tigers, but won't be headed to Queens

Keuchel would be starting Game 4 on short rest

The Astros have made some matchup-related changes to their lineup for Game 3 of the ALCS
A former scout had agreed to auction off his ring

With the Yankees down 2-0 in the ALCS, Joe Girardi will look to go to his bullpen as soon as...

The former big-league infielder is presently the Astros' bench coach