Big market? Not here, in suddenly thrifty New York
What has happened to baseball in New York, when the Yankees get outbid by the Pirates for their starting catcher, and the Mets show no signs they intend to compete with their National League East rivals either on the field or financially?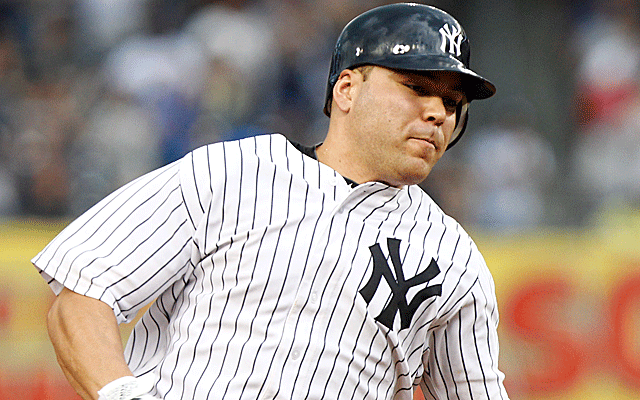 The Yankees never even made an offer to Russell Martin, who signed with the Pirates for two years, $17M.
(US Presswire)
Some people in baseball were stunned the Pirates gave $17 million to a guy who hit .211.

I was a lot more stunned the Yankees didn't.

The Mets did well by getting David Wright signed.

But why was it even a question they would?

What has happened to baseball in New York, when the Yankees get outbid by the Pirates for their starting catcher, and the Mets show no signs they intend to compete with their National League East rivals, either on the field or financially?

What has happened to the idea of the big markets getting everything they want?

The Yankees will still have a huge payroll in 2013, but they lost Russell Martin over what seemed to be relative pennies.

"Martin said the Yankees told him they did not have the money to meet his contract demands," David Waldstein wrote in Friday's New York Times.

No, but the Pirates did.

The Yankees will spend far more money than the Pirates next year. The Yankees have not become the Pirates.

But when was the last time you read about a player leaving the Yankees because he was told they didn't have enough money to pay him?

We know what this is about, of course. We know it's not about $17 million. It's about $189 million.

Owner Hal Steinbrenner has made it an organizational mandate that the Yankees don't exceed the $189 million luxury tax threshold in 2014, because staying below it will save him millions that season and into the future.

Plenty of people in baseball have been skeptical the Yankees will actually do it, and the skepticism will remain right up until they make it through 2014 without breaking the promise.

But everything they have done for a year now has been based on following the mandate. They've spent plenty of cash this winter on Hiroki Kuroda ($15 million), Andy Pettitte ($12 million) and Mariano Rivera ($10 million, plus incentives), but they've yet to commit a single extra penny that would go towards the 2014 payroll.

The Yankees have about $75 million committed for 2014, but all of that is from previous contracts (to Alex Rodriguez, Mark Teixeira and CC Sabathia). And none of it includes any money for Robinson Cano, who can be a free agent next winter.

Martin was hardly a crucial piece the way Cano is, but given the catchers who are available as either free agency or as trade targets, he was pretty solid. Despite the low batting average, he played in 133 games last year and hit 21 home runs.

The three teams most interested in finding a starting catcher -- the Yankees, Rangers and Pirates -- were all trying to sign him.

The Rangers offered $13 million for two years. The Yankees never even made a formal offer, although they suggested they thought Martin's value was about $6.5 million a year.

They were wrong. His market wasn't determined by his low batting average (nor should it have been). His market was determined the way all free-agent markets are, by supply and demand.

Everyday big-league catchers are hard to find. The demand outpaces the supply. The price goes up, and someone pays it.

Good for the Pirates.

The Yankees aren't a team to complain about the prices -- until now.

General manager Brian Cashman suggested to reporters Friday that the Yankees could fill the vacancy internally, with some combination of Chris Stewart, Austin Romine and Francisco Cervelli.

That's exactly the sort of thing Cashman says when he's about to spend big money (Bubba Crosby was going to be the center fielder in 2006, all the way until Cashman splurged on Johnny Damon a month later). But this looks more like the winter of 2010-11, when the Yankees found their starting catcher on the non-tender list.

That was Martin, and it proved to be a shrewd move. Normally when the Yankees make a move like that and it works out, they don't just let the guy walk away ... to Pittsburgh ... because they say they can't afford him.

These aren't normal times in New York. This isn't a normal baseball winter.

Normally, when free agency begins, we pencil the New York teams in as candidates for the big-money players. This year, when CBSSports.com asked us to guess where the top five free agents would land, not one of us even thought about listing either New York team.

This has become common practice for the Mets, which is why the Wright signing still qualified as significant news. But while it was significant news, it was hardly a sign things have returned to normal in Queens.

The Mets gave Wright the biggest contract they've ever given anyone (although Deadspin did some adjusting for inflation and declared that even that wasn't true). But Wright, who made $15 million in 2012, will still be making just $16 million in 2013.

The Mets didn't make a big immediate financial commitment, not unless you figured that the other option was to trade Wright and not pay his 2013 salary at all (or not pick up the option).

By signing Wright, the Mets didn't show they were serious about competing. Rather, by signing Wright to what could well end up a team-friendly contract, the Mets simply showed they don't intend to totally shut up shop.

That's fine. That's the most their fans can hope for from the Wilpons at this point.

At least they didn't get outbid by the Pirates.
If the slow-play for Martinez, Hosmer and Arrieta sounds familiar, it should

The Nats will host the All-Star Game in 2018

The Orioles are looking to trade Machado heading into his walk year
The Cardinals have been linked for a while to the Baltimore star

Gallardo spent the first eight years of his career in Milwaukee

MLB revenues are at a record high right now, but teams aren't spending it on players