Big names, big letdown: Angels' Dipoto says too soon for blame
The Angels can achieve the unthinkable if the lowly Astros finish off a sweep on Thursday night. GM Jerry Dipoto says it wouldn't be right to try to pin the blame on anyone -- not at this point, anyway.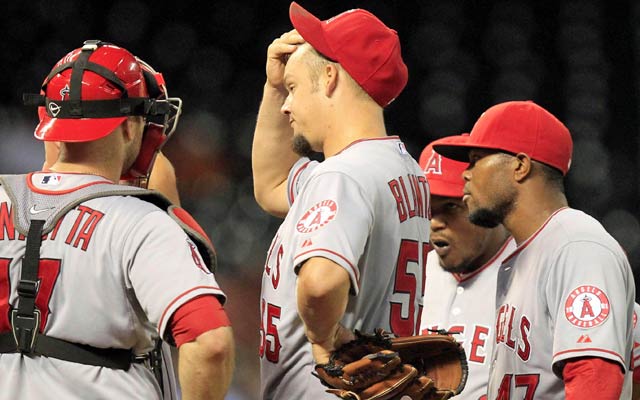 Of all the early season disappointments, the Angels have to be the big winner. (Or should that be loser?)
Sure, the beefed-up Blue Jays and diamond-encrusted cross-town (sort of) Dodgers have been disappointing, too. But neither of them is in danger of being swept by the Astros, who according to one AL GM, have "maybe one player on talent or history who could crack the Angels' lineup.''
The Angels, with a star-studded $155-million payroll, are so shockingly awful so far that their own people don't know yet what to make of it.
The injuries are part of it, sure. But the abject underachievement by a roster that includes three of the most talented position players in their league, maybe the three most talented --  Mike Trout, Albert Pujols and Josh Hamilton -- is way more stunning than a litany of injuries that's bad but can be matched by a few other teams.
At different points, they've lost their ace pitcher, three/fifths of their pen, the left side of their infield and their center fielder. But as general manager Jerry Dipoto conceded, nobody still could have expected the "titanic struggles'' (his words) they've had.
While there's obviously no sugarcoating what's going on in lovely Orange County, it's not going to be easy to ferret out all that's gone wrong. For now, there are certainly no gold stars. And also no pink slips -- at least not yet.
"I don't think it's fair to blame any single person,'' Dipoto said Thursday by phone.
"We're not good right now. But when things go this bad, it's awfully hard to look at one area or one person and say, that's the cure. That's just not right.''
As they say, it's complicated.
Dipoto, the bright young GM, is in only his second year, and the biggest moves -- the signing of Hamilton and especially the signing of Pujols -- ranged from owner-inspired to owner-ordered, depending on the source. The $240 million Pujols deal was almost surely an Arte Moreno special, according to people on other teams.
Anyway, those two mega-deals left the former pitcher Dipoto little choice but to work on the cheap when it came to the pitching -- "affordable'' was the operative word -- which has been even worse than anticipated (28th to date, better than only the Blue Jays and the aforementioned Astros).
Mike Scioscia, the almost legendary manager, has nearly six years and about $29 million to go on a contract that looks generous, at best, at least at the moment. He's in his 14th year, and at some point you start to wonder about a manager's expiration date. Sparky Anderson lasted 18 with the Tigers, and Tony LaRussa 16 with the Cardinals, but they are the rare exceptions. (Even Joe Torre went only 12 with the Yankees.)
Owner Moreno, sometimes called "Angry Arte'' (as he was in Thursday's Los Angeles Times by T.J. Simers), was said by sources to be quite upset at times with Dipoto during last year's disappointing but, comparatively speaking, much better 2012 season. Moreno has been quite close with Scioscia over the years, but he's still been viewed as the more likely fall guy.
Adding to the soap-operatic nature of the situation, Dipoto and Scioscia didn't get along last year, especially early after Dipoto fired Scioscia's longtime friend and ally -- hitting coach Mickey Hatcher. But people who know the two men now say things have settled down considerably. Dipoto, in particular, is said to have made a major attempt to improve their relationship, and some believe it's working. At last notice, they were said to be interacting, even communicating.
But that's about all that's working for the Angels, who have dropped to 11-22 after losing four straight overall, including two in a row to the seemingly outmanned Astros. Their pitching has been terrible, and their offense, expected to be dynamic, is middle of the pack, at best.
"We've struggled across the board,'' is the way Dipoto put it.
But they are apparently holding off major judgments.
It's not like Moreno, who you know isn't happy no matter how quiet he's kept so far, has been reluctant to fire folks in the past. Dipoto fired Hatcher last May, drawing the early ire of Scioscia and causing the uneasy relationship at the time.
It's fair to say Scioscia has been the hot-button topic early in Anaheim, as questions have been raised about whether he's clicking with his star-infused squad. The clubhouse was observed to be less than lively in spring training, a mix of quiet superstars and even quieter kids who may be a bit intimidated. Torii Hunter is missed in the clubhouse more than anywhere else.
Scioscia was rightly long considered among the very best in the game, but one now wonders whether the new personnel fits his preferred running, National League-style of strategy/play. The team appears moribund at times, exactly the opposite of what you expect from Scioscia's teams.
Scioscia is such a hot-button topic, in fact, that Dipoto doesn't want to even mention him by name in connection with job status (or anyone else, really) for fear it would fuel extra speculation on the subject. But Dipoto made it clear that it's not the time to talk about anyone's job.
There are at least three reasons for that:
1. It's early. That's fair to say. Scioscia's been there 13 plus years, and their dreadful start is only into its sixth week.
2. They're stunned. It's hard to evaluate anything calmly when one is in a state of disbelief.
3. They're unhealthy. They've used the DL for eight major-leaguers, who've missed 155 games to date, with six of them still out.
"As we get healthy, we'll have a better chance to assess where we are,'' Dipoto said, perhaps ominously.
In any case, that could still be awhile. Reliever Ryan Madson is expected to begin pitching his rehab assignments soon, but some others, including key man Weaver, don't have exact timetables yet.
Several other teams have been badly hurt by injuries this year, but as Dipoto acknowledged, a depth issue has exacerbated their absences. They've had to use pitchers who were expected to be gaining experience in the minors -- namely their 13th through 19th pitchers -- for 50 innings, and they've had about an 8 ERA over those 50 innings. Getting to the 19th pitcher by the middle of May can be a crippler.
"We knew we were very thin after the 25-man team and the 12-man (pitching) staff,'' Dipoto acknowledged. "Unfortunately, we had to not only tap into (our depth) but to start drilling for oil.''
The plan was to save money on the back end of the rotation, then rely on what they viewed as a strong bullpen to make up for it. It's fair to wonder whether they overrated the pen to begin with, but there's no doubt it's been decimated, with Kevin Jepsen, Sean Burnett, Mark Lowe and Madson all out at some point, leaving Scioscia at a loss to bridge the gap between their usual five-to-six inning starts and the back end.
But it isn't fair to pin the blame on guys who weren't even expected to be major-leaguers. From top to bottom, the Angels' players who are healthy have ranged from slightly disappointing to downright dreadful.
Trout hasn't been as superb as last year. His .857 OPS is very good but nothing suggesting otherworldy.
Pujols, hampered by foot and knee issues, hasn't been very good at all, as his .730 OPS attests. (Coincidentally, his batting average of .240 is equal in millions to his contract, $240 million.)
And Hamilton has been largely dreadful. His .566 OPS would be bench-worthy if they hadn't spent $125 million on him.
"None of us is going to make excuses,'' Dipoto said. "We've gotten here for a reason.''
Where they are now is Houston, desperately trying to avoid a sweep, something no one ever imagined possible.
Puig has a healthy relationship with his club of choice and gave the quote of the night

The Dodgers are back in the World Series thanks to a smartly built roster, analytics and m...

Seager missed the NLCS with a back injury
The Cubs foundation is still strong, but Theo Epstein and company have work to do

Turner and Taylor are the third set of co-MVPs in LCS history

Stylistically, the Dodgers seem to match up better against the Yankees and here is why