Big names -- including McCann, Beltran and Choo -- on Yankee menu
The Yankees have to plan for a complete makeover and are looking at some of the biggest names on the market.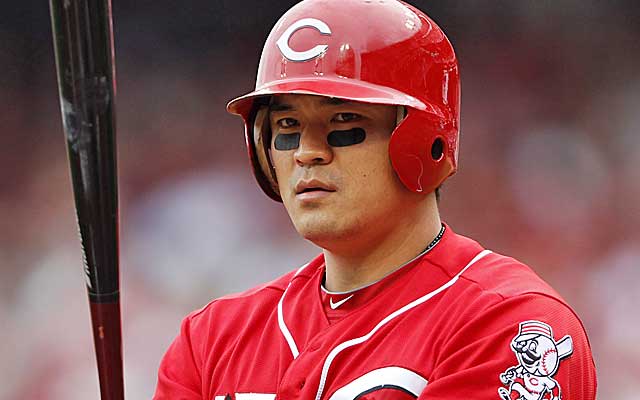 BOSTON -- Lots of big names -- including Carlos Beltran , Japan's Masahiro Tanaka, Brian McCann and even Shin-Soo Choo -- were discussed at the New York Yankees organizational meetings over the past couple days.
The names of Beltran, Tanaka and McCann have been connected to the Yankees before, but Choo is a fairly new one.
The Yankees are one of the teams committed to new stats and they are admirers of Choo's on-base ability. In his first year batting leadoff for the Cincinnati Reds , he had a .423 on-base percentage, good for second best in the National League to teammate Joey Votto .
Multiple sources say the Yankees do like Choo very much. Yankees general manager Brian Cashman declined comment about Choo specifically but noted that outfield isn't their top priority for a team that has many needs. The Yankees have quite the puzzle, as a team that had a $230-million payroll but has several big salaries coming off the books and a stated desire to get below $189 million on the payroll.
They'll have what amounts to a makeover after failing to make the playoffs for just the second time in 19 years.
The Texas Rangers , Chicago Cubs , Houston Astros , Seattle Mariners , Philadelphia Phillies , incumbent Reds and New York Mets are among other teams that may make sense for Choo. Houston could be an interesting surprise entry.
The Yankees like Tanaka, who is said to have great mound presence but not quite the stuff of Yu Darvish . They also like the fact that posting monies aren't counting toward the luxury tax.
The Yankees will need to consider third base, shortstop, catcher and starting pitcher, with outfield a bit lower on their priority list. Though, the interest in Beltran -- who they passed up years ago when he offered to come for about $98 million before he signed with the Mets for $119 million -- and Choo suggests they are indeed at least considering it. The Yankees have Brett Gardner , so Choo could go back to play right field for the Yankees.
The Yankees expect star second baseman Robinson Cano to file for free agency and test the market. While there's a big gap between the asking price and offer -- close to $150 million, with the ask at $310 million and the offer about $160 million -- they remain hopeful Cano will eventually re-sign to stay in the Bronx.
The projections continue to favor an Astros-Dodgers World Series

The story centers around a building in Chicago, where Billy Jurges was shot by a jilted lo...

From 1 to 25, the L.A. Dodgers have the squad to overcome the pitfalls of October baseball
After Tuesday night's win over the Cubs, the Dodgers are now 6-0 in the 2017 playoffs

Los Angeles beat Chicago once more in Game 3 of the NLCS in Chicago

The 2017 World Series begins Oct. 24