Big-time trouble? Spending limits, A-Rod injury have Yankees big-time vulnerable
The Yankees are operating under self-imposed payroll limits, and their issues just got greater with the news that Alex Rodriguez will need another hip surgery. Some are saying the Yankees are in "big-time trouble." But the truth is that right now they're just big-time vulnerable.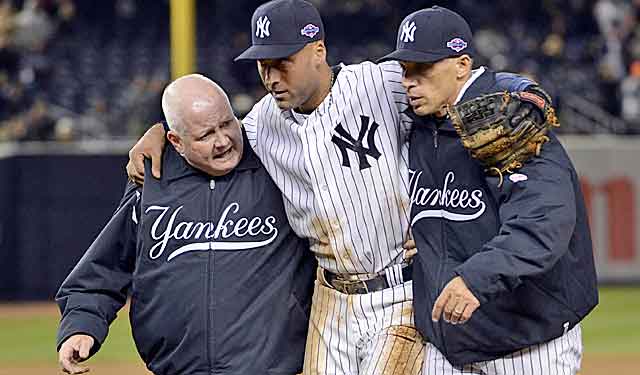 The last time we saw Derek Jeter, he was being helped off the field. (US Presswire)
NASHVILLE, Tenn. -- The Yankees have no money. The Yankees have no left side of the infield.
The Yankees are in trouble?
"Big-time trouble," one rival executive said Monday morning, once news broke that Alex Rodriguez needs another hip surgery and will miss the start of the 2013 season.
Let's slow down this train right here, because it's always easy to overreact when it comes to the Yankees. While they really are cutting down on their spending, they're still going to have a payroll bigger than anyone but the newly-rich Dodgers.
And while they have real concerns now at both shortstop and third base, we (and they) don't know yet how much time Rodriguez and Derek Jeter will miss. They keep contending that Jeter's recovery from ankle surgery is going well, although we won't really know until spring training if having him on opening day is realistic.
Even if this isn't "big-time trouble," though, at the very least, the Yankees look more vulnerable than they've been in years. Owner Hal Steinbrenner's insistence on getting below the $189 million luxury-tax threshold for 2014, combined with serious regression for some of their best prospects, has left them with an old and flawed team -- and without their traditional route (big spending) for fixing the problems.
Yankees people insist that they didn't get "outbid" by the Pirates for Russell Martin; they say Martin's declining production made him less attractive to them. But the fact is that they've been left without a starting catcher in a market in which catching in hard to find.
While scouts coming back from Venezuela winter ball say Francisco Cervelli is playing well, it's hard to forget Cervelli is the same guy whom the Yankees exiled to Triple-A for most of 2012 in favor of the very-average Chris Stewart.
The Yankees scored more runs than anyone in baseball but the Rangers in 2012, but that was largely because they hit 31 more home runs than anyone. Martin and Nick Swisher, for all their faults, contributed 45 of those home runs.
A-Rod, for all his faults, contributed another 18.
And when the Yankees didn't have Jeter and basically didn't have A-Rod for the final three games of the American League Championship Series against the Tigers, they scored two runs in three games.
We know now that A-Rod's hip was already an issue by then. Joel Sherman of the New York Post, who was first to report the latest A-Rod news, said Rodriguez was experiencing so much discomfort in the first round of the playoffs that the Yankees had an MRI performed on the hip.
Rodriguez had surgery on his right hip in 2009. He missed the first month of the season but still put together a 535 at-bat season in which he hit 30 home runs, drove in 100 runs and had a .933 OPS.
The problem now is with his left hip. That means that even when Rodriguez returns (the Yankees are hoping for June), he'll be playing with two questionable hips. He'll also be about to turn 38, with a career that already has been in serious decline and with a contract that guarantees him at least another $114 million over five years.
Even if the Yankees were still spending the way they once did, the A-Rod/Jeter questions would be real issues. The market for infielders just isn't very good right now, and the Yankees can only offer jobs that won't be full-time once their aging and hurting stars return.
Steinbrenner has insisted to other owners that the $189 million mandate is very real, that he won't budge on it. By getting under the luxury-tax threshold for that one year, the Yankees would re-set the penalty, which otherwise goes up every year. They would also gain other benefits.
The question that others are asking is whether they really will stick to it, if the winning stops and the attendance drops.
Maybe it won't. Plenty of people questioned the Yankees last year. Plenty of people called them old, and plenty of people went on and on about empty seats at Yankee Stadium.
For all of that, the Yankees won the most games in the American League in the regular season (95). For all of that, the Yankees had the highest attendance in the American League.
They still have a huge payroll (if a little lower than before). They still have huge talent (if a little less than before).
Are they really in "big-time trouble?"
That might be a little extreme. But at the very least, they sure are big-time vulnerable.
deGrom is set to become a free agent after the 2020 season

Perkins missed most of the last two seasons due to injury

Jonathan Singleton was suspended after a third positive test for a drug of abuse
Rodriguez will join Jessica Mendoza and Matt Vasgersian on the "Sunday Night Baseball" boo...

Jeff Wilpon talked about payroll on Tuesday, and it won't make any Mets fan happy

Yelich's agent recently asked the Marlins to trade him before the spring