Bill Mazeroski Game 7 bat, cleats and uniform up for auction Nov. 9
Want Bill Mazeroski's jersey or bat from Game 7 of the 1960 World Series? Better be ready to pony up the dough.
Perhaps the most famous home run in World Series history came off the bat of Hall of Famer Bill Mazeroski to end Game 7 of the 1960 Fall Classic. Here it is:
Sports memorabilia freaks with lots of money to spend will now be excited to know that some Mazeroski gear is being auctioned off this coming weekend by Hunt Auctions. Like this: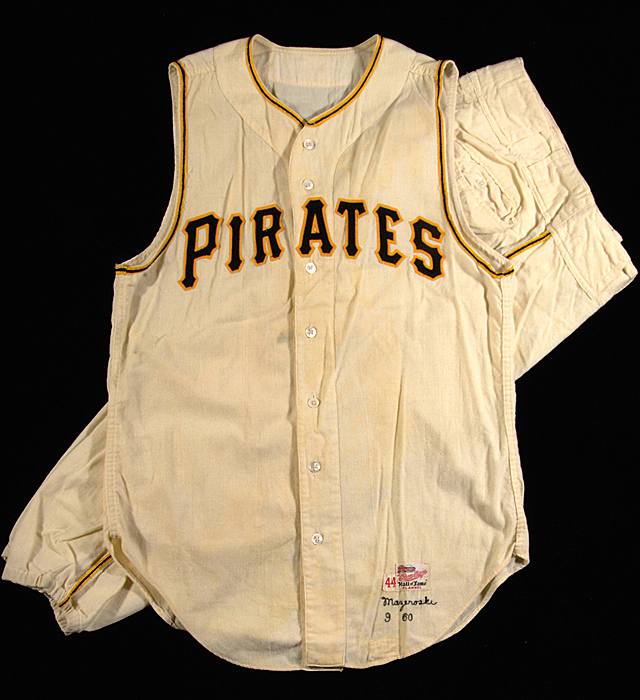 Yes, that's the uniform Maz was wearing when he hit his immortal homer. Note the autograph with his last name, his number and '60, for 1960 in the lower right area.
The list of items to be auctioned off by Hunt Auctions:
• Bill Mazeroski Pittsburgh Pirates 1960 World Series Game 7 home uniform (pictured above)
• Bill Mazeroski Pirates bronzed professional model bat attributed to the 1960 World Series Game 7
• Bill Mazeroski bronzed professional model cleats from 1960 World Series Game 7
• Bill Mazeroski Gold Glove Awards from seasons 1958, 1963, 1964, 1965, 1966 & 1967
• Scarce "Momen" Roberto Clemente professional model bat as given to Bill Mazeroski
• Bill Mazeroski 1960 Babe Ruth Award
The auction will be taking place at the Louisville Slugger Museum and Factory on Saturday, Nov. 9 in Louisville, Kentucky beginning at 10 a.m. ET. If you want to bid and can't get there, fret not.
People interested in bidding can also register in advance to bid by phone at 610-524-0882. There's also the online route, as one could join the bidding at huntauctions.com live.
The expectations by Hunt Auctions are pretty high for these items, according to David Hunt, president of the company.
"The uniform is clearly a multiple six-figure piece," Hunt said. "The question is, will it be $300,000, will it be 5 (hundred thousand dollars), it is 9 (hundred thousand dollars) or is it more? At this point, I think it's likely to be in the $300,000-$500,000 range. As far as the bat, probably 100 to 200 (thousand dollars) and the cleats, probably $50,000 or so."
"Just to be clear, with pieces this unique, estimates are pretty irrelevant. With a uniform like this, it wouldn't shock me to see $1.3 million."
"I don't know, really, I never felt very important," Mazeroski humbly said with a laugh when I asked him how it felt to be considered this important -- that people might shell out a million bucks to get their hands on his uniform.
"I just got lucky and hit a home run at the right time for Pittsburgh and that's about it," he continued. "I don't even remember why I kept all that stuff. I guess I have my wife to thank for that."
On that home run, I wondered if Maz felt like it overshadowed the rest of his career. After all, he was a seven-time All-Star and eight-time Gold Glove winner. [Note: He's a Hall of Famer, too, but I feel like the home run is what put him over the top.]
"Sometimes, yeah, I'm only known for that," he said. "But I always liked to play defense and that's the thing I was the best at. So, yeah, I guess the home run took away from that a bit."
"Still, we all wanna be remembered for something and so I'm remembered for the home run. It's nice."
As far as how the auctioning off of the items came about, it was purely an opportunity of circumstance.
"Bill and I were talking casually at one of our autograph shows and I asked him, 'do you happen to have anything from that day,'" Hunt said. "He said, 'yeah, I've got the uniform, I've got the bat … ' and I told him we could evaluate it."
"We don't hard sell. What we've found is that if players want to sell something, they will. If they don't want to, it's better not to go there."
A portion of the auction's proceeds will be donated to various Pirates charities.
"Bill's humble presence has been a fixture of Pittsburgh Pirates baseball for more than 50 years," said Pirates president Frank Coonelly in a statement. "He means so much to, not only the Pirates, but the Pittsburgh community as well. His commitment can be seen through his continued support of Pirates Charities in helping make a positive impact on the lives of people in need throughout our region."
So another home run, eh? How fitting.
The club made the announcement on Friday

It's a full slate of MLB night games, so keep it locked right here

The Rockies are clinging to the second NL wild card spot at the moment
Plus Matt Olson and Kevin Kiermaier heroics, a look at Zack Greinke's dominance and more

Plus the Indians are now 27-1 in their last 28 games. Here is everything you need to know from...

The soon-to-be 43-year-old Dickey said he wants to spend more time with his family