Billy Hamilton gunning for Vince Coleman's minor-league steals record
Reds shortstop Billy Hamilton is aiming for Vince Coleman's minor-league stolen bases record of 145, set in 1983. Hamilton, 21, already has 104 this season.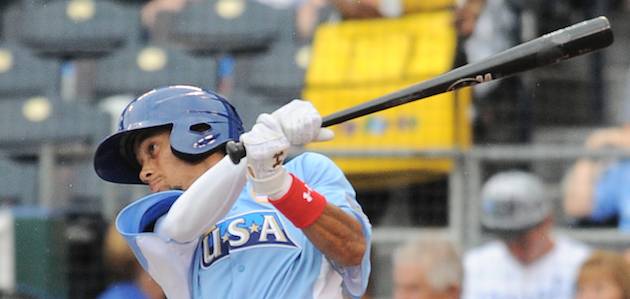 KANSAS CITY -- A hundred stolen bases? That's so 2011. Now Vince Coleman's minor-league record of 145 stolen bases is the goal for Cincinnati minor-leaguer Billy Hamilton.

"Yeah, last year I didn't get to 100 until the last couple of games of the season. Then when I hit 100 this year, it didn't feel the same. Last year it was intense. This year it was just another stolen base," Hamilton said Sunday before the All-Star Futures Game. "I guess 145 will be like 100 was last year. It is the record, 145, so last year when I got to 100 it was pretty intense -- so this year it will be 145. Well, 146 -- 145 would tie it. I don't want to just tie it."

We caught up with Hamilton earlier this year, fresh off his 103-steal season in 2011. Back at the beginning of the season, the thought of another 100 steal season wasn't out of the question, but at high Class-A Bakersfield, Hamilton stole his 100th base of the season on July 3 and then surpassed last season's total with a steal in Friday's game, his last at Bakersfiled before coming to Kansas City for Sunday's All-Star Futures Game. Hamilton's been told he'll be going from Kansas City to Pensacola, home of the Reds' Double-A affiliate.

The timing was bad on one account, next Sunday is Billy Hamilton bobblehead night at Bakersfield's Sam Lynn Ballpark. Hamilton said he got to see his ceramic likeness, but didn't get to keep one. Instead, the team sent a couple to his home in Mississippi.

His appearance in Kansas City, he said, is causing a furor in tiny Taylorsville, Miss., population 1,341.

"Most of them, it's the first time they're going to be able to see me play," said Hamilton, whose minor-league career so far has taken him to Sarasota, Fla., Billings, Mont., Dayton, Ohio, and Bakersfield. Each place he's left an impression, stealing 269 bases in 329 professional games, but never at the rate he's doing so this season. His 104 steals have come in 82 games and he's hitting 323/.413/.439, with 18 doubles and nine triples. He's also nearly matched his walk total of 2011 with 50 so far this season and 53 last.

One scout in Kansas City called Hamilton the "most exciting player in baseball," and when asked if he was going to be on the run in Sunday's game, Hamilton laughed.

"Of course," Hamilton said. "I try to steal one every time I play."
Hamilton didn't get a chance for a stolen base on Sunday, going 1 for 3, with his lone hit a two-RBI triple in the third inning off of the Dodgers' Chris Reed.
"George Brett told me I should have stopped at first and then steal second and third," Hamilton said.
Hamilton did show off his speed, not only on the triple, but on the next play, when Reed's error allowed him to score. With Hamilton on third, St. Louis prospect Kolten Wong hit a comebacker to the mound, Reed picked it up -- looked over at Hamilton several times -- and then threw the ball wildly, allowing Hamilton to score and Wong to advance to third.
"I saw he was nervous a little bit, he kept watching me," Hamilton said. "There's a few times this year where a pitcher would get the ball, give me one look and I'd go. So I was thinking about that. I saw he got so close to first base that I was -- not scared -- but thought it'd be better to stay at third and he rushed his throw over there."
Wong said he was busting down the line, knowing Hamilton could make any fielder nervous if the ball went to them.
"Knowing Billy's here, he's so fast, that no matter what he does, they're going to be conscious of him," Wong said. "I sent a Twitter out when I found out I was going to be behind him in the lineup, I said jokingly that I knew I'd have to hit with two strikes, because he'd get on and steal first and then steal second. ... When you've got a guy with 104 stolen bases, you've got to worry about him, you've got to be cautious."

For more baseball news, rumors and analysis, follow @EyeOnBaseball on Twitter, subscribe to the RSS feed and "like" us on Facebook.
The Indians may be seeking a left-handed hitter in return

NBC Sports California has cut ties with the former A's slugger after a string of inappropriate...

Pineda figures to miss most of the 2018 season after undergoing Tommy John surgery
Keep tabs on the top 50 free agents right here

Your one-stop shop for all things MLB Winter Meetings-related

The Angels knew about the first-degree sprain and still wanted to sign the potential ace, of...