Billy Hamilton headlines group of possible impact debuts in Sept.
Billy Hamilton could seriously impact the NL Central with his legs this September. Also, here are four more names that could impact the postseason push.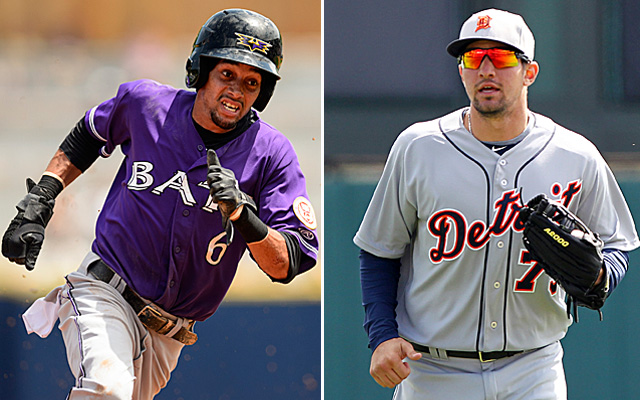 Related: Hamilton to get the call on September 1, Reds say
Billy Hamilton may have a major impact on the NL Central race in September even if only used as a late-inning pinch runner.
To many, that will sound ludicrous. It's just a pinch runner, how big of an impact can he have?
Well, consider just what blinding speed can offer a baseball team.
For example, Brett Gardner led off the game for the Yankees last Friday against the Rays with a walk. He stole second with ease and then advanced to third base on a fly out to center. He then scored on a single. Had the baserunner been a slower player, the Yankees wouldn't have scored that inning, but Gardner single-handedly got to third base with just one out. There are tons of ways to score a guy from third with less than two outs.
Now, change the name in the scenario to be Billy Hamilton, just insert him as a pinch-runner for, say, Ryan Ludwick in the eighth inning of a game in which the Reds are trailing by one run. He could almost single-handedly come around to score.
This is an option the Reds haven't come even close to having this season to this point. They've only stolen 41 bases this season while being caught 31 times in attempting a theft. Shin-Soo Choo is the only player with double digits in steals (16), but he's been thrown out 38 percent of the time he's attempted to steal. So Hamilton gives them an added dimension and addresses a glaring weakness.
Also consider that the Reds do play a lot of close games. They're 20-19 in one-run games and have only played in 32 games where the margin of victory by either team was five or more runs. If Hamilton as a pinch-runner is able to impact only two or three games, that could mean the difference between the NL Central championship and having to go on the road for a one-game playoff, as the Reds trail the Cardinals and Pirates by 3.5 games entering Saturday's action.
So, yes, even if Hamilton is limited to pinch-running duty, he could have a significant impact in the NL pennant race.
Here are four more guys who may have an impact in making their big-league debut this September, as long as they get the call:
Nick Castellanos, Tigers: The consensus top 25 prospect has been transitioned to left field and is hitting .273/.341/.439 with 37 doubles, 16 homers and 72 RBI for Triple-A Toledo this season. The Tigers have only gotten the following line from left fielders this season: .258/.329/.391. They'll likely have a comfortable enough lead through September to see if Castellanos can provide a boost on offense.
Michael Choice, Athletics: He can play all three outfield spots and though the A's do have good outfield depth, Josh Reddick is hurt and Brandon Moss is better suited playing first base than right field. Choice is hitting .298/.387/.439 with 27 doubles, 14 homers and 89 RBI for Triple-A Sacramento.
Erik Johnson, White Sox: No, the White Sox aren't a contender by any stretch of the word, but in September they play the Red Sox once, Yankees three times, Orioles four times, and the Tigers and Indians six times each. If the Royals are in the mix by then, the White Sox close with four games against them, too. So there's an impact on the playoffs here. Johnson is a 6-foot-3 right hander. He's 12-3 with a 1.96 ERA, 0.99 WHIP and 131 strikeouts in 142 innings this season in Double-A (14 starts) and Triple-A (10 starts) combined. He's actually been better in Triple-A, too, sporting a 1.57 ERA and a higher strikeout rate at that level.
George Springer, Astros: As with the White Sox, the Astros are completely and fully irrelevant when it comes to being in the race, obviously, They do, however, play the A's and Indians four more times while facing the Reds, Rangers and Yankees three times each. And Springer could be a beast if the Astros call upon him. Heading into Friday, he's hitting .306/.415/.609 with 37 homers, 107 RBI and 43 stolen bases between Double-A and Triple-A this season. He's looking to become the first 40-40 player ever in the minors (modern day setup only).
NOTE: We are only talking about guys who have never played in the majors who might make their debut in September. So Taijuan Walker, Michael Wacha, Jackie Bradley et al haven't been included.
Neither Josh Donaldson nor Brian Dozier have talked about a new contract extension

Francisco leads the Dominican Winter League with seven home runs

Thome deserves enshrinement and here's why the case against him does not hold up
The Twins have already fortified the bullpen with Addison Reed, and now they want to address...

The Orioles likely want pitching, and the Indians have plenty of it

Halladay died in a November plane crash off the coast of Florida