Billy Hamilton is a weapon, not simply a gimmick
Reds speedster Billy Hamilton is exciting. He's 9-for-9 on stolen base attempts this September. But how valuable is he, actually?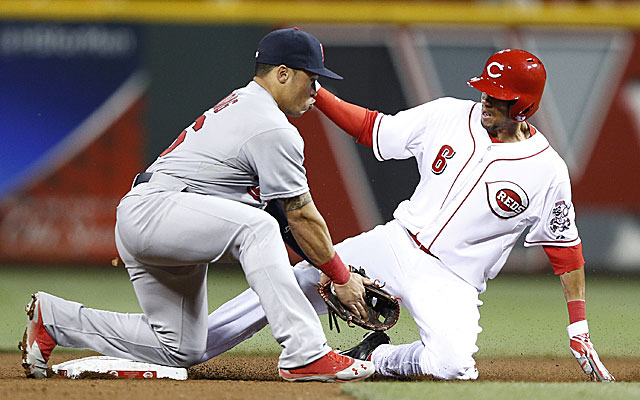 More MLB: Scoreboard | Standings | Probable Pitchers | Sortable Stats | Odds
Reds rookie speedster Billy Hamilton stole four bases Wednesday night against the Astros in a 6-5 Reds victory. According to Elias Sports Bureau, he's the first player in the live ball era (since 1920) to do so in his first career start.
That alone is worthy of praise, but I'd like to go a bit "big picture" here with Hamilton's September.
He is one of the more exciting players to watch right now, in my opinion. Every time he comes in to pinch run -- or gets on base himself, which finally happened Wednesday night -- it's as though everyone in the ballpark knows he's headed to second.
And it doesn't matter.
It reminds me of Willie Mays Hayes getting on first base in the 9th inning of the one-game playoff on Major League.
"Going somewhere, Meat?"
"About 90 feet."
And, again, it doesn't matter. Everyone knows, yet no one stops it. In the 13th inning Wednesday night (or, rather, Thursday morning by the time it happened), Hamilton broke for second on the first pitch. The Astros pitched out. Hamilton still beat it.
He's now 9-for-9 on stolen base attempts this season.
But how valuable is he, exactly? This is what I'd like to discuss here.
Before Wednesday, he hadn't started a single game. He'd only been on base thanks to someone else doing the work for him and him coming in to pinch run. And while he had stolen second base several times, he was still reliant on a teammate to knock him in.
In and of itself, that's a limited weapon. A weapon nonetheless, but a rather limited one. I've seen several on the 'net make the argument that he's not very valuable at all because he's so dependent upon teammates to help him out.
I think it's fair to at least question his value, but I also think it's underselling what he does on the basepaths in individual games. This isn't Herb Washington -- a world-class sprinter the A's signed in the 1970s to be a permanent pinch runner. Hamilton is a baseball player with baseball instincts. You can't make a body-builder into a home-run hitter any more than you can make Usain Bolt into a great baserunner. Hamilton absolutely affects the way pitchers work hitters because their attention is divided between the hitter and the outstanding baserunner.
Obviously in the big picture, in a full season, a pinch runner wouldn't impact a team all that much. In a small sample like September, though, I think there are games the Reds don't win without Hamilton and it would be silly to discount the contribution.
On Sept. 3, Hamilton entered as a pinch runner in the seventh inning of a scoreless tie and stole second. He was then doubled home. The Reds would win, 1-0. Obviously pretty much every baserunner in MLB scores from second on a double and many score from first, but we can't really get into that specific argument. We don't know how the pitcher works the batter without Hamilton on the basepaths. We certainly don't know how much differently a batter is worked with Hamilton on second base versus Ryan Ludwick on first. Pitchers and hitters alike alter approaches based upon situations. Maybe the Reds score, maybe they don't. We don't know. We can't possibly begin to know. What we do know is Hamilton stole second and scored -- and the Reds won by one.
On Sept. 7, Hamilton entered as a pinch runner in the 10th and stole second. He was then singled home for the walkoff win over the Dodgers. Same as above, we don't know what happens without Hamilton, but we know with him the Reds won by a solitary run.
That's just two games, but the Reds are fighting for the NL Central crown and, secondarily, for wild-card positioning. They're trying to stave off a red-hot Nationals team for the last wild-card spot, too. Two games can make a huge difference, and an argument can be made that those two games aren't won without Hamilton.
It's true that those games can't be won without lots of other contributions from several other players, as Hamilton isn't even close to single-handedly responsible for those wins. I cannot overstate that. This is where the naysayers point out that Hamilton needed help -- in fact, lots of help -- in those two games. But the bottom line is he mattered. Without Hamilton, it's entirely possible the Reds lose those two games. And isn't this a team sport? He was a key cog. Give credit where it's due.
On the flip-side, Hamilton was one of the most productive Reds Wednesday night against the Astros. He was 3-for-4 with a double, two runs scored, two walks and four stolen bases. The latter stat means he has exactly as many stolen bases (nine) as plate appearances this season. He started the 13th inning with a walk, stole second, advanced to third on a wild pitch and then scored the go-ahead run. That is a third game where Hamilton had a relevant hand in aiding a victory in a season where three games could mean the difference between the NL Central title and playing a wild-card game on the road. 
Now is about the time that some fans of advanced metrics will point out Hamilton isn't yet close to getting to 1.0 WAR on either Fangraphs.com or baseball-reference.com version. So the argument would be he hasn't accounted in the standings for an actual win. For me, that's taking things way too far and completely oversimplifying the situation. I'm not literally saying Hamilton won three games for the Reds. Again, it's a team sport. I'm saying he had an impact in at least three games that we can't be sure they would have won if not for his impact. And, to reiterate, the impact of speed on the basepaths goes further than just his stolen base total. It affects pitchers and how they deal with the guy in the batter's box. All this is worthy of praise for a September callup.
So while I don't think we should be taking part in any over-the-top narrative and/or acting like Hamilton has nearly as much impact as someone who plays regularly, I don't see any reason to diminish the impact he's had as some irrelevant sideshow. He matters. Even if it's just a little bit, he absolutely matters and is worthy of praise for his impact this month. Sorry I don't have a specific number for it. For some things, statistical measurement just isn't possible.
Mark Appel was one of the players being moved about on Monday night

Garrett Cooper is the answer to a trivia question

We still don't know if Ohtani will be jumping to the majors yet
Kinsler is a free agent next winter

Opening Day will be Thursday, March 29 -- the earliest opening day in MLB history

The World Series champion and big-time wrestling fan was on hand Sunday night