Billy Hamilton, Reds minor leaguer, records 100th stolen base of the season
Reds minor leaguer Billy Hamilton recorded his 100th stolen base of the season on Monday in just his 78th game of the season.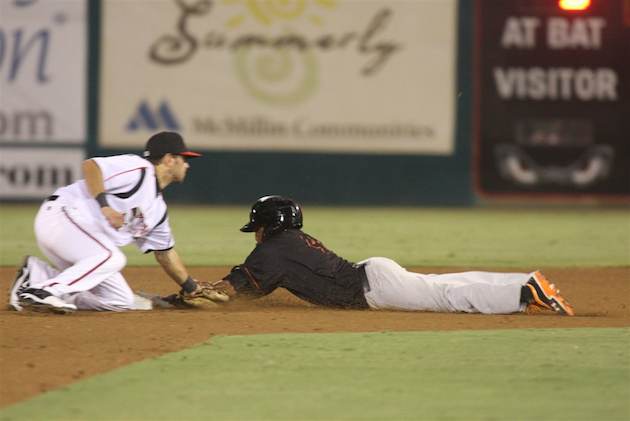 In just his 78th game of the season, Reds minor-leaguer Billy Hamilton stole his 100th base of the season on Monday night at Class A Bakersfield.

Hamilton entered the game against Lake Elsinore with 98 steals. In the fifth inning of the game, he walked and stole second, before advancing to third on a throwing error by the Storm catcher, Eddy Rodriguez. Hamilton had an infield single in the eighth inning and stole second for his 100th stolen base of the season (pictured above, photo courtesy of Cherished Memories Photography.)

Last year Hamilton became the first player to steal 100 bases in a minor-league season since 2001 to reach the mark. He finished the season with 103. That was in 135 games.

Hamilton is hitting .327/.417/.447 with a home run, 17 doubles and nine triples. He's been caught stealing 21 times. He has 104 hits and 48 walks on the season.

Here's something I wrote on Hamilton earlier this season.
The record for the most stolen bases at any level of professional baseball is 145, set by Vince Coleman in 1983 for the Class A Macon Redbirds.
According to Baseball America only 14 of the 119 full-season minor-league teams (not including Bakersfield) have 100 steals on the season.
Fans will get a chance to see baseball's fastest man in Sunday's Futures Game in Kansas City.

For more baseball news, rumors and analysis, follow @EyeOnBaseball on Twitter, subscribe to the RSS feed and "like" us on Facebook.
Get 15 percent off any order of more than $75 at CBS Sports Shop

Get your sports fans something that they'll wear all year

No, you're not imagining things. This MLB offseason has been very slow compared to the last...
Francesa will retire from radio next month, so he'll have plenty of free time next summer

The Twins need help in the rotation, and they may look to the trade market to find arms

Here are the bullet-points of what went down Tuesday regarding MLB and the Braves' punishm...