Biogenesis probe could have repercussions for AL pennant races
Ryan Braun and A-Rod lead the news coming out of the Biogenesis probe, but Jon Heyman says MLB's case might profoundly affect the AL pennant races.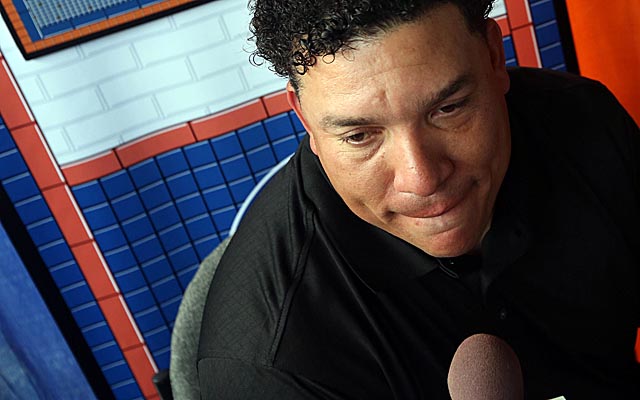 Baseball's Biogenesis story is big news because of the two big names linked to the now defunct Miami wellness clinic -- Alex Rodriguez and Ryan Braun. The story has repercussions for their legacies, commissioner Bud Selig's legacy and the game itself.
But in a related story that hasn't been discussed nearly as much, baseball's wide-ranging and compelling investigation -- which could culminate with double-digit suspension announcements within the next week or two -- might also have a profound effect on the American League pennant races.
A trio of AL All-Stars -- Rangers outfielder Nelson Cruz, Tigers shortstop Jhonny Peralta and A's ace pitcher Bartolo Colon -- are three of the 15 players whose names have been publicly linked to the investigation. Colon's case is different from the other two in that he has already been penalized with a 50-game ban based on a failed test last year and it would seem, on the surface anyway, difficult to mount a case for a second ban, though it's impossible to know for sure what all the outcomes will be.
A fourth AL player and the biggest name in the case -- yes, Rodriguez himself -- is employed by baseball's most storied franchise, and while they are still hoping to contend, the Yankees aren't as obviously in the thick of the race. Plus, Rodriguez's ability to help the team due to his physical condition at this point is in serious question.
A-Rod, who turned 38 on Saturday, hasn't played a game for the Yankees yet this year due to a second serious hip operation, and more recently a Grade-1 quad strain, and there's no guarantee he'll be able to play effectively assuming he can return. So it's harder to measure the effect a loss of Rodriguez may have on the Yankees. He's due to play a rehab game Thursday, so it almost looks like a race between rehab and punishment.
MLB won't discuss its investigation, but indications are the July 31 trade deadline is no factor when it comes to the timing of announcements related to the case. The penalties could come down before Wednesday's deadline, but they may not.
Meanwhile, teams are left to guess whether their stars could be affected. Executives are operating without complete information at best as they determine how to proceed in terms of finding possible replacements on their rosters. If they are looking for winks or nods from authorities, they aren't getting them.
Realistically, the players themselves may have a better idea about the evidence against them since they all were called into meetings with MLB investigators, at which time at least some or many of the cases were laid out for them. The interview with MLB was apparently enough for Braun to volunteer to take his 65-game plea deal. While Braun's reversal suggests added credibility for Biogenesis proprietor Tony Bosch, it doesn't necessarily have to mean the cases against the other 14 or so players who've been linked are either strong or weak.
But as tempted as team executives might be to ask players how things are going, considering the stickiness of the situation they may be reluctant to pry in a matter that has much deeper implications for individuals than for teams.
Of the four teams contending that will possibly be affected, at least three are seeking help at the position that could be at risk. Curiously, the Tigers have shown no indication of looking for a possible shortstop replacement (word is that there's been no discussion of shortstops on team conference calls), but that may be a matter of the inability to land anyone they feel is a worthy replacement or a greater belief in in-house shortstop candidate Danny Worth than one might surmise.
The other three teams are all searching for help -- though at least A's people are expressing confidence behind the scenes that Colon, a surprise Cy Young candidate in the AL this year, will receive "time served" since he finished his 50-game suspension five games into this season. The A's are indeed looking for a top-of-the-rotation starter but say their pursuit of a top pitcher such as Jake Peavy only stems from an inability to find a difference-maker among the ranks of the available hitters and has nothing to do with Biogenesis or Colon's situation.
The Yankees have been searching for weeks for third-base help, though their quest isn't necessarily completely tied to Rodriguez's Biogenesis issue either, since there's no guarantee he'll be anything close to the A-Rod Yankees fans are used to seeing when he returns. Regardless, Rodriguez is already guaranteed to miss the first four months of the year.
No surprise, the Yankees' procession of almost nameless fill-ins (Luis Cruz and Brent Lillibridge are two of the latest) have combined to be the least productive group of third basemen in the game. The Yankees have considered bringing in Michael Young, Placido Polanco, Jeff Keppinger and others, though beyond Young the third-base group ranks as wholly uninspiring.
Rangers people don't have to mention Biogenesis to explain their interest in a righthanded-hitting outfielder, as their outfield production has been less than stellar anyway. But a vast majority of names to surface as possible targets -- ranging from stars like Alex Rios, Giancarlo Stanton, Michael Cuddyer, Marlon Byrd and Michael Morse to lesser lights like Chris Denorfia and Justin Ruggiano -- are capable of playing right field, Byrd's position, and many would make adequate or more than adequate replacements.
Which could be a coincidence. Or maybe not.
Tigers people aren't saying much of anything about the case, and the team hasn't been linked to available shortstops, which may mean the Tigers aren't concerned, but may also mean GM Dave Dombrowski is employing his usual stealth strategy. "He's good like that," one rival GM noted of Dombrowski's unusually strong interest in keeping things quiet.
Detroit, like most teams, doesn't have a second starter-quality shortstop ready to go. The defensively strong Worth would seem to be the logical replacement if no trade is made.
Alexei Ramirez would appear to be the best shortstop available. But Brendan Ryan, another defensive whiz, could bring more experience and also has a very good chance to clear waivers and be traded after Wednesday's non-waiver deadline. In any case, no possible replacements have been linked to the stealthy Tigers.
"I would think Detroit would want a shortstop, but we'll see," one NL GM said.
We'll see. That summarizes how the teams are approaching things.
But that isn't the only issue. Another is how the players themselves might approach the Biogenesis case fallout.
The penalties are very likely going to be handed down early enough (within the next 10 games or so) so that if a player chooses, he could accept a ban immediately, miss the games as his teammates fight to win a wild card or division, then hope to be back for the playoffs. The penalty for first offenses usually is 50 games, though it's also possible a different number of games could be negotiated, as was the case with Braun.
A penalized player could also choose to appeal a suspension, which could keep him active to play more regular-season games, or theoretically even drag things out into the offseason.
Players union chief Michael Young suggested at his All-Star Game gathering that some appeals may indeed last into the winter, though MLB higher-ups would prefer to settle things as soon as possible, of course. Weiner also said that in cases where the evidence may be overwhelming, some players may simply accept the punishment.
If their punishments last into next year, their free agency also could be affected. Presumably, any ban would hurt their free-agent deals (one GM estimated Cruz was looking at maybe $13 million or $14 million a year for four years, but might have to settle for a less lucrative two-year deal, a la Melky Cabrera, if he receives a ban). But a suspension that carries over into the free-agent year would cost them even more significant dollars.
So that could be another big reason not to fight a ban. Rodriguez, as has been well chronicled, is in the middle of the biggest contract in baseball history. The other three players on American League contenders, though, are free agency-eligible after the year.
Some of the players linked to Biogenesis may look to cut a quick deal or simply accept the ban. The union, which represents all players and is hearing from clean ones much more frequently these days, seems to be signaling that it may discourage fighting sunk cases.
But if a player can drag the proceedings into the winter, he could spare his current team adverse effects. Theoretically, if he can keep it going into the offseason, he might even help his team in the playoffs after helping them into the playoffs.
And as one executive pointed out, a player who did dare to drag things out and keep playing that way would be hailed by his current teammates as nothing short of a hero.
Plus the Indians are now 27-1 in their last 28 games. Here is everything you need to know from...

The soon-to-be 43-year-old Dickey said he wants to spend more time with his family

The two NL Central rivals opened a four-game series at Miller Park on Thursday night
The ballparks in Cincinnati, San Diego and Seattle will have expanded netting in place by Opening...

Mondesi spent six years as the mayor of San Cristobal in the Dominican Republic after reti...

The veteran skipper has been Mets manager since the start of the 2011 season