Blue Jays can score a lot, but can they score (and win) often enough?
The Blue Jays are the only team in baseball to score double-digit runs in three straight games. Is it enough to get them going?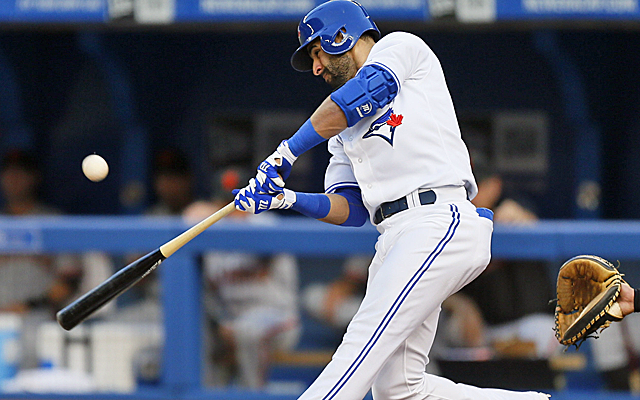 NEW YORK -- Only one team in baseball has scored double-digit runs in three consecutive games this year.
That would be the Blue Jays.
Only one team in baseball has scored one run or none in four consecutive games.
That would be the Blue Jays, too.
"That's kind of how they're built," said one scout who watched this week's double-digit eruption. "They're capable of scoring 10 runs any night. But they're also capable of playing the way they did early."
The Blue Jays thought they were built to win a championship. They'd still like to think that, and they'd love to think that the double-digit run games and the resulting four-game winning streak they took into Friday night's game against the Yankees are a sign that things are about to get much better.
"It was needed," Adam Lind said. "Hopefully, it will continue."
It didn't, at least not on Friday, when the Blue Jays were shut out on four hits in a 5-0 loss to the Yankees and Hiroki Kuroda.
Kuroda has been the Yankees' best starter, with a 1.99 ERA that ranks fourth in the American League. But the Blue Jays would like to think that they were built to beat good starting pitchers -- or at least score a few runs off them.
They also wanted to think that the three straight double-digit showings this week (12 runs Sunday in Boston, 10 and 11 against the Giants on Tuesday and Wednesday) were a sign that the hoped-for turnaround had begun.
They'd won four in a row for the first time this season, a streak that began when manager John Gibbons finally gave up on finding a leadoff hitter to replace the injured Jose Reyes and simply moved his second, third and fourth hitters up a spot. Cabrera became the leadoff man, with Bautista and Encarnacion behind him.
"The guys I had tried in the leadoff spot weren't doing it," explained Gibbons, who had experimented with Emilio Bonifacio, Rajai Davis, Munenori Kawasaki and Brett Lawrie atop the lineup since Reyes broke his ankle on April 12 in Kansas City.
The change meant that Bautista and Encarnacion -- Gibbons' two biggest power threats -- are both guaranteed to bat in the first inning. Neither has hit a first-inning homer since the change was made, but the Blue Jays had a five-run first inning Tuesday against the Giants, and a six-run first the next night.
Eventually, the Blue Jays will have Reyes back, and Gibbons will need to adjust again. That won't be for awhile, though. Reyes was back in uniform Friday, but only to work out with the team; he won't even start running for another week or two and at best would be ready to play in mid to late June.
Reyes was the big offensive piece in the Blue Jays' offseason makeover, and there's no doubt that they've missed him. But the Jays would also like to think that they have a deep enough and talented enough lineup that they can score enough runs without Reyes.
What's enough, though?
The Blue Jays had six starters in spring training, but they're missing three of those guys now. Ricky Romero fell apart, and both Josh Johnson and J.A. Happ are hurt, so the Jays have 39-year-old journeyman Ramon Ortiz and rookie Chad Jenkins in their rotation.
"Jenkins was a below-average pitcher in Double-A," the scout said.
In other words, they'd better keep scoring tons of runs. The Blue Jays know that their lousy start has given them no margin for error. Friday night's loss dropped them back to nine games behind the first-place Yankees and seven games out of a playoff spot.
With more than 100 games still on the schedule, there's plenty of time, if the Blue Jays have indeed begun to turn things around.
They'd like to think they have and that the big run totals this week are a sign of it.
"We've been kind of waiting on an outburst," Gibbons said. "Our team was built to score runs."
Now they have, but it's not that long ago that games like Friday's were the norm. It was the first four days of May, in fact, that the Blue Jays scored one, one, none and one in four consecutive games.
No other team has had a streak like that this year. But no other team has had a scoring streak like the one the Blue Jays had this week.
This, apparently, is a team capable of doing both.


From 1 to 25, the L.A. Dodgers have the squad to overcome the pitfalls of October baseball

After Tuesday night's win over the Cubs, the Dodgers are now 6-0 in the 2017 playoffs

Los Angeles beat Chicago once more in Game 3 of the NLCS in Chicago
The 2017 World Series begins Oct. 24

The Astros will need Dallas Keuchel and Justin Verlander to take the pressure off in Games...

Judge and Sanchez played huge roles in the Game 4 comeback