Blue Jays still trying to solve the Ricky Romero puzzle
Ricky Romero went from All-Star to struggling starter, and from opening day starter to No. 5 starter to minor leaguer. It's been a puzzling fall, and this has been a worrisome spring, and after another shaky start Tuesday, the Blue Jays admitted the obvious by sending Romero to Class A Dunedin.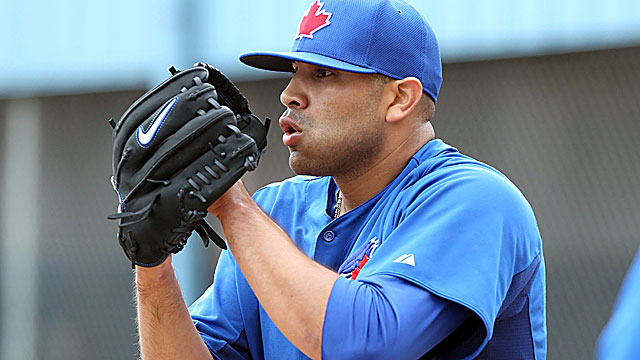 DUNEDIN, Fla. -- With one pitch, Ricky Romero can still look like the guy who was a 2011 All-Star.
With the next, he can look like a guy who shouldn't be in any major-league rotation, let alone starting for a team with World Series aspirations.
He should be a symbol of how much the Blue Jays have improved, with a rotation so much better that the guy who started on opening day 2012 was pushed all the way to the back of the rotation this year. Instead, he's the reminder of how quickly things can go bad.
The Jays admitted the obvious Tuesday night, when they announced that they were optioning Romero to Class A Dunedin. They couldn't allow him to start a game that counts next week, especially not when they had a ready replacement in J.A. Happ.
It's not just that Happ (1.89 ERA) has had a fantastic spring while Romero (6.23 ERA) has not.
It's that Romero's troubles began in the second half of last season, and this spring he's done absolutely nothing to prove that he's solved them. Romero and the Jays tried to paint his 4 1/3 innings Tuesday against the Pirates as major progress, but even in that game he went through stretches where he looked absolutely lost.
"It's a little bit puzzling, what's happened to him," John Farrell said earlier this week, thinking back to last season, when Romero went from a 4.34 ERA in his first 15 starts to a 7.35 ERA in his final 17.
The puzzle has yet to be solved, and Romero will now try to do it in the low-pressure environment of the low minor leagues. He's got a long way to go, a point proven Tuesday when his delivery seemed to change from batter to batter, and when the results were so inconsistent that some of his fastballs were mistaken for changeups.
"You get a little out of whack, and you try to aim," Romero said. "When I speed up my body, sometimes I feel like I'm throwing a grenade to the plate."
That's encouraging, isn't it?
Spring training numbers can be misleading. Romero's final spring ERA of 6.23 is exactly the same as Buehrle's, and no one is panicking over Buehrle.
But Buehrle didn't collapse in the second half of 2012 the way Romero did. And Buehrle didn't look so confused on the mound that he took ground balls at third base one day, as Romero did this week.
"I just wanted to feel like an athlete," Romero said.
You wonder how it came to this. From the start of the 2010 season to almost the end of June in 2012, Romero made 79 starts and went 37-21 with a 3.50 ERA. Then came his final 17 starts last year, when he was 1-13 with a 7.35 ERA and more walks than strikeouts.
It's been more of the same this spring, or even worse.
The Blue Jays worked on Romero's mechanics, and had him work in a minor-league game last week. By all accounts, he was even worse that day than he was Tuesday.
The Blue Jays know that Romero tends to struggle with his confidence, which is probably why they kept insisting all the way to the end that he was getting better and was in no danger of losing his spot in the rotation. Even in the moments after Tuesday's start, manager John Gibbons was insisting that Romero would start a week from Saturday against the Red Sox, in the Jays' fifth game of the season.
"I don't see why not," Gibbons said. "He pitched good today."
Only a couple of hours later, the Blue Jays sent out a press release saying Romero had been optioned. General manager Alex Anthopoulos told Toronto reporters that the decision had been unanimous.
Good, because there really was no decent reason for keeping Romero in the rotation.
There's plenty of reason to keep trying to get him fixed. In his good moments Tuesday, as infrequent as they were, Romero hit 91 mph on the radar gun and looked the part of a successful major-league starter.
"I know when I make my pitches, nobody's going to hit me," he said.
How does a guy who once made his pitches all of a sudden stop making them? How does a guy get so messed so quickly?
It's a puzzle, one that Romero and the Blue Jays have yet to solve.
At his best, Romero would give the Blue Jays perhaps the best No. 5 starter in the game. The he has pitched this spring, he'd give them very little chance to win, once every five days.
For a team that was built to win, that would be a major problem.
They couldn't take a chance like that going into this season. And now they won't.
The lefty starter is coming off a terrible season

After acquiring Ian Kinsler and Zack Cozart in recent days, the Angels are trending upward

Cozart's coming off a big season as the Reds' shortstop
The veteran slugger spent the last eight seasons with Cleveland

The Padres may be poised for an active winter

Yes, Bryce Harper is going to make a lot of money next winter