Blue Jays win, but here's why the Indians are still set up to make the World Series
A 3-1 series lead and two home games mean they're in good position
TORONTO -- The Toronto Blue Jays have a pulse. With their backs up against the wall in Game 4 of the ALCS on Tuesday afternoon, the Blue Jays strung together some sorely needed timely hits to beat the Cleveland Indians and force a Game 5 on Wednesday (TOR 5, CLE 1). The Tribe still lead the series 3-1.
It's easy to look ahead and see a path to a historic comeback if you're the Blue Jays. Rookie Ryan Merritt, who has made one career big league start, is getting the ball for the Indians in Game 5 on Wednesday. Josh Tomlin and his 4.40 ERA during the regular season await in Game 6. Game 7? Well anything can happen in Game 7. It's not hard to dream if you're Toronto.
"It's an uphill battle. We're still down three games to one. It's a must win each and every game," Josh Donaldson said after Game 4. "But the fact of the matter is we've got to go out there and continue to control what we can control. And I felt like we did that for the better half of today. And we've got to go out there and do it again tomorrow."
Even with the Game 4 victory, the Blue Jays are in a heap of trouble. They had to play their best all-around game of the ALCS in Game 4 merely to extend their season. Now they have to do it three more times to make a comeback happen. The Indians are still in the ALCS driver's seat, for more than a few reasons.
1. They're up 3-1.
Might as well start here since this is Cleveland's most obvious advantage. They're one victory away from winning the series. The Blue Jays are three. According to WhoWins.com, teams with a 3-1 series lead and home field advantage have won the series 86.4 percent of the time throughout baseball history. That shows how ridiculously hard it is to mount a comeback down 3-1 in a best-of-7 series. The Indians built themselves quite a cushion.
"This [series], we need to win four games before they do," said Indians manager Terry Francona before the start of the ALCS. "We don't have to win every game. We have to win four. And just not lose sight of that."
2. Miller and Allen are rested.
The Indians are on the doorstep of the World Series thanks largely to their bullpen. Andrew Miller has gotten all the attention and deservedly so, but Cody Allen has been really good, too. Those two have worked a lot this postseason and because they didn't pitch in Game 4 -- and are guaranteed a day off Thursday, as well -- they'll be full bore in Game 5. Multiple innings, the works.
"I think that helps," Francona said after Game 4 when asked about avoiding Miller and Allen. "If Miller and Cody pitch, that would have been four out of the five [days], pretty high-stress, high-leverage innings. We decided to go a different route. Didn't work out as well as we wanted, but, you're right, we do have those available with a day off behind it."
3. The Blue Jays used their top relievers again.
On the other side of the coin, Blue Jays manager John Gibbons used his top relievers again in Game 4. He had to: The season was on the line. Roberto Osuna, Jason Grilli and Brett Cecil all threw an inning Tuesday after pitching in Game 3 on Monday. If they're needed in Game 5, which seems likely if the Blue Jays want to stay alive, they'll all be pitching for the third consecutive day. That takes a lot out of you. Cleveland's top end-game arms will be rested in Game 5. Toronto's will not.
4. Tomlin looms in Game 6.
In September, the Indians had to demote Tomlin to the bullpen because he was pitching so poorly. Injuries forced him into the postseason rotation and he has been very effective so far: three runs allowed in 10 1/3 total innings against the Red Sox and Blue Jays, two powerhouse offenses.
Right now, Tomlin is not the same pitcher he was in September. He has made some adjustments with pitching coach Mickey Callaway, namely emphasizing his curveball. Look at Tomlin's curveball usage by game this season, via Brooks Baseball: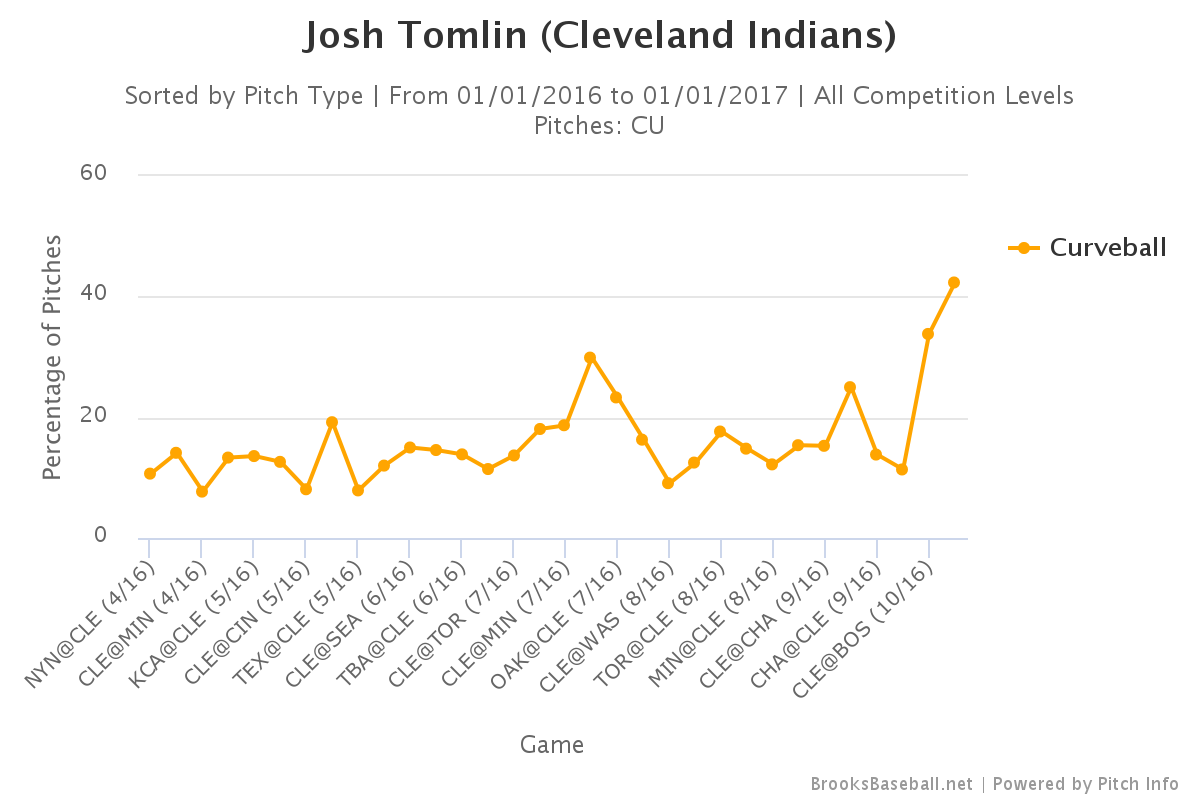 Tomlin has nearly doubled his curveball usage in his past few starts. I'm not sure that's something that will work over the course of a full season given the strain curveballs put on the arm, but in a short postseason series, it would do just fine.
Tomlin had a 1.75 ERA in his final four regular-season starts and it has carried over into October. If this series goes to Game 6, the Indians will feel good about the guy they have on the mound.
5. Kluber looms in Game 7.
For the first time in his career, Corey Kluber started on short rest in Game 4 on Tuesday. He wasn't bad by any means; he allowed two runs in five innings and probably could have pitched the sixth had Francona let him. One run came on a Josh Donaldson home run, and ... well, that happens. What can you do? The other run scored on a blooper into the triangle.
"I felt fine. I don't really feel like it physically affected me at all," Kluber said following Game 4 when asked how pitching on three days' rest affected him. "I made a mistake to Donaldson, but I feel fine ... I think you get so much adrenaline in these games that there wasn't any extra fatigue."
Kluber is a bona fide ace, and if this series goes the distance, he'll be on the mound in Game 7. Yes, he'll be on short rest, but Kluber on short rest is still better than what, 90 percent of pitchers out there? To finish this comeback and get to the World Series, the Blue Jays will have to beat Kluber twice. They've done it once. Doing it again in a Game 7 setting on the road will be awfully tough.
6. The Indians have two home games left.
If Games 6 and 7 are necessary, they'll be played at Progressive Field in Cleveland. As aside from the usual home-field advantages -- sleep in your own bed, bat last, home crowd, etc. -- the Indians are a far better team at home than on the road. They really know how to use their ballpark.
Indians at home in 2016: 53-28 (.654), plus-105 run differential
Indians on the road in 2016: 41-39 (.513), minus-4 run differential
The Indians don't want to play Game 6 or 7 at home. They want their next two home games to be Games 1 and 2 of the World Series. But, if things don't go according to plan in Game 5 on Wednesday, the Tribe get to go home and try to clinch the AL pennant at home, where they've been dominant all year.
---
One win, especially in a dramatic game like Game 4, shifts the entire feel of the series. Now it feels like the Blue Jays have a shot to make a comeback. Twenty-four hours ago, they were doomed. Heck, if the Indians had lost Game 3 after Trevor Bauer bowed out early but won Game 4 and had the same 3-1 series lead they have right now, it would feel like they're in the driver's seat.
And that's because they are. Winning the first three games of a best-of-7 series gives you an awful lot breathing room. Believe me, the Indians wanted this series over Tuesday. It didn't happen. They'll come back and try to end it in Game 5 on Wednesday. They see this as a bump in the road, not the start of a collapse.
"We've just go out there, [stick with] our plan and approach, and execute," wunderkind shortstop Francisco Lindor said. "Be ourselves. We've got to continue to play the game the right way, how we play the game ... We're still confident. We believe in ourselves."
There have been several racially charged incidents at Fenway Park this year

Washington's right fielders have sputtered offensively since Harper went down

Keep it locked right here for everything you need to know about the world of baseball Tues...
The good news? Wichita still has a chance to win the series Tuesday night

The 2017 season is going to shatter the all-time collective home run record

Ferrell somehow avoided going to the ground