Bob Melvin rips team after A's get swept by Angels in four games
After being embarrassed by the Angels this weekend, Bob Melvin tore into his A's Sunday.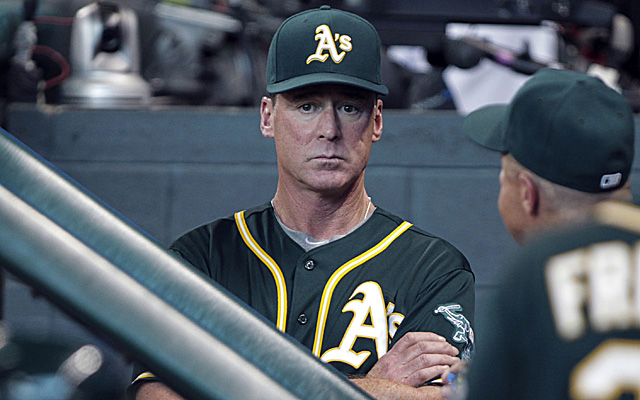 In a series that saw the Oakland Athletics outscored 18-4 by the Los Angeles Angels, the A's were swept in four games and fell to five games back in the AL West. Not surprisingly, A's skipper Bob Melvin was none-too-happy after Sunday's 8-1 loss.
"It was embarrassing, pathetic. We don't play like that," Melvin said after Oakland's 8-1 loss, which completed a four-game sweep by the Angels. "We don't play like that. The last three games here are the worst I've seen this team play in I don't know how long. I feel bad for our fans to have to watch that."

---

"The reason that I'm upset is that is not who we are, that's is not who we've been for three years," Melvin said. "It's mounted. It's been frustrating. … They all should be embarrassed."
Not only that, but Melvin reportedly "let his team have it" behind closed doors before meeting with the media.
The A's finish August with a 12-17 mark, after previously having a winning record in every full month of the season. They only scored 103 runs in the month, compared to 130-plus in April, May and June, respectively.
The A's still have a hold of the top AL wild-card spot with a month to go. They'll start a six-game homestand Monday against Seattle, with Houston being the other opponent. They do get one more crack at the Angels, which is a three-game series from Sept. 22-24 in Oakland.
"Homer at the Bat" is being memorialized by its own show in a unique way this weekend

It's Clayton Kershaw against Jose Quintana at Wrigley Field in Chicago

Five months is mid-to-late March, so this could impact the 2018 season
Cubs manager Maddon becomes the first manager ever ejected twice in one postseason series

Closer Wade Davis pitched two innings in Game 4 to help force a Game 5

Also, how much did the Cubs increase their chances?