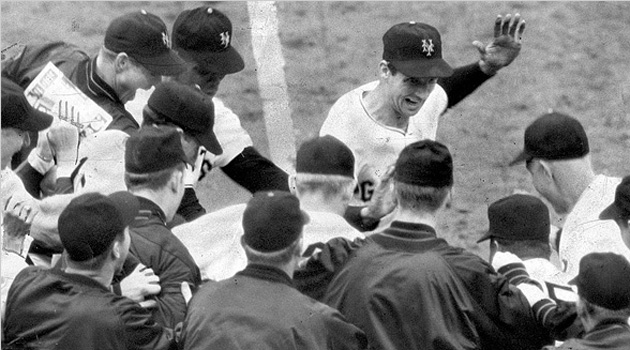 "The Giants win the pennant! The Giants win the pennant! The Giants win the pennant! The Giants win the pennant!
"
If you fancy yourself a baseball fan and haven't seen the clip of Bobby Thomson's timeless "Shot Heard 'Round the World,' you really need to get on that (
ahem, you can click here)
. It's one of the quintessential clutch moments in
sports
history, not just
MLB
history.
And now someone is going to get a part of that history, granted it's likely to require a hefty lump of cash. The exact cap Thomson wore during that game and for that at-bat -- helmets weren't yet worn -- is going to be up for auction.
From April 30-May 19, there will be an online auction on
the SCP Auctions website
.
Here's how the cap became available, via a press release:
Perhaps no fan had a better view of that fabled clout than Bernard Davies, who occupied his regular field-level box seat at the Polo Grounds on Oct. 3, 1951. Immediately after Thomson's pennant-clinching home run cleared the left-field wall, Davies, along with his son, Michael, jumped onto the field to join the throng of Giants players in the melee that greeted Thomson as he crossed home plate. Davies secured the cap right from Thomson's head moments before he was lifted up on the shoulders of his teammates. Davies can be identified in both film footage and press photographs of the event.

The cap has been a cherished heirloom within the Davies family, and has also been prominently showcased for more than 28 years (1984-2012) at The National Baseball Hall of Fame in Cooperstown, N.Y. as a centerpiece to the museum's "Shot Heard 'Round The World" exhibit.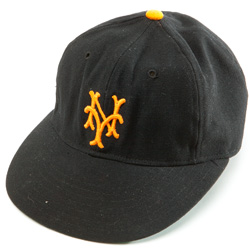 The history behind the home run is jaw-dropping. Thomson's New York Giants and the Brooklyn Dodgers ended the regular season tied after the Giants ran down the Dodgers from a whopping 13 1/2 game deficit (see, the 2011 Red Sox and Braves collapses weren't
that
bad!). The two then played a three-game playoff series to determine which club would advance to the World Series. Thomson's home run, which came off Dodgers pitcher Ralph Branca, was a walk-off winner in Game 3 of that series, sending the Giants to the Fall Classic.
To reiterate, this is one of the most classic moments in sports history. For any collector of baseball memorabilia, this hat would be a huge get.
For more baseball news, rumors and analysis, follow @EyeOnBaseball on Twitter, subscribe to the RSS feed and "like" us on Facebook.