Bobby V isn't the only big-name skipper who may go; Ozzie & others on bubble
While Red Sox manager Bobby Valentine is all but sure to be fired after the season, several more managers may join him on the unemployment roles. Coming is a wild winter that's likely to include front-office changes in Miami and possibly elsewhere, as well.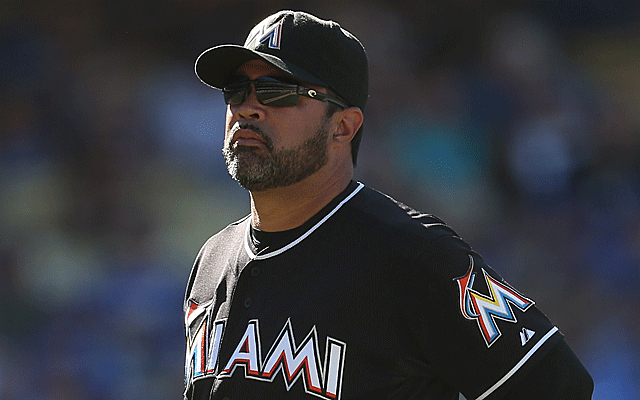 Marlins manager Ozzie Guillen has three years, $7.5 million remaining on his contract.
(Getty Images)
There's intrigue surrounding the status of some big-name managers, including Ozzie Guillen, Jim Leyland and others, making for a fascinating offseason to come.
At one time, it appeared the manager merry-go-round would be fairly stable, with no more than a firing or two. But now several big names are at least on the table, if not the chopping block.
It's been an especially rough year for a couple big personalities who came to new jobs amid much fanfare. Bobby Valentine is sure to be gone after one year in Boston Red Sox , and Guillen is no sure bet to make it to his second season in Miami Marlins .
Other even bigger names, like Jim Leyland and possibly even Mike Scioscia, also aren't certain to return.
There may be a few front office shakeups, too. The Marlins appear likely to make a change at the top of their baseball hierarchy, while a couple other teams might consider a change or two in the executive office.
Here's a summary of the teams with the teams with the most intrigue:
1. Red Sox
Valentine was only a split decision to start, and now no one in baseball sees him returning for a second season. GM Ben Cherington, who wanted Dale Sveum (or maybe anyone else), said in early August that Valentine would remain the manager in what seemed like a typical vote of confidence, but when team owner John Henry and club president Larry Lucchino – the original Valentine supporters – changed the verbiage ever so slightly a couple weeks later, saying only that Valentine would manager through this season, that appeared to be a fairly clear signal he'd be fired at year's end.
Valentine never seemed to have the full support of upper management (i.e. they sided with Kevin Youkilis in April and met with complaining players in July), the players were used to the nurturing Terry Francona and injuries killed them, but Valentine's occasional pot stirring didn't seem to play as well in Boston as elsewhere, perhaps in part because players and bosses alike were used to Francona's see-no-evil stance.
Red Sox decision-makers haven't been quoted on the Valentine topic lately. But everyone in baseball seems sure Valentine is a goner, so perhaps they are talking behind the scenes. Or maybe it's just that that obvious.
Former Red Sox executive and pitching coach John Farrell, now the Blue Jays manager, is a favorite managerial target of Red Sox decision-makers, despite his own team's poor record. But Jays GM Alex Anthopoulos said again in a phone interview that while he won't speak about any specific jobs, lateral moves aren't allowed for employees under contract.
Farrell's contract runs through 2013 in Toronto Blue Jays . Word was that Toronto would have been willing to accept Clay Buchholz a year ago for Farrell -- "If they'd even do that'' one person said , hinting at Toronto's intractability on the subject-- but with only a year left on Farrell's deal,  maybe they'd be a bit more reasonable.
Red Sox ownership seems open to an adjustment or two in the front office, though not at the top. Henry already suggested stats guru Bill James will play a bigger role. There's no evidence Cherington, who's received public plaudits, is in any peril, however.
2. Marlins
Beginning with the idiotic Fidel Castro comment, this year has been an utter failure for Ozzie Guillen, and the sentiment seems to be that his bosses won't necessarily let the $7.5 million that remains over the next three years tie them to Guillen. The Marlins aren't expected to have an excess of money to spend again on free agents following a disappointing first season at the gate.  So a potential managerial change might be the biggest move they make – if they really are willing to swallow the $7.5 mil to go.
The Marlins so-so attendance in their beautiful new Marlins Park (they'll draw just a bit more than two million) is due mostly to the team's poor performance and the mindset of Floridians who won't attend anything without ample reason. But Guillen's ill-advised glowing remarks about the Cuban dictator Castro certainly set a bad tone.
Guillen could still survive, as a change would amount to a quick admission of error. More likely are front-office changes following the team's startlingly bad season.
The team that has made a habit of out-producing its payroll finally underperformed. But the bigger picture issue has been some apparent ongoing front office factions and disconnects.
Larry Beinfest, the president for baseball operations, may well wind up going, as Danny Knobler first reported here weeks ago. Like Guillen, he has a deal for three more years. If Beinfest's time is up, Marlins owner Jeffrey Loria will likely turn to longtime top exec Dan Jennings, who also has a deal through 2015 and has been prevented from interviewing for several outside GM jobs.
Rival teams have noted a bit of a split in Miami with Jennings lining up with Loria, and Beinfest and GM Michael Hill appearing to be more aligned with club president David Samson. At times to outsiders, it's looked like they've suffered from the "too many cooks'' syndrome (for instance, Loria and Jennings wanted to go for Prince Fielder after Albert Pujols turned them down, but Samson rejected that idea) .
The organizational higher-ups will gather in New York immediately after the season to sort this all out. It's tough to forecast  Marlins moves, as Loria is not predictable. But change seems to be in the air, especially in the front office.
3. Los Angeles of Anaheim
There are two dynamics said to be in play here. One is that owner Arte Moreno is said to be unhappy with the team's underwhelming season following his overwhelming spending ($315 million in one day on Pujols and C.J. Wilson ). The other is that so far longtime manager Mike Scioscia and first-year GM Jerry DiPoto don't appear to be hitting it off, according to people familiar with their situation.
Scioscia never wanted his longtime lieutenant and hitting coach Mickey Hatcher axed, and there's been quite a bit of tension surrounding the underachieving team. Nobody seems to know how this will  all work out, though, as Scioscia has a multi-year deal at $5 million a year and good will built through the years. So if he goes, presumably it'll be because he wants to go.
4. Cleveland Indians
After a first half that saw the Indians finish with a winning record, they appear to be in free fall, and with owner Larry Dolan said to be "unhappy,'' manager Manny Acta has a very real chance to be replaced. The Indians have actually spent more time in first place in the A.L. central than anyone else over the past two seasons, but they finished poorly last year, too.
While some have speculated on Francona as Acta's possible replacement, there's no reason to think Francona has to take the first opportunity that comes along. Sandy Alomar Jr. would be an excellent choice should Dolan and Co. decide Acta's time is up.
The main reason the Indians have struggled in recent years, of course, is the consistently puny Dolan payroll. But with Dolan not having the option to fire himself, some believe even well-regarded GM Chris Antonetti's seat may be getting warmer. But anything involving Antonetti would seem to be drastic considering he hasn't even had two full seasons as GM.
5. Detroit Tigers
Manager Jim Leyland has insisted on short contracts (a la Tony La Russa, Leyland's good buddy and mentor) but the result is that the extension he signed in August of 2011 goes only through this season. If the Tigers don't make the playoffs after extravagant spending – the late $214-million Prince Fielder deal stamped them as a huge division favorite – there appears to be some chance Leyland wouldn't return.
Leyland has tried many different lineup combinations, but there's no getting around the fact that the Tigers are a disappointment so far this year. Team president/GM Dave Dombrowski is seen as safe. But the Leyland call will go to octogenarian owner Mike Ilitch, who isn't thrilled with the way this season is going.
6. Pirates
Manager Clint Hurdle, who's established a positive mindset, is safe. But there have been some rumblings that GM Neal Huntington could be in trouble of the Pirates' late-year slide continues, and especially if they not only miss the playoffs but make it 20 straight losing seasons.
Huntington's trades for A.J. Burnett and James McDonald have paid off, the long-term signing of MVP candidate Andrew McCutchen was prescient and Pedro Alvarez has been coming on, but the gamble to take Stanford pitcher Mark Appel didn't work. In the end, though, the team's play over the finals weeks is all anyone's thinking about in Pittsburgh Pirates .
7. Yankees
GM Brian Cashman has said manager Joe Girardi is safe, and it would take quite a bitter end to change that thinking. Girardi had a blowup at a New York Post writer recently, an indication he's tense over the Yankees' unimpressive second half that's seen their 10-game division lead evaporate. The popular Cashman is in no danger.
The good news? Wichita still has a chance to win the series Tuesday night

Soon more home runs will have been hit in 2017 than in any other season in MLB history

Ferrell somehow avoided going to the ground
Plus, we saw a possible AL Wild Card Game preview in the Bronx and lots more from around M...

The Pirates disappointed in 2017. Will 2018 be any different?

Let's see how SportsLine forecasts the race for MLB's 10 playoff spots