Bobby Valentine digging in heels on 9/11 comments
Bobby Valentine said Wednesday that the Mets did more for the community than the Yankees in the aftermath of the 9/11 attack on New York City. Thursday, he refused to back down.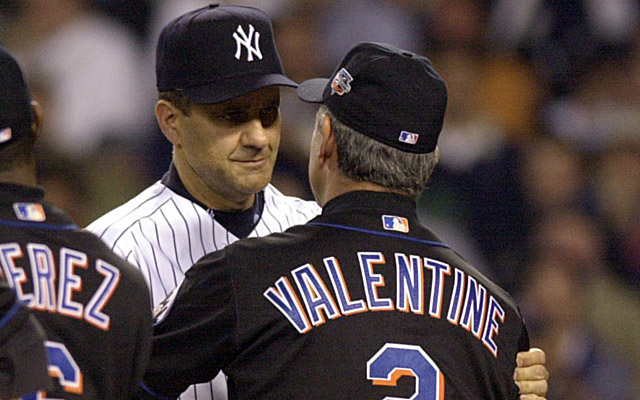 Bobby V.: Mets did more than Yankees following 9/11
Memo to Bobby Valentine: Step away from the microphone. Seriously, please just stop talking. You can't make this any better for yourself. It can only get worse.
What am I talking about?
Well, remember the comments former Mets manager Bobby Valentine made Wednesday -- the 12-year anniversary of 9/11 -- in which he wanted to make sure everyone knew the Mets did more to help the community than the Yankees in the aftermath?
Yeah, he's digging in his heels.
"It was an emotional day," Valentine told Erik Kuselias on the NBC Radio Network (via larrybrownsports.com). "I don't know if I was trying to take credit for the team. I was trying to make a fact. After 12 years of hearing what was done and hearing it reported incorrectly, I just thought I'd state for the record that there weren't any Yankees out there that week."
Here's the problem, though: It doesn't matter. It really, really doesn't matter if the Mets or Yankees did more for the community in the aftermath of the tragedy. You know who did a helluva lot more than the Mets, Bobby? The public employees -- both those who survived and those who gave their lives on 9/11 and in the aftermath. That is what matters.
My lord, have some respect.
I wasn't in the media back then, so it's not like Valentine is personally offending me on that level, but I have a serious problem with this situation. If this isn't about "credit," there is zero reason to say anything. "I was trying to make a fact," he says. OK, but why? So you and your team get credit. That's it. Otherwise, again, there's no reason to say anything.
Further, if people do charity or volunteer work for credit, doesn't that negate the good-hearted nature of help and instead make it selfish instead of selfless? At that point, it's no longer, "Hey, I just want to do whatever I can to help" and has morphed into, "Make sure you report that I was here so everyone knows how good and nice I am!"
To reiterate, the focus on 9/11 should have been on the victims and the heroes of the tragedy that took place 12 years ago, not Valentine's seemingly fragile sensibilities. It's too bad he can't see that.
Kinsler will slot in at second base for the Angels

The Marlins got a better return for Ozuna than Stanton or Gordon

The two teams are going about things in very different ways
The Marlins are indeed in teardown mode under new ownership

The Marlins still have more attractive pieces

The A's need outfield help, and the Cardinals have a glut