Bobby Valentine fanning the flames in one-sided feud with Kevin Youkilis
Red Sox manager Bobby Valentine gets off another shot at Kevin Youkilis.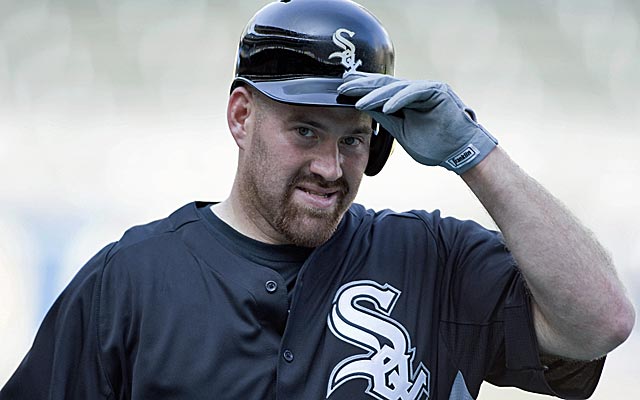 Kevin Youkilis and the White Sox are heading to Boston this week. (Getty Images)
With the White Sox heading to Boston this coming week, it was rather obvious Kevin Youkilis' return to Boston would be a huge topic of conversation from the Chicago and Boston media outlets. Notable in the situation is the seeming friction between Youkilis and Red Sox manager Bobby Valentine.
Youkilis, for his part, seems to have moved on.
"I got nothing about any of that stuff. I'm over all the Boston thing this year. There's a lot of great past history, but this year I'm focused on the White Sox." (Via Scott Merkin on Twitter)
Valentine, on the flip-side, either can't or doesn't want to take the high road. When asked about the aforementioned "friction" between himself and Youkilis, here is what Valentine came with:
"I think that's a joke," Valentine said (boston.com). "I wasn't here last year. There was no friction in spring training. So I think that's a joke. But I'll take all that. I think the comment that I made early, he made a big issue out of and I don't think he ever wanted to get over it."
Valentine is referencing when -- back in April -- he told a local TV station that he didn't think Youkilis was "physically or emotionally" into baseball this season as much as he used to be.
The White Sox visit the Red Sox for a four-game series, so there will surely be more to come. As I've often urged Ozzie Guillen, maybe it would behoove Valentine to work the words "no comment" into his vocabulary. That is, unless he really wants to publicly go inflame Youkilis.
For more baseball news, rumors and analysis, follow @EyeOnBaseball on Twitter, subscribe to the RSS feed and "like" us on Facebook.
Dioner Navarro still hopes to return someday

Christian Yelich's agent says his client's relationship with Marlins is 'irretrievably bro...

The free-agent market has been slow and one player is bracing for an even longer wait
The Mets didn't want to trade a young outfielder for an older one

Josh Harrison doesn't sound pleased Gerrit Cole and Andrew McCutchen have been traded away

The team's media contracts expire following the 2019 season