Bobby Valentine says Mets did more than Yankees following 9/11
Former Mets manager Bobby Valentine said his team did more for New York City following the Sept. 11 attacks than the Yankees.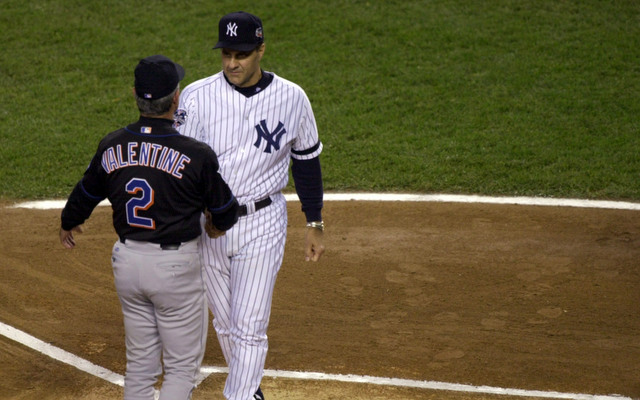 More MLB: Scoreboard | Standings | Probable Pitchers | Sortable Stats | Odds
Twelve years ago today, the world was changed forever and Bobby Valentine was the manager of the Mets. Those two things aren't related of course, at least I don't think they are, but Valentine wants you to know he thinks the Mets did more for the City of New York than the Yankees following the attacks of Sept. 11, 2001. Here's what he said during a radio interview on Wednesday, courtesy of CBS New York:
"Let it be said that during the time from 9/11 to 9/21, the Yankees were (not around)," Valentine told Joe Benigno and Evan Roberts on Wednesday. "You couldn't find a Yankee on the streets of New York City. You couldn't find a Yankee down at Ground Zero, talking to the guys who were working 24/7."

He added: "Many of them didn't live here, and so it wasn't their fault. And many of them did not partake in all that, so there was some of that jealousy going around. Like, 'Why are we so tired? Why are we wasted? Why have we been to the funerals and the firehouses, and the Yankees are getting all the credit for bringing baseball back?' And I said 'This isn't about credit, guys. This is about doing the right thing.'"
For what it's worth, Derek Jeter, Bernie Williams and other members of the Yankees visited hospitals and rescue areas in the days following the attack. But that's besides the point.
Valentine says "this isn't about credit" but made sure to let everyone know he felt his team did more than their crosstown rivals. That might be true, I don't really know, but this isn't some kind of competition. Far from it. Valentine comes off as incredibly petty by seeking what amounts to a pat on the back 12 years after the fact.
Want to argue Mets vs. Yankees? David Wright vs. Robinson Cano? Matt Harvey vs. CC Sabathia? Great, go at it. But who did more following Sept. 11? Valentine should know better than to make such a sensitive subject a "me vs. them" matter. I guess he just can't help himself.
The Grapefruit League and Cactus League seasons started on Friday

Data will be collected and then used to determine whether humidors are necessary in 2019

Spring training play began on Friday, and the Stoneman Douglas tragedy was on the mind of MLB...
Baseball players forced to take pictures usually lead to fun for all of us

One of the most celebrated programs in baseball is looking to continue its run

A closer look at the teams in the Cactus League and Grapefruit League