Bobby Valentine wants automated calls of balls and strikes
Red Sox manager Bobby Valentine is one of many upset with the umpires, but he's not blaming the men in blue. Instead, he thinks the job is impossible to be done correctly by a human and calls for technology to take over.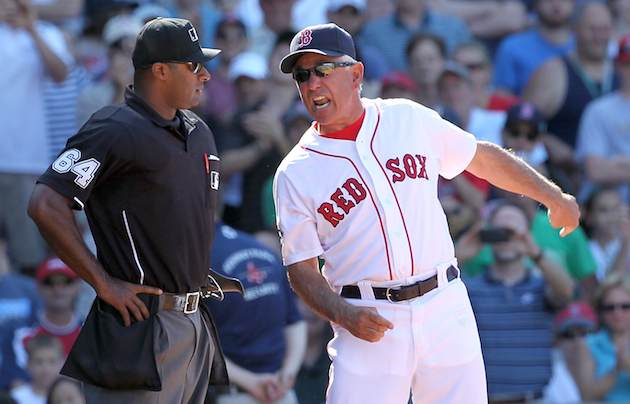 Last month Dodgers first baseman James Loney was mocked on Twitter and elsewhere for
suggesting that in the next 50 years that there'd be electronic umpires
. Well, now
Red Sox
manager Bobby Valentine is flat out asking for human umpires to be replaced.
"I don't know how the internet works -- how about a fax, how about putting a thing in a machine and it showing up in Europe -- if they can do that, they can figure out how to call a strike and a ball," Valentine said before Monday's game in Miami (
via the Boston Herald
). "Are you kidding me? That isn't tough. It's whether or not they want to do it."
It seems like not a day has gone by that umpiring and missed calls haven't been a story in baseball this year. While Bud Selig has said nobody's calling for it -- his constituents, the fans, are screaming for better umpiring. Now, people inside the game, such as Valentine, Loney and others, are demanding it as well. At some point, even Selig will have to acknowledge there's a problem. As I've written many times, I'm not sure umpiring is any worse than it's ever been, but our ability to notice -- with high definition TV and every game televised -- has improved.
Valentine said he thinks umpires are "well trained" and "very good at what they do," but that doesn't mean the calls are always right.
"I think it's almost impossible to do what they do, so why do we ask them to do the impossible," Valentine said (
Boston Herald
). "If in fact you can't see the ball the last five feet, and now pitchers are throwing pitchers that are moving in that zone, cutting and splitting and moving in the zone your eye can't see what's happening, your lens doesn't snap that photograph and register in the time the ball is moving the last five feet. So if you can't see it, why are we asking them to call it? They can't see it. They're humans. We're asking humans to do a feat a human can't do."
As for the "human factor" of umpiring the game? Valentine recalled his stint as a TV analyst for the Little League World Series and a called third strike ending a game on a pitch that was six inches outside.
"And then someone says the most ridiculous words that I ever hear: 'But we like the human factor.' IT was criminal that we allow our game to scare a young person like that," Valentine said (
via CSNNE.com).
"And then it continues on. I think, in 2012, it should not be part of the process. I don't think it should be."
For more baseball news, rumors and analysis, follow @EyeOnBaseball on Twitter, subscribe to the RSS feed and "like" us on Facebook.
Francisco leads the Dominican Winter League with seven home runs

Thome deserves enshrinement and here's why the case against him does not hold up

The Twins have already fortified the bullpen with Addison Reed, and now they want to address...
The Orioles likely want pitching, and the Indians have plenty of it

Halladay died in a November plane crash off the coast of Florida

The power-hitting outfielder is headed to Toronto