Bochy says Giants could look to add bullpen help; who's available?
The Giants are dealing with injuries to their lineup and rotation, yet manager Bruce Bochy indicated they could look to add bullpen help.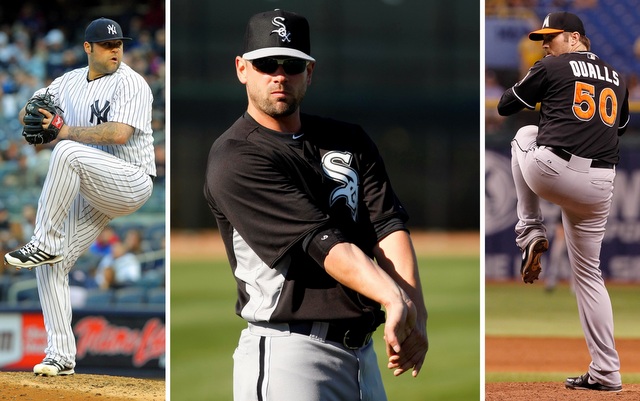 More MLB: Scoreboard | Standings | Probable Pitchers | Sortable Stats | Odds
The Giants went into Tuesday night's game against the Dodgers with a 38-38 record that has them sitting in fourth place in the NL West, 3 1/2 games back of the first-place Diamondbacks. They've lost both Angel Pagan (hamstring) and Ryan Vogelsong (hand) to long-term injuries while also dealing with the shorter-term losses of Marco Scutaro, Pablo Sandoval and Chad Gaudin.
The trade deadline is five weeks and one day away, giving the Giants plenty of time to address whatever roster holes that they might have. John Shea of the San Francisco Chronicle over the weekend asked manager Brucy Bochy about his team's needs. Rather than discuss their injury-weakened lineup or underperforming rotation (4.47 ERA), Bochy mentioned the bullpen as an area of need:
"Chad (Gaudin) was throwing well. He's the question mark right now," Bochy said of the swingman who's questionable for his next start after taking a liner off his right arm. "The other four spots are locked in. Sure, we think we can get it done with them. If you look in the bullpen, that's where we need some help. (Santiago) Casilla's getting close. He'll help us there."
The four spots that are "locked in" belong to closer Sergio Romo and left-handers Javier Lopez, Jeremy Affeldt and Jose Mijares. Those four have combined to post a 2.50 ERA and 1.25 WHIP in 101 innings this year. The rest of the bullpen has pitched to a 3.77 ERA and 1.36 WHIP in 129 innings. So while the bullpen's overall 3.21 ERA and 1.31 WHIP look fine, they are top heavy.
Luckily for Bochy and his team, there are always plenty of relievers available at the trade deadline. The Giants added Mijares before last year's World Series run. In 2010, they acquired Lopez and Ramon Ramirez at the deadline. Here's a look at some bullpen arms that San Francisco can target this year with an emphasis on right-handers since they already have three lefties.
Joba Chamberlain, Yankees
It has been a long time since Joba burst onto the scene and managed a 1,221 ERA+ as a rookie in 2007. Nowadays, he's just an inconsistent, injury-prone middle reliever who is due to become a free agent this winter. He can still miss bats (10.7 K/9 in 2013) and pump heat (averages 94.7 mph according to PitchFX) about as well as any other reliever on the trade market. The only issue is whether the Yankees, who are in the hunt for a playoff spot themselves, are willing to move a bullpen arm.
Jesse Crain, White Sox
The White Sox have been a major disappointment this year (31-43, second-worst record in AL), but not because of Crain. He has been electric, pitching to a 0.52 ERA -- the last time that he allowed a run was April 12 -- with an 11.9 K/9 in 34 2/3 innings this summer. Like Chamberlain, he is due to become a free agent this winter and would only be a rental. Crain figures to be the hot target on the trade market and would surely require a big return given his outrageously effective season.
LaTroy Hawkins and Brandon Lyon, Mets
The Mets signed both Hawkins and Lyon to affordable one-year contracts this winter, and both veterans are prime trade bait at the deadline. Hawkins has a 3.52 ERA in 30 2/3 innings to go along with nearly two decades worth of experience while Lyon has a 3.16 ERA in 31 1/3 innings. Neither guy strikes out a ton of batters -- 7.3 K/9 for Hawkins and 6.3 for Lyon -- which is less than desirable. Both figure to be very available and pretty easy to acquire, however.
Chad Qualls, Marlins
After pitching to a 5.24 ERA 2010-12, Qualls has rebounded to post a 3.00 ERA in 30 innings for Miami this year. He doesn't strike out many batters (6.6 K/9), but that was never really his thing. Qualls has always been a power sinker guy who gets ground balls, and his 65.5-percent ground ball rate ranks second to Brad Zeigler (76.8 percent) among relievers who have thrown at least 30 innings. The Marlins will trade pretty much anyone, so you know Qualls is on the block thanks to his strong bounceback season.
Jose Veras, Astros
It seems pretty obvious that the Astros signed Veras to be their closer this winter in an effort to boost his trade value so they could flip him for a prospect or two at the trade deadline. The long-time middle reliever has a 3.82 ERA and 10.1 K/9 while saving 15 games in 18 chances, which is probably exactly what Houston was hoping he'd do. The Giants don't need a closer thanks to Romo, but Veras has experience in the late innings and would give Bochy's bullpen the power right-hander that they sorely lack. As an added bonus, his contract includes an affordable club option for 2014, meaning he doesn't have to be a rental.
* * *
It's worth noting that a contending team like the Giants usually shies away from trading pieces off its major-league roster at the deadline. They look to add players, not subtract. San Francisco came into the season with the third-worst farm system in the game according to Baseball America, and that lack of prospects could limit their ability to make trades, especially if they use their top minor-leaguers to acquire a starter like Ricky Nolasco or Bud Norris.
Pagan's injury took a bite out of the offense, while the starting rotation -- traditionally the team's strength -- has been a rather big concern this season. Those two issues should be priorities one and two at the trade deadline, but Bochy made sure to remind everyone that bullpen help figures to be on the agenda as well. Relievers are tough to predict because of the volatility of the position, but they are plentiful and the Giants will have a bunch to choose from in the coming weeks.
Five months is mid-to-late March, so this could impact the 2018 season

Cubs manager Maddon becomes the first manager ever ejected twice in one postseason series

Closer Wade Davis pitched two innings in Game 4 to help force a Game 5
Also, how much did the Cubs increase their chances?

Los Angeles will have another chance to close the series out on the road

They're alive in the NLCS after their Game 4 win over the Dodgers