Bold Predictions: Who will be the first manager fired in each league?
As we continue our bold predictions series, we ask which manager will be the first fired in each league?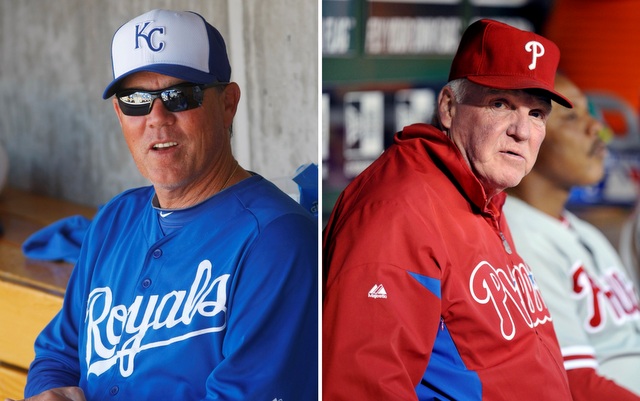 Bold Predictions: HOU/MIA won't be worst | How many Strasburg innings, Crawford games? | When will Bundy start, Myers homer?
The 2013 season is less than 72 hours away, which means nonstop baseball until pretty much November. That's awesome. In advance of the first pitch on Sunday, we're going to post some bold predictions for the upcoming season. Some are meant to be serious, others a little light-hearted. Here are today's predictions:
First AL Manager fired: Ned Yost, Royals
When raised expectations meet middling results, exit interviews tend to follow. So it will be with Ned Yost and the Royals.

The Royals, of course, paid dearly for a shot at contention this season. Over the winter they parted with Wil Myers, perhaps the top power prospect in baseball, and other notable pups in exchange for James Shields (he of the 107 career ERA+) and Wade Davis (he of the shoulder concerns). Shields figures to stabilize the K.C. rotation to an extent, but that won't be enough to put the Royals on par with the Tigers. The only sure thing is that they will finish ahead of the Twins.

Given the improvements in Cleveland and the solid core of the 85-win White Sox, a fourth-place finish for the Royals, even with those high-upside young hitters, is a distinct possibility. The Royals will be better this season, but this is still a team that lost 90 games in 2012 and finished with a run differential of -70.

As for Yost, he enters the 2013 season with a .439 winning percentage as Royals manager (sadly enough, that's the highest mark of any Royals skipper since Bob Boone in the mid-1990s). Now that expectations are in place (unreasonable expectations, in my opinion), anything less than certifiable contention may cost Yost his job. Throw in a GM, Dayton Moore, who also may be running out of time and take the longstanding habit that in-peril GMs have of firing their managers as a dodge, and you have all the wrong circumstances in place.

All of that is why the tactically challenged Yost, who's 100 games below .500 for his managerial career, will be let go over the All-Star break. In doing so, he'll become the first AL manager fired in 2013. -- Dayn Perry
First NL Manager fired: Charlie Manuel, Phillies
I didn't realize this before putting together this post, but NL managers seem surprisingly secure this season. The really bad teams got new managers within the last season or so, and several other skippers recently received contract extensions. That limits the "first manager to be fired" pool.
As for Manuel, he is about to enter his ninth season calling the shots in Philadelphia. He's been in charge for the most successful run in franchise history, a run that includes five division titles, two NL pennants and one World Series championship.
Despite all that, the 2013 season is the final one on Manuel's contract. He says he's content with his lame duck status because he's unsure what he wants to do in the future, but it can be an uncomfortable feeling. Ryne Sandberg was hired as third base coach this offseason, and he has long been viewed as a manager-in-waiting.
The Phillies finished 81-81 last summer and didn't improve all that much this winter. The Youngs -- Michael and Delmon -- joined the lineup while Mike Adams was added to the bullpen, but otherwise the team will have to deal with the continued aging of its core and Roy Halladay's bout with pitching mortality.
Combine the lame-duck status, Sandberg's presence and the potential for a slow start, and the writing sure seems to be on the wall for Manuel and the Phillies. The 2013 season could be the end of an era for the Fightin's. -- Mike Axisa
Boston wants to add two big bats to their lineup, not just one

Even more relievers signed on the final day of the Winter Meetings

Keep tabs on the top 50 free agents right here
The league is not happy Ohtani's medical information leaked

Kansas City and Baltimore were quite busy at the Rule 5 Draft

Piscotty's mother was diagnosed with ALS earlier this year