Bonds arrives in Giants camp a changed man in more ways than one
Tainted baseball great Barry Bonds deserves a chance to be back in baseball as a spring instructor.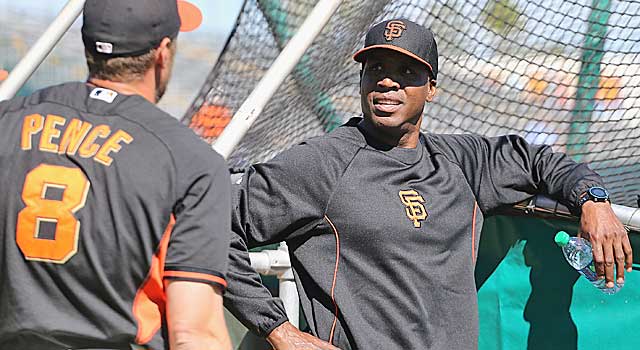 MORE: Spring Training | Scoreboard | FA tracker: position players | Pitchers
SCOTTSDALE, Ariz. — All-time home run/RBI king and Giants spring coach Barry Bonds walked into the coaches' quarters here just before 9 a.m., a much friendlier and somewhat thinner man than when he last left us.
Bonds still lacks no confidence, but he's lost a little edge, which is a good thing. In two ways you could say he's been cut down to size.
"Hey guys," Bonds greeted the very writers he battled for decades, even adding a slight wave of the hand.
The changes are obvious. This is a nice man who came to camp here, a very different man than the one who couldn't find a job after posting a 1.045 OPS his last season with the Giants seven years ago, his last season in the bigs.
"It feels really good to be back. It feels really good to participate," said Bonds, who looks very fit and perhaps about 20 pounds lighter. "I'm going to really enjoy it."
It's been a long time coming, and understandably so. The combination of the steroids and perpetual surliness made him poison before.
Now, the timing is right, Giants manager Bruce Bochy declared.
Indeed, he deserves a chance to be here. Indeed, the time is right.
Mark McGwire, who admitted steroid use, is on his second team coaching hitting. Bonds' old teammate Matt Williams, a star in the Mitchell Report, is managing the Nationals, a move Bonds applauded, at least for reasons of friendship if not forgiveness.
Seven years have passed. Feelings have softened. So has he.
If this is about redemption, he's off to a boffo start.
This Bonds has no entourage of jerks. Harvey "the Rub" and his ilk are gone. Only two pleasant PR people accompanied him to his return engagement. Much better.
This Bonds smiled often. This one laughed a lot. And when he did, it didn't seem dastardly like the old days.
"I was a different character playing," Bonds declared. "Same person, different character."
He suggested he needed to carry that not-so-nice guy to perform as he did, and said so. But when asked about it he wasn't positive he wouldn't have been the same superstar had he been nicer.
"It worked," he eventually declared with a big smile. And no one could argue that.
He knows he could have played longer, surely, and he wasn't happy to have seen his career disintegrate at a time it appeared to still be booming. Asked if he was blackballed, he said, "I don't know. ... I'm fine."
If he isn't, he put up a pretty good act. His one stated regret was that he didn't have a better relationship with the media. (And doesn't he know how to play to the audience?!)
As for the steroid past, well, he didn't really want to talk about it. Someone asked him whether he might make an admission of steroid use now, and he said, "I already went to court." (For the record, that was a split decision, with him being convicted of one felony, obstruction of justice, but not the other charges in his perjury case involving anabolic steroid use.)
Bonds further stated he didn't want to talk about the Biogenesis case, said he'd only talk about Alex Rodriguez to Alex Rodriguez and doesn't expect his all-time home-run record to last forever (even though A-Rod appears to be toast in that regard). "I think God will bless somebody else," he said.
Bonds has had a few blessings in his rather interesting life, and he counts his return to the Giants among them. He profusely thanked Bochy and the Giants organization for making this happen, which is unusual for an all-time great making a seven-day, no-dollar appearance in spring camp. He also mentioned he had moved back from Beverly Hills to San Francisco.
"That's where I belong," he said.
And finally, he belongs back in baseball. He should have plenty to offer. No one was a smarter hitter than he was.
He revealed he's been working with Dexter Fowler of the Astros on his own time, and occasionally with Ryan Howard, and sounded like he thinks he can help. But isn't positive about that.
"I don't know if I'm good enough," he said in a phrase he's never used before.
He sounded like he might want to hang around the ballpark more, coach more. Then someone asked him if he wanted to manage, and he responded with a smile, "I just want to get through the seven days."
The man is a legend, and he deserves this shot, as ambivalent as some may feel about it. Like many others, he cheated. He was just better at it.
He also wasn't very pleasant most times as a player. But that is no disqualifier. Speaking of unpleasant, Jeff Kent just left Giants camp.
"I've toned down a little bit," Bonds said.
That doesn't mean his confidence is waning. While walking across the field at Scottsdale Stadium, Bochy asked him if he could still hit one out of here.
"Easy," Bonds responded.
There's little doubt that's true. He's the best player most of us ever saw, or ever will see -- though how much of it was real is still open for debate.
When someone asked him whether he might be able to help a young Giant hit more homers, he answered, "I don't know if I can create power in anyone," an ironic comment if you think about it.
There was also someone asking him his love of "cycling," but that was harmless. She just meant bicycling, which he did admit to.
Real roid talk was for another day though.
The closest subject to steroids he touched was the Hall of Fame, where he's been receiving less than 40 percent of the vote even though he was better than 100 percent of all the other players. He declined to offer guidance to us voters who have kept him out two straight years. "You guys are adults," he said.
As for whether he belonged, he didn't hesitate.
"Without a doubt," he said.
There will be debate about that for years to come (disclaimer: I still haven't voted him but haven't ruled it out in the future). As for whether he belongs here, back with the Giants, there is little doubt about that. He most certainly does.
CBS Sports HQ Daily Newsletter
Get the best highlights and stories - yeah, just the good stuff handpicked by our team to start your day.
Please check the opt-in box to acknowledge that you would like to subscribe.
Thanks for signing up!
Keep an eye on your inbox for the latest sports news.
Sorry!
There was an error processing your subscription.
The Angels' statement certainly seems to address Rob Manfred's recent comments about Trout

Keep up with all the latest trade rumors around Major League Baseball, including the Machado...

David Samson, who orchestrated a deal that sent Miguel Cabrera to the Tigers, talks dealing...
The Cubs lead the Cardinals in the standings, but a five-game set against St. Louis will be...

Manfred named a few viable markets for expansion

The other award races are a little more wide open