Bonds, Clemens and Hall of Fame: Do we want them there?
Instead of asking whether Barry Bonds, Roger Clemens and other steroid-tainted stars belong in the Hall of Fame, you should ask, 'Do we want them there?' The answer is much simpler, and the answer right now is no.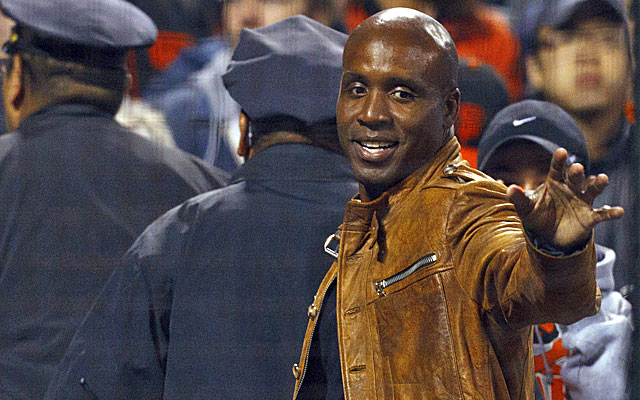 Danny Knobler says Barry Bonds will not get into the Hall of Fame in 2013 because fans aren't ready yet. (US Presswire)
The argument some people want to have is whether Barry Bonds and Roger Clemens belong in the Hall of Fame.

The argument we're actually having is whether we want them there.

Do we want them on that stage next July in Cooperstown? Do we want to celebrate their careers the way we celebrated Barry Larkin's career, and Ron Santo's career, this past July?

Because that's what this is really about, and that's how the answer can become fairly obvious.

Barry Bonds and Roger Clemens (and Mark McGwire and Sammy Sosa) aren't getting into the Hall of Fame in 2013 because we're not ready -- and you're not ready -- to celebrate them.

The Hall of Fame doesn't just list the best players in history. It celebrates them, as anyone who has been to a July induction ceremony knows (and if you haven't been, I recommend it).


More on MLB
Related links
The Hall of Fame weekend is one of the highlights of the baseball year, in part because it's a time when everyone is happy. Even when there has been a great debate on whether a player belonged (as there was with Santo), once he's in, the arguing ends.

As this year's voting has approached, I've heard from other voters. Many don't plan to vote for Bonds, Clemens or other steroid-tainted candidates (as I don't). Others say they will vote for them, but then add, "I don't feel good about it."

They don't want them on that stage. Not yet.

Could it happen some day? Absolutely. Feelings change. Opinions change.

That's why we don't just vote up or down on every Hall of Fame candidate. We vote each year, and as long as they get at least 5 percent of the vote, they remain on the ballot for 15 years.

For most of them, we're arguing and rearguing their credentials, their numbers, their awards, their fame.

Obviously, this is different. No one is asking if Bonds hit enough home runs, or if Clemens had enough strikeouts.

We're simply asking if they belong.

Some are arguing that yes, they do, because the Hall of Fame has inducted cheaters before. Some are saying that because baseball never punished them for a failed drug test, we shouldn't do it, either.

And some are complaining that we, the baseball writers who make up the electorate, have no right to be the ones taking a stand.

The answer to that last complaint is the easiest one. The Hall of Fame asked us to decide who stands on that stage. We have the right, because they gave us the right, and it's one that every one of us takes very seriously.

The decisions become harder every year, and have since the steroid guys began appearing on the ballot. Did they do it? How do we know? How do we know that we're not voting for someone who did, while excluding others we think did?

The answers are impossible, and I don't blame any voter who responds by saying he'll just ignore the steroid issue and vote on what the player did on the field.

But most of those voters are the ones who end up saying, "I don't feel good about it."

I've been there. I voted that way, for a couple of years.

But I wanted to feel good about my vote. I wanted to feel that if a guy I voted for was standing on that stage in July, I wanted him to be there.

The Hall of Fame asks us to decide, and the Hall directors give us few real guidelines. There are no magic numbers, except 75 (the percentage of votes required for induction).

They ask us to choose who will be standing there, who we'll be celebrating.

Do you want Bonds standing there? Do you want to cheer him, the way you'd cheer any other Hall of Famer?

That's what this is about.

Right now, the answer seems pretty clear.
We rate the best mustaches from random baseball cards because, why not?

Colon wants to break a Dennis Martinez record

The Twins have been rumored to be interested in Darvish all winter
Rolen is one of the best third basemen of all time, but you wouldn't know it based on this...

Neither Josh Donaldson nor Brian Dozier have talked about a new contract extension

Francisco leads the Dominican Winter League with seven home runs