Book report: Piazza's engrossing tome a hit, but why is he so upset?
Mike Piazza has had a great life, but he seems to remember everyone he thinks did him wrong.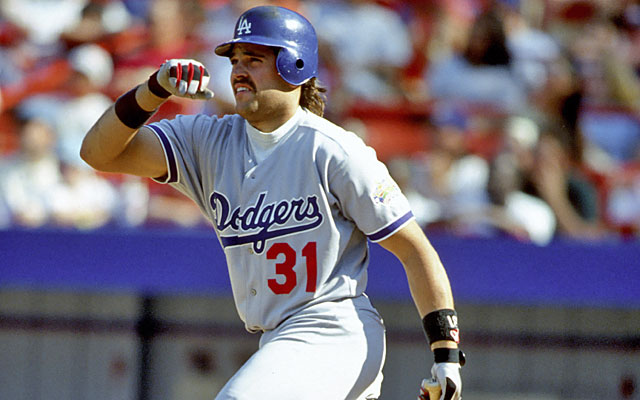 Not only is Mike Piazza the greatest hitting catcher of all-time (and I agree with the strong suggestion he is, made multiple times in his new book Long Shot), he has to have the greatest memory for slights and perceived slights of anyone who has ever lived.
Maybe the L.A.-sized chip on his shoulder is one of the main reasons he rose from a 62nd-round draft choice to become one of the best players in the history of the Los Angeles Dodgers and New York Mets. After 347 pages of upset over all sorts of slights, real and imagined, I am pretty convinced it is.
Piazza does not take kindly to slights, insults or being ignored. And without reading the book, you can imagine that an all-time great who was passed over 1,389 times in the 1988 first-year player draft before family friend/Dodgers icon and then-manager Tommy Lasorda nudged, begged or probably more accurately ordered the Dodgers to make Piazza a "courtesy pick," was indeed slighted, insulted and/or ignored a lot more than he deserved to be.
Piazza admits he is moody, and everyone who came into contact with him during his playing career can confirm this. He is also charming a lot of the time, as anyone can tell from the very entertaining book, written with former Reds beat writer Lonnie Wheeler. Piazza also admits to being less than a great teammate in terms of being a warm-and-fuzzy supportive type. And you can take that to the bank, as well.
Among many other folks, Piazza isn't happy with a minor-league manager who played someone else over him. He isn't thrilled with excellent Mets PR man Jay Horwitz, who he accuses of not protecting players from the media enough. He doesn't seem enamored with the great Dodgers broadcaster Vin Scully, who once asked him pointed questions about his difficult Dodgers contract situation.
He seems less than thrilled with pretty much everyone at some point over some thing, except maybe ex-teammates Eric Karros, Al Leiter, Greg Hansell, his agent and by far his best friend Dan Lozano (who by other accounts is a pretty questionable character -- see Deadspin). Piazza is a very smart man, as you can tell from the book, but I have to question his overall taste if he thinks Lozano is more a trustworthy character than Horwitz.
I used to hear Piazza wonder aloud whether he would ever know how a prospective wife really felt about him, because he's Mike Piazza. And that would seem to be a legit concern since he is famous and rich. His father Vince, who is portrayed as loving, overbearing and unbending, is rich enough to have entertain the idea of buying the San Francisco Giants at one point, before some alleged questionable associations shut him down, and Piazza made $120 million-plus, according to baseball-reference.com.
After reading the book, it's obvious why this is an even greater concern of his than you would imagine. He mentions a few times in the parts of the book about his single life his keen interest in dating starlets and playmates.
Lasorda is a star of the book. But ultimately, he doesn't seem quite as thrilled with Lasorda as you might suspect. Of course Piazza himself is the one who deserves most of the credit for making himself into a superb major leaguer, but Lasorda ranks an easy second on the list of reasons he made it, which Piazza acknowledges in spots.
Piazza, unsurprisingly, is slightly sensitive to insinuations early in his career that Lasorda is the only reason he was given a chance, and Piazza himself readily admits he was picked at all because Lasorda and his father Vince are so close. (Scouts apparently were fixated on his throwing and speed deficiencies.)
It's clear Lasorda went to bat for Piazza, pushing the pick, then pushing him. He is a key figure in the story. But Piazza even winds up annoyed with Lasorda (or at least annoyed enough to mention it) over a comment Lasorda made when the Fox-run Dodgers made the idiotic trade to send away Piazza and his friend Todd Zeile to the Marlins. Piazza perceived Lasorda's remark as being too sympathetic to the Dodgers, who still employ Lasorda.
Lasorda and the Piazzas are like family -- though Piazza mentions more than once that contrary to popular belief Lasorda is actually godfather to his brother Tommy Piazza, not him. So perhaps Piazza expected even more from him. But hasn't Mike received the memo? Lasorda bleeds Dodgers blue.
Piazza surely needed more protecting when he got to New York since he was the Mets' biggest star throughout almost all of his tenure there, and a moody one at that, who by his own admission wasn't a great teammate. But by everyone's account but Piazza's, Horwitz tried his best to protect him.
Piazza received almost universally positive media coverage as a Met, yet Horwitz gets knocked in the book. Mike Francesa and Chris Russo, "Mike and the Mad Dog" on New York's most popular sports radio show on WFAN (a CBS station), originally pushed the Piazza acquisition to the point where Mets co-owners Nelson Doubleday and Fred Wilpon felt they had to do it even though catcher Todd Hundley was their biggest star. Piazza continued to receive royal treatment from the New York sports media throughout his time there (though Piazza recounts a time he refused to go on their show because he felt they were being unfair to him at the time.)
Horwitz certainly couldn't be held responsible for the idiotic and incorrect New York Post gossip item suggesting Piazza was both gay and having an affair with a male TV weatherman. As Piazza explains in the book, he was more offended by the suggestion not that he was gay but that he'd go to such trouble to hide it by dating models and Playmate playmates, which he did. By his own choice he held a press conference at Shea Stadium to deny he's gay, which seemed odd at the time but turned out to be the right move.
It's a bit surprising that Piazza would show some annoyance with Scully, as Piazza loves celebrities and Scully certainly is one. However, the one thing that trumps celebrity for Piazza is showing less than complete support for Piazza, which apparently he thought Scully did when he asked him some tough questions in a TV interview during spring training.
They were questions that had to be asked since Piazza had made it an issue during his contract talks by setting an ultimatum, but Piazza apparently came to view Scully as an extension of the team, even after Scully concluded the interview by praising Piazza for such good answers.
Piazza doesn't hold back on his opinions, which is what makes the book such great reading, and to be fair he does seem more positive than negative on a few baseball people. While he doesn't much care for Bill Russell, Tim Leary, Pedro Martinez, Latin players who don't learn English, headhunters or Roger Clemens (can't blame him on the last two), he does offer praise for a few baseball people, including some of his managers.
Bruce Bochy did a great job handling him in San Diego (you can be sure it wasn't easy). Art Howe was a nice man. Lasorda disciple Bobby Valentine, who happened to manage Piazza most of his time in New York, is a complicated figure who drew more praise than criticism despite what seemed like a very up-and-down relationship at the time.
Even his better friends aren't exempt from a poke here or there, and I suppose this is what makes it such a compelling read.  Zeile, a good and loyal friend and the only one who teamed with him on his first three teams -- the Dodgers, Marlins and Mets (Piazza notes that helped get him the Mets job) -- is recalled mostly favorably but is also remembered for recommending a Hollywood investment that apparently didn't work out so swell for Mike.
Piazza has an amazing memory. But the story is about what he heard at the time, without regard to fact. And beyond his questionable taste in people, sometimes his facts just aren't very straight.
About the Newsday marijuana story from 2003, where a picture of Grant Roberts using a bong was printed on the front page, Piazza says "apparently, a scorned former girlfriend of his, a baseball groupie, was trying to extort money from him and released the photo when he wouldn't comply."
That's incorrect speculation. Roberts' reps, the Levinson brothers, told folks that madeup story and even tried to have the Queens D.A. pursue an extortion case against the young lady. But the truth was, she was a girlfriend dumped when Roberts made it to the majors and exacted revenge by providing the photo, as the Queens D.A. easily figured out. (Disclosure: I was at Newsday at the time and had my name on the story, though the picture in question was actually acquired by David Lennon.)
Piazza writes that when Omar Minaya took over as Mets GM, "His first order of business seemed to be trading me." He writes this even though there's no evidence, as he was never traded by the Mets, and there were never even any juicy rumors of trade talks in the papers, as you would expect if a big name such as Piazza was on the trading block. This didn't ring true to me, so I checked, and according to folks with the Mets at the time, it isn't true.
Piazza fesses up to an anonymous quote critical of a move by A's manager Bob Geren that he gave to the veteran San Franicsco Chronicle beat writer Susan Slusser. I suspect it's no shock to Geren since the manager basically called out Piazza regarding the quote in a team meeting, Piazza wrote.
As Piazza acknowledged in the book, the quote sure sounded like him.
But rather than leave it at that, Piazza speculates that perhaps Slusser told Geren that Piazza was behind the anonymous quote, an absurd guess, as reporters don't reveal their sources, especially long-lasting reporters. Just to be sure, I checked with Slusser, who said Piazza's other speculation based on how the quote sounded was probably a very sound guess. "I've never revealed a source in my life," Slusser added.
It's slightly off-putting that Piazza doesn't mind throwing out negative guesses abut other people when he has at least occasionally been the victim of very bad guesses in his own past.
I am not going to guess here about the steroid rumors that probably prevented Piazza from making into the Hall of Fame his first time on the ballot, but Piazza devotes numerous pages to his explanation for his meteoric rise, detailing how he came about his tremendous power and even his back acne.
The acne became the basis for unsubstantiated steroid speculation by a "blogger" who used to be a respected New York Times writer but now uses a blog mostly to scorn folks he doesn't like with guesses. It is usually the blogger's former employer that is the target, but Piazza has been one, too. (Piazza has a list of people he doesn't like, too, but ultimately, Piazza does the retribution thing much better than the "blogger," by writing an engrossing book.)
Anyway, Piazza's explanation for his back acne was his teen-aged job as a looper, or caddy, at a country club near his Phoenixville, Pa. home. Right or not, I woud agree that the "blogger" whiffed badly with his acne-as-steroid-proof assertion. Note: A lot of folks have acne, which is why Clearasil is in business.
More to the point, Piazza explains his incredible strength, attributing it to his early interest in muscle magazines and weightlifting, a teen-aged fixation with a "hand gripper" his father gave him that used to keep his brothers up at night and a preference for oatmeal over sweets (unlike his brothers).
No matter how you think Piazza might have done it, it's an amazing story, plenty good enough to hold your interest for 347 pages. In that era or any other, he is the only one to become such a major star after being selected 1,390 picks into a draft -- and even then, only as a favor.
Baseball scouts generally do a great job, but it's pretty clear they blew this one, no matter what sort of explanation or speculation you might attach to Piazza's ascension to become the greatest-hitting catcher of all-time. And there's little doubt he is that, as he opines subtly and persuasively. Piazza's lifetime slugging percentage is .545, to .500 for Roy Campanella, .482 for Yogi Berra and .476 for Johnny Bench.
Even though the memories are his, and not always supported by fact, they are vivid. They reveal a man who was way more talented than folks originally gave him credit for. But also a man who's way more annoyed than he should be considering he has had one great American life. 
Despite an awful month, the Dodgers are again NL West champions

The record of 38 previously belonged to Hall of Famer Frank Robinson

The report also says that Jeter had outgoing president David Samson do the firing
This wasn't a traditional hidden ball trick, but the Blue Jays pulled it off

The Tigers essentially fired Brad Ausmus on Friday, but things are going to be ugly for a...

The club made the announcement on Friday