Boston does a Drew-over: Analyzing how parties did in reunion deal
It'll be interesting to see whether Stephen Drew's gamble pays off next winter.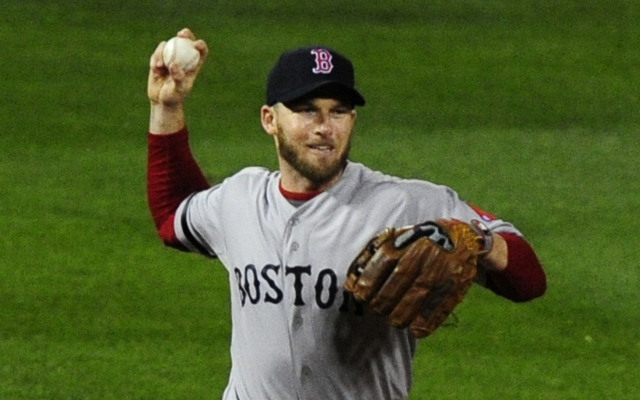 Drew signs with Red Sox | Latest news & notes | Fantasy news
The Red Sox and Stephen Drew made the best of an imperfect situation by agreeing to get back together after they'd parted ways months ago.
Some might view it as a Drew-over (sorry), but it's exactly what both parties need.
The Red Sox needed a boost after some injury and under-performance issues thus far. And Drew was said to be pleased to going back to play shortstop for the team and organization he enjoyed in their championship year.
There's little sense rehashing Boston's part in this, as it most likely never expected Drew to accept its $14.1-million qualifying offer in the first place. Now the Red Sox just took advantage of the surprising reality that such a good player like Drew was still available to them. Easy call on their part.
As for Drew, it's a bit more complicated.
When he turned down Boston's $14.1-million qualifying offer, he barely gave it a second thought at the time, as he told me when I interviewed him after a spring workout at the Scott Boras Training Institute in Miami Gardens, Fla. That's probably not surprising since players wait their entire careers to become free agents.
Why surrender that once-in-a-career chance to saddle yourself with a one-year deal (not to mention the likelihood of being weighed down by draf-pick compensation the very next winter, as well). He said he was packing up to leave Boston about a week after winning the World Series when he made the decision to reject the one-year offer, as all 22 free agents have done in the two years under this system.
Then, when the free-agent market wasn't what he'd hoped, he made the calculated gamble to wait it out.
Nelson Cruz signed for $8 million with the Orioles. Then Ervin Santana signed for $14.1 million with the Braves. Meanwhile, Drew waited, then he waited some more.
His old team returned to the picture only a very short time ago. His new Red Sox deal is for the pro-rated portion of the $14 million, so about $10 million ($10 million plus, meaning slightly more), according to sources. So it's fair to say it's a $4 million deficit, at least for the moment.
However, Drew also gained one huge advantage by waiting. By signing in-season, Drew isn't now subjected to the qualifying offer after the year now, meaning he will be an unencumbered free agent this winter, whether the Red Sox want him back or not. The question becomes: is that qualifying-offer relief worth $4 million?
The whole idea of waiting into the season was to get out from under a rule his agent, Scott Boras, and others on the player side of things believe to be unfair. Whether it's fair, it's certainly harmful.
There's no doubt Drew's market (and those of Santana, Cruz and the still-available Kendrys Morales) was hurt tremendously by the attachment of a draft choice. Most teams have decided that losing a top draft choice is a major drawback for all but the very top echelon players, seriously impacting very good free-agent players who are deemed less than great players.
Assuming the demand is there next winter for Drew, a good-field, good-hit shortstop who's a nice player but short of a star player, he might have a big free agency, a la Jhonny Peralta, a comparable player who wasn't saddled with the qualifying offer (the Tigers moved on when he was suspended for his Biogenesis tie, replacing him with Jose Iglesais) and hit the jackpot with a $53-million, four-year Cardinals deal last winter. But of course, there are no guarantees in free agency.
Red Sox players, including team leader and double-play mate Dustin Pedroia, are thought to be thrilled that the Red Sox acted quickly to repair their infield issue after the talented but struggling third baseman Will Middlebrooks went down with an injury. Drew, who moved his workouts from Miami Gardens to Valdosta (Ga.) St. near his home, is said likely to be ready to resume his shortstop job in a week to two weeks. Talented youngster Xander Bogaerts is expected to slide over to third base after doing a more than decent but occasionally uneven job at shortstop through the first seven weeks of the season.
Boston probably understood by now that they weren't about to get the draft pick compensation, anyway, as the overwhelming likelihood is that if Drew were to sign elsewhere he'd wait the two weeks until after the June 5 draft to relieve himself of the draft-pick attachment. The Tigers, Pirates and Mets might have had interest, but none was anxious to surrender the pick.
Meantime, Drew probably won't worry too much about the lost $4 million (at least not at the moment) while he celebrates his return, but it's interesting to wonder whether he made the right decision not to take the qualifying offer, then to wait. The question is whether it's worth $4 million to have a shot at unfettered free agency. And the guess is, if a player believes in himself, it may be worth taking that shot.
As Drew knows after seeing how badly his own free agency was hurt this past winter, being a real, unencumbered  free agent could have a tremendous advantage for a very good two-way shortstop. But for now he's out $4 million, and it's fair to say that until he makes a new deal next winter that he won't know for sure whether he made the right call.
Charlie Morton will start either Game 3 or 4

Granderson, Verlander, Beltran and more are looking to reach the top of the MLB world

Houston's top relievers have been shaky this postseason
Our experts have a unanimous World Series pick

Otani's rare ability to hit and pitch will need to be accounted for in realms beyond real...

Kenny White has won 8 of his last 10 MLB Over-Under picks and has a strong play for Game 1