Boston listening on Lester (but not Uehera), so what does this mean?
The Red Sox may not be confident about their chances to sign Lester long-term.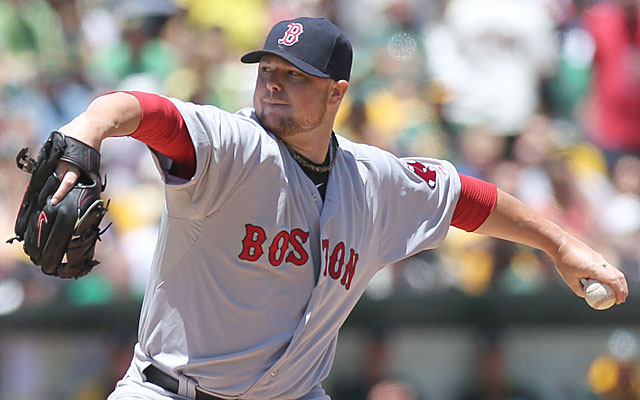 More MLB: Power Rankings | Expert Picks | Latest news & notes | Fantasy news
The Red Sox are listening to offers on their veteran free agents -- but apparently not star closer Koji Uehara.
Boston is believed to be interested in re-signing Uehara, a key to their 2013 World Series championship, rival executives say.
The Red Sox have seemingly all year been interested in keeping Jon Lester, but they do seem to be seriously entertaining the idea of trading their ace pitcher, key to both 2007 and '13 World Series wins. They are said to be getting a lot of hits on Lester and rotation mate John Lackey, who unlike Lester and Uehara is tied contractually to Boston for one more year.
So what does this mean? Don't they still want to keep Lester?
While the Red Sox haven't ruled out keeping Lester, it's quite possible they are growing realistic about their chances to keep him long-term. And they may not be what folks first believed.
Boston, according people familiar with its situation, is said to be "very risk averse" when it comes to spending big bucks on pitchers who are 30 or older, and they also may be starting to believe it may be too far from Lester's market. They made a seemingly lowball offer of $70 million for four years in spring training. Then when they tried to restart talks in summer, Lester told them he preferred not to distract the team with contract talk.
If they do trade him, they are relinquishing the ability to extend a qualifying offer, which might put a small drag on what's expected to be a huge market for him. He could easily double that $70 million by some estimates, which is very likely a lot more than Boston wants to pay. It also may say something about what they think about their chances of re-signing him.
Some have mentioned that the Red Sox could still re-sign Lester after trading him. But that seems fairly far-fetched. That's happened before, but not often, and not usually to such a big star in his prime.
At this point, the Red Sox may be more confident about their chances to keep Uehara long-term. And that may be why he's staying, and Lester may be going.
The Astros are still in control of the series, but have been unable to solve Yankees pitch...

The Astros and Yankees will play Game 4 in the Bronx early Tuesday evening

Yankee Stadium helped, but there's more to it than that
Aaron Judge and CC Sabathia had big games

Judge had an impact on both sides of the ball in Game 3

Ausmus most recently managed the Tigers, but won't be headed to Queens